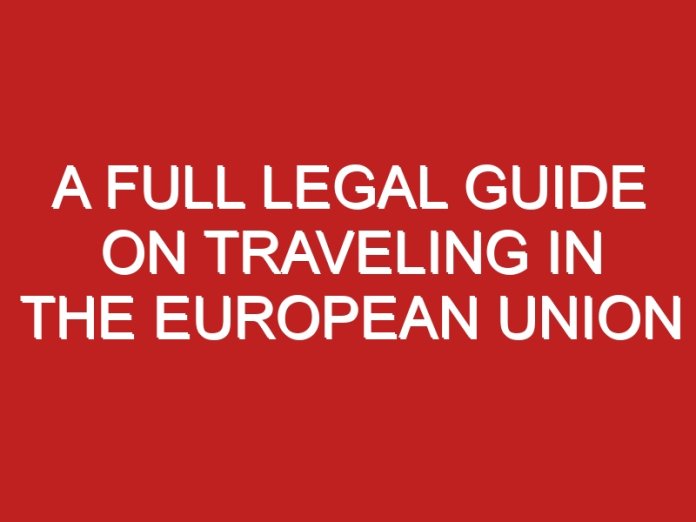 There's so much culture, history, and breathtaking beauty in European countries that make people want to take tours around them more than anything. It's impossible to pick just one country and leave out the others because each has its own unique magic that makes it stand out. One of the best things about the European Union is that you get to travel around so many gorgeous countries using one visa, and all you need is to get on a train.
This legal guide is going to help you learn what you need to do to be able to travel to and within the European Union, so read on and get your papers ready.
European Union Citizens
If you are a citizen of any of the 27 countries in the Union, you can easily travel between these countries without a visa or any border checks. You are also allowed to live and work in either of these countries. Regardless, make sure to always check the specific travel laws concerning your home country before traveling.
Non-EU Citizens
Any citizen of non-EU countries must have a valid passport and a visa to the country in question. In case you plan on staying in only one country, you only need this country's visa, but in case you want to take a tour around more than one country, then you need a special type of visa. Since there is a political and economic agreement between countries of the union, a Schengen Visa will give you access to all of these countries. Most EU countries are included in the Schengen area. This visa is for a short stay, that is, about 90 days. You need to apply for it at least 2 weeks before you plan on traveling and not any longer than 6 months before traveling.
Traveling to Non-Schengen Countries
There are some non-Schengen countries that allow entry with a Schengen visa. These countries include Romania, Serbia, Georgia, Columbia, and many others. Turkey, for example, requires a separate visa for entry, so your Schengen visa will not allow you to enter there.
Minors Requirements
All minors are required to have a valid passport to enter any of the countries in the area. They need to be accompanied by legal guardians or adults that will be held responsible for them throughout their stay. They can be allowed in EU countries also, but only if one of their parents or legal guardians accompanies them.
In Case of ID or Passport Loss
As unfortunate as it is, many people lose their passports or have them stolen from them, which is why there are certain preparations for these accidents. Many EU countries are also prepared to deal with cases like an expired passport since sometimes people do not pay attention to the expiration date on their papers. The safest thing to do is to always make sure your passport is valid and in good shape.
Traveling to EU countries is so much fun, and you can easily get the required papers for it. The trip is definitely worth the effort in acquiring the required documents because there are so many wonderful things to see and learn there. You get to watch beautiful natural scenery of mountains, vast greenlands, and the most exquisite sandy beaches, so start planning your trip and enjoy this amazing time you'll be spending there.