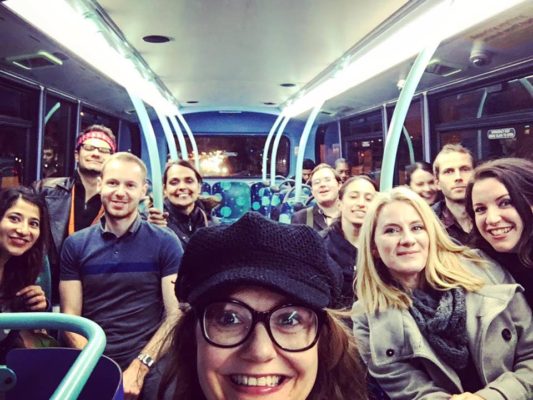 Get to know London like a local and meet the Londoners who make our beautiful city tick! Make the most of your time in the world's best city by meeting new people and exploring what the streets of London have to offer…
Go on a treasure hunt around London's best museums
Ditch the tours and explore London's world-renowned museums in the most unusual way we know how… in museum treasure hunts, you're searching for facts, not gold; you'll need to explore every corner to solve all the clues and help your team to geeky glory.
Sound like fun? Start with a hunt around The British Library, Grant Museum of Zoology and Petrie Museum and look out for more hunts around the best culture-vulture attractions that London has to offer!
Help Holmes crack the code in a Sherlock street game
With another year to wait until Benedict Cumberbatch returns as the floppy-haired BBC version of everyone's favourite London detective, it's time to get those thinking caps on and indulge your Sherlock love in a game around the same streets featured in the series.
In Sunday Assassin – A Sherlock Street Game, there's a notorious villain in town and one of the visiting 24 delegates is a target. Can you help Sherlock crack the coded message to deduce the target and save our intrepid detectives in time?
Play real-life Monopoly on the London Underground
Monopoly is a British institution: it's made London's Tube stations famous the world over, and caused more than a few family arguments around the traditional British dinner table… Thankfully, though, there'll be no arguments between you and your team in Tubeopoly, a treasure hunt filled with cryptic fun, strategy and teamwork around the London Underground network. Grab a team ticket to play with friends, or come on your own to meet some new people while you explore beneath the streets.
Experience a London pub quiz… with a massive twist!
Get to know some of the UK's favourite gameshows such as Pointless and Million Pound Drop in an interactive London pub quiz that defies convention! There's no previous knowledge required: whether you're already a fan of these classic UK shows or you're a newbie, there are plenty of points to be scored and plenty of fun to be had with a team of new friends. Get your tactical hat on and get ready for some nail-biting tension!
Explore a famous London market
If you want to see 'real' London, then head to our markets come the weekend. There's nothing better than spending a Saturday or Sunday morning among the stalls and treasures that a London market holds: Borough Market for the food, Portobello Road for the vintage clothes, and Columbia Road Flower Market for everything from bedding plants to 10-foot banana trees.
And if you need someone to show you around, then gather with some friendly locals who will be glad to show you what's what.
Bring-your-own board games and play the night away
What's your favourite board game? Do you have one you'd love to introduce to London's population? Then get down to a BYO Board Games Night and show us what you're made of. Didn't manage to fit anything in your suitcase on the way over here? That's fine too: the more the merrier and the important thing is to get involved. You might even find your new favourite game…
Indulge your brain AND your belly at a Conversation Brunch
Londoners LOVE brunch. And we like it even better when we're eating it with good company, so what better way to meet new people while you're in London than sitting down to some delicious food and interesting conversation? An alternative to the traditional dinner party, there's no small talk (or small appetites) required at a Conversation Brunch as there will be 'QI' conversation cards on the table to kick-off the morning and plenty of delicious food in store from the capital's best venues. Think eggs, toast, coffee and maybe even a glass of prosecco.
Make the most of your time in London — for free!
Hello! We're Thinking Bob. We host over 60 socials a month that will help you meet new people you click with and explore London. Come on your own or with friends: our socials are designed to get people talking.
Even better news: your first month's membership is FREE and you can cancel at any time! So what have you got to lose? Start your free trial today.