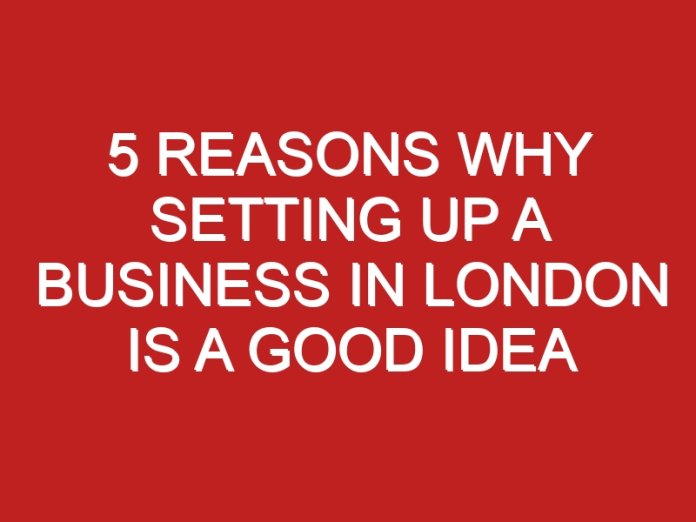 As the capital city of England, London is a great place to set up a business. With a wealth of talent and opportunities, there are many reasons to start a business in London. If you're coming from abroad, then it's a good idea to start researching different routes of entry that suit your entrepreneurial ambitions, such as the global business mobility visa.
Below, we'll be looking discussing five reasons why setting up a business in London is a good idea.
1.   A Diverse Workforce
One of the big reasons why working in London is so desirable is because you have access to a diverse workforce. There are around 9 million people living in London. However, what really separates London from other countries and cities is how ethnically diverse it is.
41% of all London workers are either black or a minority ethnic. In comparison, the rest of the country only has levels of diversity approaching 10%. A diverse workplace is vital for understanding different target audiences and performing better.
2.   Government Support
As a business working in London, the UK is very supportive. You can get quite a bit of financial assistance from the government that will help you to establish your company. It's possible to take out loans quite easily, as well as access schemes that reduce the amount of tax a new business has to pay. This includes things like capital allowances, broadband solutions and tax credits.
3.   Make New Connections and Investments
New businesses register in London all the time. In 2016, there were 205,000 new businesses registered in the London area. This pushed the number of businesses in London above 1,000,000.
The result is that London is a hive of different businesses from different sectors. Networking and connection opportunities are everywhere, so it's easy for new firms to integrate into the existing social structure. You can go to events, meet other business owners, and maybe form some relationships. The chance to discover good investment opportunities is also quite high.
4.   Lots of Customers
People like London because it's so diverse and there are so many potential customers. In addition to the 9 million people living in London, there are also numerous transport links to Europe in the area.
London shares a time zone with many commercial parts of the world, and it's easy to access all the financial institutions in Europe within 24 hours of travel. Furthermore, large numbers of people in the surrounding areas of London commute into the city every day for work. This means it's easy to pick up a loyal and substantial customer base.
5.   Plenty of Space
London is a big city, and this is good for growth. Any business in London will find that it's easy to expand as much as they want. You can have a single building or a massive tower block for your business. Having access to unlimited space means that the only limit is your success. Lots of small businesses in London grow into massive corporations with giant headquarters.
Setting up a Business in London
Starting a business in London is easy. There are many appealing prospects for any business that wishes to establish a foothold in England. London is the largest city in the country and is also the central hub for business. There are numerous opportunities to connect with other companies and to build up a strong presence.
Lots of businesses begin in London and expand across the country or even the world. You can start as a small business while you find your feet and then evolve as you see fit. There are very few limitations placed upon businesses operating in the UK. You have to comply with the law and make sure that you accurately report your profits to HMRC, but this is normal for any business. If you follow the rules, then London is your playground for establishing whatever company you choose.
Please be advised that this article is for general informational purposes only, and should not be used as a substitute for advice from a trained legal professional. Be sure to consult an immigration lawyer/solicitor if you're seeking advice on visas. We are not liable for risks or issues associated with using or acting upon the information on this site.