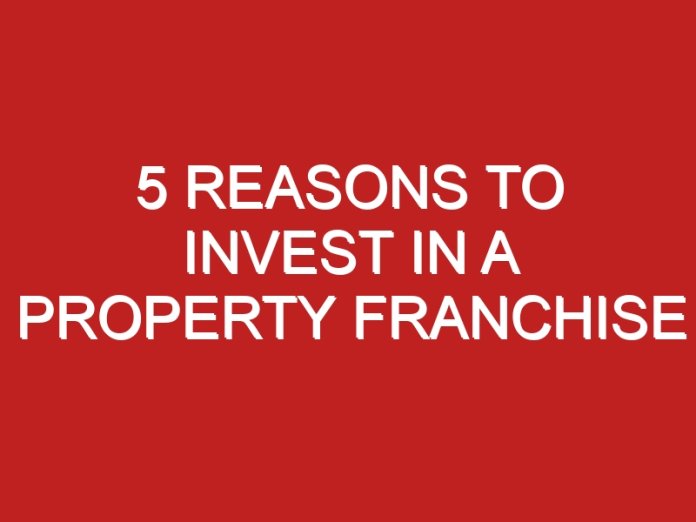 The global property market is vast and dynamic. There will always be demand for new start-ups, to help source, buy, sell, design, build, repair, maintain and manage buildings. New businesses operating in conjunction with well-established brands under a franchise agreement have a wide demographic ready to tap into.
Let's look at five reasons a property franchise is a great investment.
1. Differing levels of capital needed
One of the many benefits of franchising is that you can find business opportunities that match a multitude of budgets.
For example, does your flair for finding ideal locations and project managing new builds make you the ideal candidate to launch a new hotel franchise, that you then sell on? You're going to need a considerable amount to invest in that initiative.
At the other end of the scale, there are low cost franchises you can do from home in property-related fields. The most obvious is online estate agency franchises. However, other examples include being part of a home rental brand, creating virtual house tours or handling government-funded home improvement projects as a franchisee.
2. Potential to enjoy significant returns
Much depends on where you want to slot into this sector, and what type of property franchise interests you. However, at all levels, there are ways to make substantial profits when running your own business.
Just to give some context to that, the overall value of global real estate was $326.5 trillion in 2020. Despite the pandemic, the industry saw a 5% increase in 2019. You will probably know the world population is expanding, so logically residential real estate accounts for 79% of that colossal total value.
Keep in mind too, property-related businesses often have the added benefit of a high franchise resale value. You can grab all the opportunities that exist, then have an assured 'exit strategy' for when you're ready to retire or try something new.
3. Existing sector infrastructure to rely on
As many countries struggle to keep pace with demand – and report they have a housing crisis – if you can be part of the solution you will find it relatively easy to find business partners and contacts. You can take advantage of the fact that the property marketplace is thousands of years old, and has evolved a supportive and smooth infrastructure, including clear legislative frameworks in most countries, and a variety of trade bodies to advise and support you.
Once you have a location for your property-related franchise, your parent company will also provide you with a wealth of existing knowledge for you to tap into. They will also help you make powerful business connections.
4. Rich variety of options
When you think about property start-ups the first that comes to mind is probably real estate or estate agency franchise businesses. However, if your career experience, skills or interests relate to property in general, there are plenty of other ways to be your own boss with the backing of a well-known brand.
For example, why not consider property development franchise agreements or opportunities to provide contracted trades to new build and renovation projects. One of the advantages of something like construction, electrical or joinery franchises is that someone else makes the major capital investments, then you come along to fulfil contracts.
Embarking on this sort of property franchise does demand accredited skills and an understanding of the tendering process though.
Other start-up ideas in this category could be property management franchises. Organisations with a sizeable portfolio of residential or commercial buildings sometimes prefer to let someone else do the day to day facilities management. Or, another example of this sort of opportunity is a more creative architect franchise or a franchise in landscaping commercial or residential properties.
Don't forget the highly specialist niches in this industry too, such as student accommodation letting agency franchises.
5. Business leads and client trust from day one
Doing any of the above under a franchise agreement gives you an existing brand to promote. Your offices, any vehicles you use and your marketing will be instantly recognisable as being under the auspices of a business with a solid reputation in that sector.
This can literally and figuratively open doors for you.
Not only will prospective clients trust you to build, sell, maintain, repair or manage their property, but they may also be ready and waiting for your call from day one. That's because many property-related franchise businesses operate internationally or nationally, so feed leads through to their franchise network.
How easy is it to set up a property-related franchise?
The vast majority of opportunities in this field rely on technology to connect you to your parent company, and to enable you to 'hit the ground running' in franchise start-ups. This also means it's possible to set up a country-specific franchise for brands that are based anywhere across the globe.