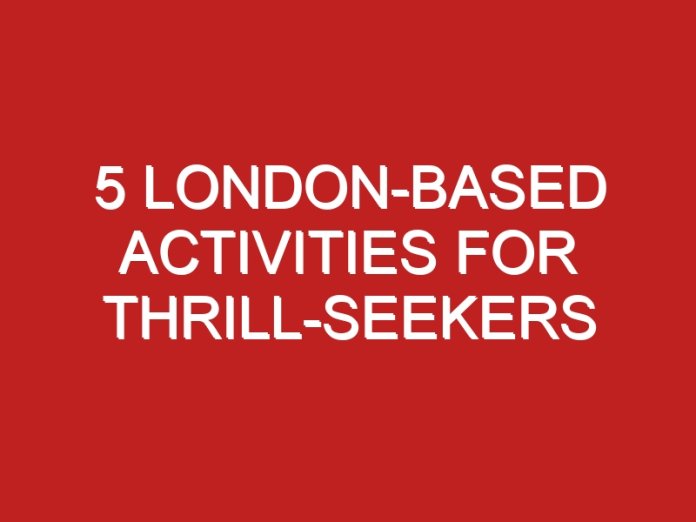 Having spent so long stuck inside during the various lockdowns, it's time to embrace your post-pandemic freedom by enjoying an adventurous activity or two in the capital.
Whether you're more into your free running, water sports or technological-based real-time strategy games, London is jam-packed with a wide variety of activities for you and your family, friends and loved ones to spend your time enjoying.
So, with this in mind, we thought we'd separate the best from the rest, pinpointing some ideas to get you started.
Join us as we run through the five best London-based activities for thrill-seekers, adrenaline junkies and pretty much anyone with adventure in their blood.
Parkour Generations
If you have ever fancied yourself as a bit of a stuntman or woman, gazing in awe at the wide variety of free-running videos published by teams like STORROR, Parkour Generations is the place for you.
Here, you will be able to take part in a range of free-running classes at either the dedicated indoor gym or in various locations around London.
From jumping to landing to running, a visit to Parkour Generations will not only allow you to learn how to hone your skills but it will also allow you to utilise some of London's best-loved parks and landmarks in entirely new ways.
Go Ape
The chances are that you will have probably heard of Go Ape before but did you know that there are actually three to choose between throughout the capital? 
Whether you fancy climbing through the treetops of Alexandra Palace, Battersea Park or Cockfosters, Go Ape allows you to not only channel your inner adventurer but also enjoy fantastic views of London at the same time.
Featuring high ropes, zip wires and bridges, there is a wide range of courses available at each location, allowing you to decide which one is right for you around your pre-existing level of experience.
Up At The O2
If you have a fear of heights, you might want to skip past this one.
One of London's most Instagrammable spots, a visit to Up At The O2 will see you climbing to the roof of one of the capital's most famous landmarks.
Offering great views of London, this adventurous outdoor experience will also help you appreciate just how spectacular a building the Millennium Dome was while providing you with an opportunity to see London from height.
ArcelorMittal Orbit
If you're looking for a foolproof way to put the wind in your sails, you will certainly do exactly that with a visit to the ArcelorMittal Orbit.
Situated in the heart of the Queen Elizabeth Olympic Park, this attraction is the world's longest and tallest tunnel slide, offering breath-taking views of London's iconic skyline while whizzing down at high speed.
However, if you'd rather kill two birds with one stone, certain companies also enable you to put your abseiling skills to the test as an extra activity, seeing you navigate your way down the side of this 114.5-metre high sculpture.
Lee Valley VeloPark
Put your track, road, BMX and mountain biking skills to the test and experience the thrill of the 2012 Olympic Games for yourself with a visit to the Lee Valley VeloPark.
Racing around the world-famous velodrome, you will not only be able to ride across a wide variety of mountain bike trails but you will also be able to show off your skills at the adrenaline pumping BMX track or channel your inner Chris Hoy around the flawless circuit. 
Situated at the Queen Elizabeth Olympic Park in Stratford, the cycling centre features a range of options to suit a variety of experience levels – whether you're looking for a taster session simply to experience the thrill of cycling at this iconic venue or are wanting to develop your track cycling skills in a more professional environment. 
Final thoughts… 
So, there you have it – five of the best adrenaline-pumping activities to think about during your visit to London.
Whatever your interests may be, there really is something for everyone in London. In fact, the activities listed above only really scratch the surface of what's available. 
So, for further ideas and advice on how to spend your time in London, our blog is a great place to start.