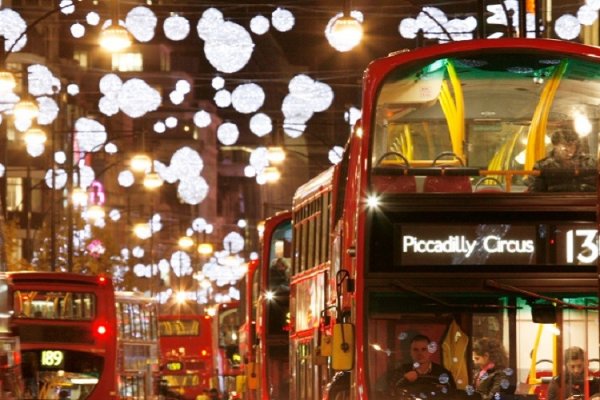 It's time to put some festive fun into taking time out and from lights in London, to carols in the city, there's plenty to do in the final calendar countdown of 2016…
1) Christmas lights switch on
Christmas events in London usually sparkle to life with the famous switching on of London's Christmas lights. The famous lights and decorations of Oxford Street, which this year includes almost 2,000 silver and gold baubles, have been up since the beginning of October in readiness for a grand switch on and Christmas shopping spectacular. See if you can catch one of the London lighting-up extravaganzas at:
Oxford Street – Sunday 6th November 2016, with street closure from noon until 7pm. This year's switcher-on celebrity is still a well-kept secret, but being part of the event brings everyone the chance to join in with a bit of festive fundraising by donating £5 in exchange for dedicating one of those many lights to a loved one, to help raise money for the NSPCC.
Regent Street – the switch on date of Thursday 17th November 2016 has been revealed but what to expect at this year's star-lit show is still wrapped up better than a Christmas gift! It's always worth visiting this event though as live music and entertainment from some of London's brightest stars are assured!
Covent Garden – the date, as well as the event, is still cloaked in secrecy, but it'll be worth it as the lights of Covent Garden are always an event in themselves. Keep checking local info so you're in the know!
Carnaby Street – Thursday 10th November 2016 brings a collaboration between Carnaby and the V&A to present this year's loud, proud 'Swinging Sixties' themed light-up. This event is a great way to enjoy festive fun and some early shopping, as many of Carnaby Street's participating retailers, bars and restaurants will be offering money-off discounts throughout the night.
Duke of York Square – Saturday 12th November sees the square start to sparkle.
Bond Street – Thursday 10th November sees a subtle switch-on which offers more twinkle than ta-da but can be a great way to make an event out of an early shopping trip or night on the town.
2) Christmas in Leicester Square
Of course, a lit-up London wouldn't be complete without the illuminations and events of Leicester Square. 2016 sees things start to sparkle on Friday 11th November, then running right through to January 8th 2017. The traditional Christmas market is an event in itself yet Leicester Square's special vintage venue, Spiegeltent brings even more to the season with a full schedule of Christmas performances, variety shows and specials, including the acclaimed La Soiree circus. Don't forget Leicester Square's famous theatre too, with a seasonal schedule of comedy, drama and an alternative pantomime – oh yes there is!
3) Winter Festival at Southbank Centre
This year's Southbank Centre Winter Festival bursts into life on Friday 11th November 2016 until Wednesday 25th January 2017. With its long run time, which takes it well beyond Christmas and through those gloomy days after, this festival of free and ticketed events, dances, concerts and performances is perfect for a group and family event. This year's must-see special is the NoFit State big top contemporary circus company of amazing acrobats.
4) Christmas at Kew
Always an event favourite, whatever the season, Kew's Botanical Gardens present the after-dark delights of an illuminated festive trail as over 60,000 lights present the charm of Christmas, the wonder of winter and of course Kew's famous florals. Events run from Wednesday 23rd November 2016 to Monday 2nd January 2017, but as some dates are excluded checking with the website is advisable.
5) Christmas carol concerts
Much of the city will be resounding with carols and Christmas classics such as Jingle Bells and Let it Snow so, like Santa Claus, there's plenty of reason for coming to town! Harmonious hot spots to visit include:
Trafalgar Square – 11th to 22nd December 2016, the traditional tree and carols will be taking place with a dedicated events schedule of hour-long slots for performances from various choirs throughout December.
Royal Albert Hall – a visit to this prestigious venue is always something special, but visiting for a Christmas sing-along is always one of the most popular events. This year's Christmas Festival and sing-along runs from 13th to 24th December 2016.
Paul's Cathedral – from 25th November to 24th December, St. Paul's Christmas festivities include carol singing and also celebrity readings.
Westminster Abbey – from 11th to 24th December, Westminster Abbey upholds its well-established and much loved traditional programme of concerts, live music events and carol services.
As ever, Christmas in the city looks lively, so make sure you check out those ticketed events quickly to enjoy the very best of this year's London Christmas event calendar, and if you're thinking of doing something with your work team why not check out what Team Tactics has to offer this Christmas?