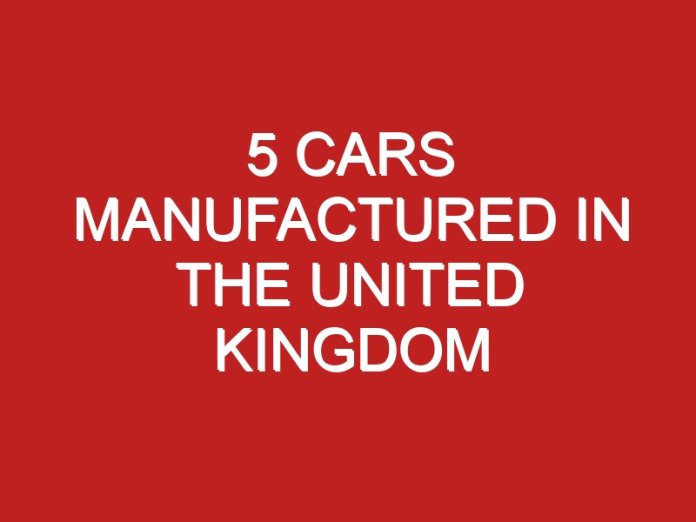 In 2016, Britain hit its all-time high in car production with a grand total of nearly 1.8 brand new cars made in the country. Car production in the UK picked in 1972 and has continued to rise over the years. Giant car manufacturing companies are investing thousands of pounds in the UK's automotive industry creating thousands of jobs. Here is a list of the big players behind car manufacturing in the UK.
Honda
Honda has a manufacturing plant in Swindon. It is one of Britain's most popular production plant. The plant is said to manufacture at least 600 cars some of which you can lease at intelligentcarleasing.com. Honda has plans to invest two hundred million pounds into the Swindon factory to build a new Civic. Honda manufactures the CR-V, HR-V and Civic in London. Honda Jazz also featured in their manufacturing list.
Bentley
Bentley is owned by German's Volkswagen AG.  However, the company has maintained its Bentleys plant in Crewe. All the car parts and bodyshells might come from Germany, but the company maintains that assembling the car in the United Kingdom has helped maintain the luxury car's quality. Bentley is known for its saloon cars. Volkswagen AG invested eight hundred million pounds in the Crewe factory creating at least one thousand new jobs.
Jaguar
Jaguar is one of London's endearing manufactures. The company has continued to make its cars in the UK. Jaguar has a number of plants in the country. The F-Pace, an SUV model and the Jaguar XE series are manufactured in Solihull while the F-TYPE, XJ, and X models are made in Castle Brom in Birmingham. The manufacturing of the F-TYPE came with 350 new jobs, with the company planning to export 75% of the cars. The F-TYPE uses an all-aluminum construction which is derived from the aerospace industry.
Landrover
Landrover is owned by an Indian company, Tata Motors Limited. The luxury car has seen increased demand and reported a 14% sales increase in 2013. That was nearly 9000 jobs created in Britain in a little less than two years. The most famous models include Defender, Discovery, Evoke, Freelander, Rane Rover model and the Defender CV. Tata motors has two plants in Halewood and Solihull where its cars are made. They have opened their doors to the public so that anyone who fancies seeing how their SUV's are made can take a tour.
Mini
The mini Clubman is an iconic British car and was at first owned by a British company. However, it is now part of BMW. BMW maintained the Clubman's and Cabrio models' plant in Oxford, Hams Hall and Swindon factories. In 2012 alone, the plants made over 200,000 minis. It is not surprising that minis are the second most popular British made vehicles. The paceman for the minis is manufactured in Australia.
Other top manufacturers that have made a mark in Brain's automotive industry include Nissan, Toyota, Vauxhall, Roll-Royce, Aston Martin and many more. Britain's automotive industry is said to be worth seventy-one million pounds. Approximately 80% of the cars manufactured in Britain are exported.