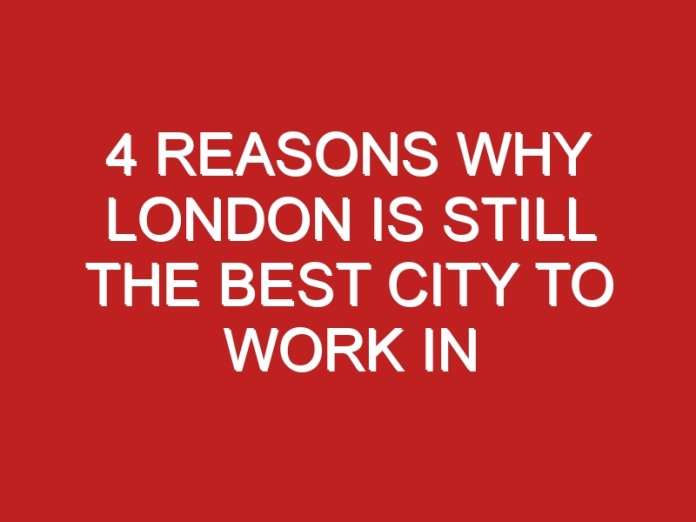 From business lunch etiquette to hierarchical organisation, the workplace culture in London is different from that of other parts of the world but be that as it may, it's a great place to find a job and make a career for yourself. The dynamic economic, cultural, and social activity of the metropolis is the reason why London takes the number one spot when it comes to the best cities to work in. it can be an expensive choice, yet there are several ways to make it work for you. For example, don't be too picky about where you want to live. With a booming entrepreneurial culture and support network, there's no better place than London to kick off your career. If you're still not convinced, this will certainly seal the deal.
1)   Lots Of Corporations Have Headquarters in London
Since London is a financial centre, it shouldn't come as a surprise that several multinational companies have their headquarters here. Examples include but aren't limited to McDonald's, IBM, and KPMG. Despite the fact that London is experiencing a decline in certain areas, it's experiencing growth in other areas. Amazon's UK business, for instance, is taking new office space and amplifying the city's research and development function. Even if the capital is renowned for banking and finance, some areas have given rise to centres revolving around creative industries, such as fashion, art, and design, to name a few.
Working for a big corporation is a personal decision, yet the decision should be based on facts rather than opinion. A corporate job offers you the possibility to acquire T-shaped skills, that is, qualities that make you a valuable employee. Put simply, you can develop expertise in an area of work, technology, or process. Providing opportunities for growth isn't uncommon, as companies do everything possible to ensure their success. As a rule, corporations invest in individuals via education, skill development, and career assistance. You can take advantage of various training sessions and receive professional board certifications.
2)   London Is Home to One of The Most Ethnically Diverse Populations
Cultural diversity makes a better place to work because it encourages the open and free expression of ideas so that you can combine your values with your cultural background. London is an all-inclusive environment that offers equal rights and opportunities for all workers without considering their gender, ethnicity, age, or colour. London is the capital of the UK, but also one of the most ethnically diverse cities, with residents identifying themselves with Asian, Black, or other ethnic groups. It's estimated that over 300 different languages are spoken in London boroughs, of which mention can be made of Bengali, Polish and Turkish. London has the main ingredient of a vivid economy – diversity.
3)   London-Based Workers Achieve a Better Work-Life Balance
The four-day week is changing Brits' lives as they have more time to rest and recuperate. The added flexibility and work-life balance mean that employees are less likely to be stressed or take sick leave; actually, they come back to work ready to take on new challenges. Deliberately planned downtime can help avoid burnout. If you're productive at work, you'll find yourself with some downtime, meaning you won't have any assignments to complete and have a couple of minutes/hours of scheduled work time remaining. Labour productivity in London is higher compared to other UK cities. Since people work smarter, not harder, they see the impact they're making.
Employers demand flexibility, and they're committed to providing a work-life balance to increase productivity, reduce absenteeism, and enhance employee loyalty. Supporting a better work-life balance for employees helps reduce workplace injury risks by minimising stress and combatting fatigue. On certain occasions, it's possible to get around workers' comp and file a lawsuit in civil court. Such an issue can be time-consuming, costly, and disruptive to the business, so employers have introduced new policies to promote an improved work-life balance. Measuring a city's work-life balance is tricky, but it's safe to say that London is a good place for mental well-being.
4)   You Have Tech at Your Doorstep
If you're interested in a career in tech or would like an entirely new position in a modern work environment, London is one of the best places to be, as it's one of Europe's leading tech hubs. The capital of the UK is largely regarded as the second-best tech start-up hub worldwide behind Silicon Valley, according to a new analysis. A cluster of high-tech companies is located here, including Amazon, Facebook, and Google, attracting billions in venture capital. Tech employers have earned a reputation for providing good career opportunities and enthralling compensation and benefits. Jobs are available from a wide range of employers, not just large tech companies. Contemporary office buildings neighbour traditional buildings made from brick or stone featuring glass façades.
Tech companies monopolise the list of top places to work in London in 2022. AND Digital, for instance, is a people-first organisation where individuals support one another and help you grow. The company, founded in 2014, undertakes product development for big names like British Airways or Conde Nast. As you can imagine, they're on the lookout for people capable of working at a faster pace in an environment that lives and breathes tech. You're able to specialise in the field that you're most passionate about because there's no shortage of opportunities. As tech spreads across more industries, it's likely that new jobs will emerge.
To summarise, London remains one of the best cities for work, and this is exemplified by the many opportunities you'll find available. Needless to say, as the world shifts online, you can work from pretty much anywhere you want. Given its particularly large tech community, the first city has particularly good Internet and ranks high as far as download speeds are concerned. If you want to start a new life, kickstart your career, and experience a special culture, consider moving home. Come to London alone or with your family. There's never a day to get bored.