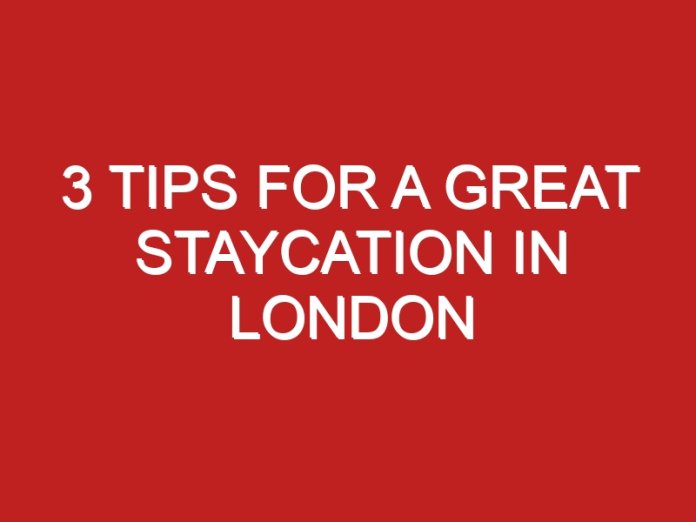 There are many reasons why having a staycation is a good idea this year, and coronavirus has to be at the top of the list. Although foreign travel might not be seen as such a good idea, that doesn't mean you can't still have the most fantastic break away from it all staying in the UK, and when you choose to go to London, you'll make that trip even better.
As a capital city, London ranks highly with its culture, food, scenery, and history. All of this is what makes London such a fantastic place for a staycation. If this sounds like something you'd enjoy, here are some great tips for making the most of your time in this city and having the staycation of your dreams.
Enjoy the Green Spaces
Although when you think of London, you might think about the city itself, full of high-rise buildings and traffic, that's not what London is as a whole. In fact, there are several beautiful green spaces you can enjoy when you visit there, and many are ideal for picnics and truly relax in. These include:
Hyde Park
St James's Park
Clapham Common
Kew Gardens
Culpeper Community Garden
Plus, many more, from surprise gardens in the middle of a residential area to enormous parks. If you travel further out, you'll even find a 'beach' at Ruislip Lido, giving you a true holiday feel.
Don't Spend Your Money
Another myth about London is that it is an expensive place to be. It can cost money, but that will depend on what you are doing; if you opt for more expensive activities such as the theatre or a fancy restaurant, which is going to cost a lot. There are numerous free activities to enjoy, and they include lots of London's museums like the British Museum, the Science Museum, the Natural History Museum, and the National Gallery. These any many more are entirely free, and you can happily spend a whole day in each of them, learning as much as you can.
Plus, there are parks and outside spaces, as mentioned above. Take some time to stroll through London's gardens or relax with an online game by the edge of the Thames. If that sounds like the best kind of staycation, click here to find out more.
London is as expensive or as cheap as you want to make it, and with a little planning in advance, you don't have to spend a lot at all.
Try New Things
One of the most vital rules of travelling anywhere, London included, is that you need to try new things. Push yourself a little further and leave your comfort zone if you can. This is how memories are made.
In London, there are many things you can do that will give you this opportunity to experience something different. Mudlarking along the Thames is a fantastic opportunity, and so is sailing high in the sky on the London Eye, or being terrified (in a good way) in the London Dungeon, or at the London Bridge Experience. No matter what you decide to do, there will be an option for you to enjoy it in London, so make the most of your time there when you go.