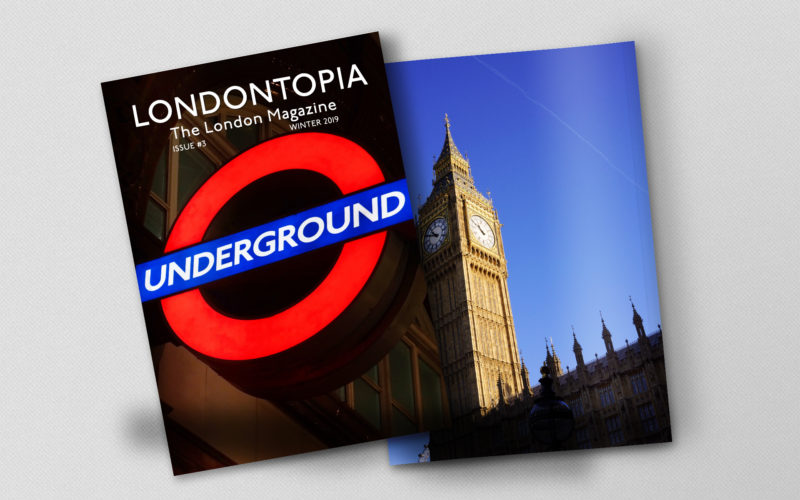 It's a new year and it's time to reveal the cover of the next issue of the Londontopia Print Magazine.
Issue #3 will we released in late-February. The cover features the iconic London Tube Roundel, the back cover shows Big Ben in all it's golden-sunned glory (a view of it you cannot get right now as it's covered in scaffolding).
Each issue of the Londontopia Print magazine is a love letter to London, featuring long-form articles about the greatest city in the world. The magazine is 48-full color pages.
We wrote last month about the challenges that have been facing Anglotopia/Londontopia and part of our recovery plan for 2019 is to double down on our magazines, the biggest source of regular revenue for Anglotopia. To do that, we need to grow the subscriber base of the Londontopia magazine. Will you consider subscribing?
Here's the article line-up for Issue #3:
London Events for Q1 2019
A Behind the Scenes Tour of Strawberry Hill House by Laura Porter
Tube History: Disasters on the Tube
One Day in London
Our Top 10 London Museums
The London Diary: City Farms
Metroland: A History of London's Suburban Expansion
Unseen London: Pictures by Peter Dazeley
A Night at the Theater
Top 5 London Bookstores
And much more not listed here! The issue will be jam-packed with tons of London goodness.
A single issue of the magazine costs $12.99 and a 1-year subscription costs $49. We ship worldwide.
Subscribing to the Londontopia Magazine is the best way to support Londontopia as it allows us to keep doing what we're doing – publishing regular articles about this great city and commissioning great writers to write about London.