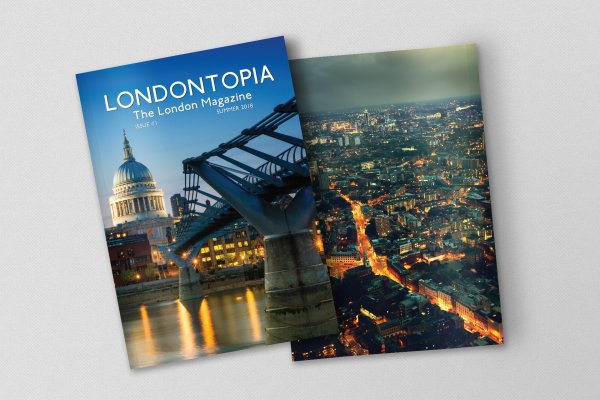 We've been working on this in secret and now we're ready for the big reveal. Introducing The Londontopia Print Magazine. Did you know that there isn't a magazine on the US market dedicated completely to London? We thought this was odd, so now that we've got two years of magazine experience under our belts with the Anglotopia Magazine, today we're launching a dedicated London Magazine.
The Londontopia magazine will be a 48-page, saddle-stitched full-color magazine dedicated completely to our favorite city. Each issue will feature news, history, travel tips and more about London. Oh, and like the Anglotopia magazine, it will be completely ad-free. This format is slightly different than the Anglotopia Magazine and this format combined with the shorter page count makes it more affordable to produce, thus the lower overall price point. This will be a brilliant new home for thoughtful long-form writing about London. The Londontopia magazine will be a place for you to get ideas for your next trip and a place for you to enjoy when you're not in London, something that will take you back there just by opening it up.
The first issue is almost done and being sent to the printers soon, it will ship in June 2018. We'll ship it worldwide. Subscriptions cost $49 to the USA. $59 to Canada. $69 to everywhere else. There is also a digital-only option where you will get a digital PDF when every issue is released.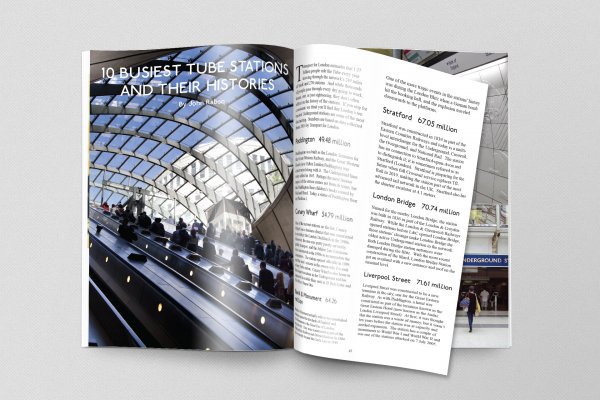 Our initial print run of Issue #1 will be 500 copies. Based on how the Anglotopia magazine has done, we expect to completely sell out – so we would urge you to reserve your copy or subscription as soon as possible. If we sell out for Issue #1, we'll order more for Issue #2. After 4 issues, we will combine all them into a book like we do for the Anglotopia Magazine. At this stage, we will plan to publish the London Annual later this year as we always do.
Jackie Thomas will be the Editor in Chief of the Londontopia magazine (Jonathan will be a contributing editor to the magazine). So any London related article pitches need to go to her at jackie@anglotopia.net.
We hope you will come along on this journey to explore London with us. You can order your subscription quickly and securely here.
Regular Londontopia Magazine Columns
Upcoming London Events
The London Diary from Laura Porter
Map Spread
Along the Lines
Great Londoners
Then & Now Pictures
Along the Lines Essays
And Much More!
Londontopia Magazine Key Information
48 Full-Color Pages
$49 A Year
4 Quarterly Issues
NO ADVERTISING
Free Shipping USA, Canada $10, Everywhere Else $40
New Subscription System
Londontopia Magazine Publication Schedule
Issue 1 – June 2018
Issue 2 – August 2018
Issue 3 – November 2018
Issue 4 – February 2019
Subscription FAQ
Where can I buy a subscription? 
Directly through us using our partnership with SubSail. Their platforms will handle billing and renewals.
Are Subscriptions Set to Auto Renew? 
Yes, by default subscriptions are auto-renew after 4 issues are delivered. You can turn this off at any time.
Do you offer a Digital Only Subscription? 
Yes, you can subscribe to the digital-only version. You will receive an email with the PDF download as every issue is released.
Can I combine this with my Anglotopia Subscription? 
At this stage, no. We'll be moving the Anglotopia Magazine to SubSail eventually but it's not an easy process. Eventually, we'll offer a combined version, until then, they have to be purchased separately.
How Will This Affect Production of the Anglotopia Magazine?
It won't. We're going to now be running on a schedule of a new magazine being published every 6 weeks. We have enough articles in the queue to manage and we're taking on extra help to make this happen (yay jobs!).
Can I Read Londontopia Print Magazine Articles on Londontopia?
As with the Anglotopia magazine, most articles that appear in the print magazine will appear on the website one year after publication to give the magazine an exclusivity window.
Can I Buy a Gift Subscription? 
Yes! This is an option with our new subscription platform.
How Are Payments Processed? 
Securely through the Stripe Platform.
Can I Pay With a Check? 
Yes, you can send a US check for $49 to – please include an email address:
Anglotopia LLC
1101 Cumberland Xing #120
Valparaiso, IN 46383
HOWEVER, you will be notified about renewals via Email. When it's renewal time, just send a check.
So, what are you waiting for? Order your exclusive subscription here.