Current Center of London
It's a rather strange question to ask – but did you know that there is an 'official' center of London? What makes this distinction so important? Well, all distances in Britain from London are measured from this point – so it's important to get right.
Well, new research from the Estate Agency Knight Frank, has claimed that the center of London actually needs to be moved 900 yards from its current location.
The current center of London is actually the statue of Charles I on top of his horse at Charing Cross and has been for quite a while. A plaque can be found on the floor behind the statue stating that mileage distances on road signage are still measured from this point.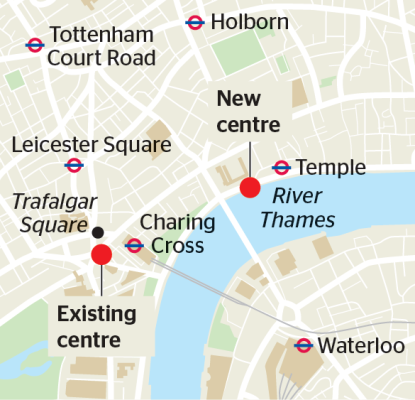 Knight Frank has said that the capital's eastward expansion means that the bench currently located on the Victoria Embankment in front of King's College London should be actually be the center of London.
If their claim is held up – hundreds of streets signs that calculate the distance from the center of London would have to be changed.
For the knowledge junkies out there, here are some distances to locations throughout Britain from the current center.
Manchester 184 miles
Liverpool 198 miles
Paris 257 miles
Glasgow 389 miles
Geneva 539 miles
Rome 1118 miles
Los Angeles 5455 miles
Bangkok 5931 miles
Sydney 10,500 miles
The moon 240,000 miles (approx.)