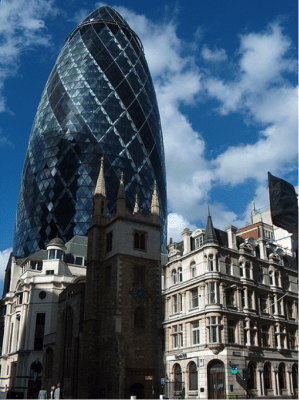 [The Gherkin (aka Swiss Re Tower) building in London: it's not edible but it is green. Picture by Vesna Middelkoop]
A guest post by James Christie, who writes for Strenson Solar: provider of solar panels in Brighton.
1.   London's Olympic Stadium
The Olympic stadium is London's shop window – the place the world will gaze at when the Games' flame is lit high above the capital's skyline at the opening ceremony.
And the stadium seems set to showcase London's commitment to all-things green.
Ingeniously, the stadium features a low-carbon concrete, made from recycled waste. A look at the design plans show that the top ring was built using surplus gas pipes and that steel and concrete use was minimised by seating the lower section of the stadium within a bowl in the ground.
When the stadium is ready for action it will have been built using materials which are 75 per cent lighter than steel – the material used in most arena-builds. Let's hope a gust of wind doesn't blow the stadium away before the first race is run!
2.  Solar panels on Blackfriars Bridge
Built in 1886, Blackfriars Bridge in London is an iconic Victorian landmark – did you know that Charles Dickens regularly used to walk across it while looking down at the Thames and dreaming up new characters?
Hopefully Dickens would approve of the way the bridge – constructed in the age of steam – is set to enter the world of solar; 4,400 solar photovoltaic panels are to be installed on the roof of the two-mile bridge.
The panels should be gleaming in the sun in time for the Olympics by when Blackfriars should have become the world's largest solar bridge.
3.  Buildings
It's not just bridges which are benefitting from green building initiatives – London's biggest buildings also have a distinctly green hue.
Existing green buildings include KPMG's glass-fronted headquarters in Canary Wharf (which uses recycled toilet water and sensors which turn off unnecessary lights) and Swiss Re Tower, which has been nicknamed 'The Gherkin' thanks to its appearance and green credentials (it uses up to 50 per cent less energy than office buildings of the same size).
Green buildings which are being constructed, or are in the pipeline, include the Shard.
The Shard (as in 'shard of glass') is set to be the tallest building in the EU and its architects are determined that its size won't compromise the environment. It will dwarf Southwark Towers, the building it has been designed to replace, and should use up 30 per cent less energy. Take a look at it when it's finished in June 2012.
4.  Boris's bikes (and electric vehicles)
Conservative politician Norman Tebbit received much criticism when he was misquoted as telling unemployed people to "get on their bike" in 1981. Almost 20 years later Mayor of London Boris Johnson gave the phrase "Get on your bike" a much more positive meaning when he launched London's public bicycle-sharing scheme.
When it started, the scheme made available 5,000 bicycles, 'moored' at 315 docking stations. The coverage zone initially spanned 17 square miles and was made use of by people who registered and paid membership fees.
The scheme now allows casual cycle hire via the use of a credit or debit card and on 10th February 2012 it was announced that the scheme will expand eastwards and that 2,300 more bikes will be made available.
The Mayor also wants to make London the "electric vehicle capital of Europe"; and hopes that 100,000 electric cars will soon be motoring around the Big Smoke.
Reaching the target will be tough, whichever date he chooses – there are currently only 2,313 electric vehicles motoring silently around the streets of London. However, the fact that London currently has 400 electric vehicle-charging points (1,300 are hoped to be in operation in 2013) is heartening.
5.  The Mayor of London
A few years ago a broadsheet polled MPs to find out what their personal contribution was to reducing Britain's carbon footprint. Some volunteered that they had has solar panels installed, others were proud of switching to an electric car or recycling household goods.
Only one MP, Boris Johnson, did not list any personal achievements – his answer ran along the lines of "it's a little too late to do anything – we're all doomed".
The poll was conducted before Mr Johnson ran for Mayor – his election campaign and time in office have showed just how much he now values green issues. The RE:NEW homes energy efficiency programme is just one of the environmentally-friendly initiatives he has launched since becoming Mayor. On 13th February 2012, it was revealed that RE:NEW workers have helped 40,000 London homeowners by conducting surveys, giving advice and fitting energy-saving devices such as stand-by switches and save-a-flush toilet devices. Some Londoners have even had free or subsidised help with loft and cavity wall insulation.
When the 2012 London mayoral election is held on 3rd May, Boris Johnson will face a challenge from former-Mayor Ken Livingstone. Mr Livingstone was once nicknamed 'Red Ken' because of his left-wing views. As he campaigns to wrestle back power from Boris Johnson, he will be keener that the electorate sees him as 'Green Ken' as he battles to stress his environmental credentials to the capital's very modern electorate.