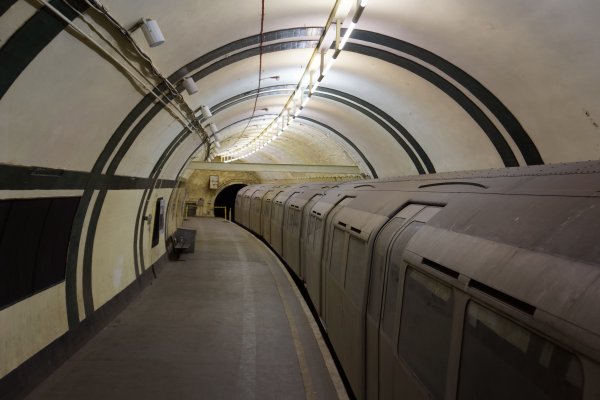 Last year we explored Aldwych abandoned Tube station on a Hidden London Tour – and wrote about the experience here. Hidden London tours are a unique chance to explore the bits of London that have been closed off to the public. Most of these tours are run on a limited basis and sell out up to a year in advance.
Hidden London has just announced their tours for the next year and tickets go on sale Wednesday (Tuesday if you register early). We wanted to let you know about them now, so you can prepare in advance to get them.
We've been on two of these tours – in fact, we've planned two trips around them and they were very much worth it. We've done Aldwych and Down Street so we can highly recommend those.
Here are the details for the new tours:
Clapham South Subterranean Shelter

Journey 180 steps underground to explore one of eight deep-level shelters that exist across London. Opened to the public in July 1944, Clapham South deep-level shelter has over a mile of subterranean passageways that reveal the extraordinary stories of those who sheltered here, from Londoners seeking refuge during the Blitz, to Caribbean migrants arriving on the Empire Windrush, and even thrifty visitors to the Festival of Britain. Adult £36.50

Down Street – Churchill's Secret Station

Get an intimate peek into one of London's most intriguing hidden spaces. Located in Mayfair between Hyde Park Corner and Green Park stations, Down Street had a short life as a working station from 1907 to 1932, but became critical to winning the Second World War when covertly transformed into the Railway Executive Committee's bomb-proof bunker. Experience the warren of narrow tunnels where the nation's railways were coordinated and Prime Minister Winston Churchill took refuge secretly at the height of the Blitz. Adult £85:50

Euston – The photography tour

This tour explores a labyrinth of dark and deserted passageways which were once used by the travelling public. The tour will be led by an expert tour guide who will give some history about the lost tunnels of Euston, with time given to photography. Please be aware this tour is a non-instructional photography tour and there will not be a professional photographer on site for instruction. You will need to have a good working knowledge of photography and provide your own photographic equipment. Adult £100

Charing Cross – Access All Areas

Enjoy this opportunity to explore the disused areas of Charing Cross Underground station. Go behind closed doors to exclusive areas not accessible to the public, walk under Trafalgar Square and see London Underground from a different angle. Closed to the public since 1999, the Jubilee line platforms are now synonymous with movie and TV filming. This is a unique opportunity to view the sites where blockbuster movies such as Skyfall (2011/12) Paddington Bear (2013) and TV's 24 (2014) were filmed. Adult £36.50

55 Broadway – London's first skyscraper

55 Broadway was the headquarters of London Transport and later London Underground until 2016. This Grade I listed structure – London's first skyscraper – was considered radical and offensive when unveiled in 1929. Now a fabulous example of Art Deco London, visitors will be able to see beautifully detailed offices, grand meetings rooms, and stunning rooftop views. Adult £33.50

Highgate – Wilderness walkabout

Discover a station reclaimed by nature. Redeveloped with Charles Holden architecture in 1941 Highgate was set to be a bustling interchange as part of the Northern Heights project. Find out why it now lies in a secluded vale as an urban wilderness home to protected species of bats. Adult £31.50
Tickets will go on sale to the public at 10am (BST), Wednesday 12 July but London Transport Museum newsletter subscribers will be sent a priority booking link on Tuesday 11 July at 10am (BST) – allowing you an exclusive 24-hour booking window. Sign up here.
We highly recommend doing this – these tours will be sold out by the end of Wednesday!