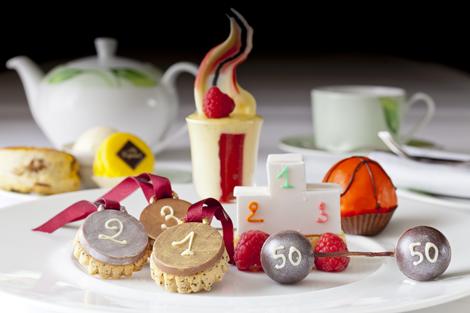 It may not be what the athletes are eating, but the indulgent sports-themed afternoon tea at The Capital Hotel in Knightsbridge is appropriate for spectators wanting to get into the Olympic spirit.
The Capital Hotel, holder of the UK Tea Guild's Award of Excellence for Top London Afternoon Tea 2012, is celebrating a summer of sporting events in London with the launch of a themed afternoon tea. Served between 2.30pm and 5.30pm, those with a sweet tooth can enjoy a special selection of cakes including Dumbbells made with passion fruit ganache in a Valhrona chocolate shell; a Winners' podium made from glazed lemon sponge; Valhrona chocolate buttons on poppy seed and ginger sable biscuit sporting Medals; a Flame made from banana cream rippled through with a raspberry coulis and adorned with a white chocolate flame decoration; and a Basket Ball glazed carrot cake, all of which are served alongside delicate sandwiches, home-made scones served with clotted cream and The Capital's home-made jam.
The tea costs £25 per head or with a glass of Jacquart Champagne £37.50 per person. For more information and bookings see www.capitalhotel.co.uk or telephone 020 7591 1202.
Opened 40 years ago by David Levin as London's first boutique hotel The Capital sits enviably in the heart of Knightsbridge, just minutes from Harrods and Harvey Nichols, and offers a relaxing haven from the summers events. As well as the restaurant and bar, it offers 50 stylish and individually decorated bedrooms with an emphasis on English design. Still run by the Levin family it is one of few hotels to hold 5 red star status.
For more exciting Olympic action, check out the Olympic Park Map from GE Olympics.