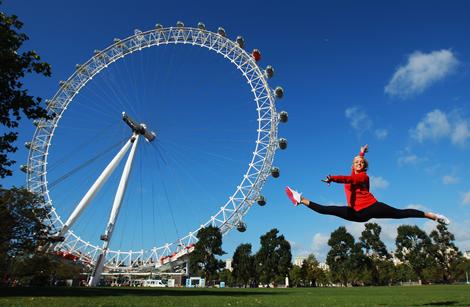 With the Olympics now just days away, we thought it would be fun to out together a summary of the free things you can do during the Olympics if you weren't luck enough to snag tickets.
1. Olympic Cycling Road Races – July 28 – August 1, 2012
There are lots of ways to enjoy the London 2012 Olympic and Paralympic Games without a ticket. Some of the most iconic events will be able to be viewed from great vantage points at no cost. The men's and women's Road Races will begin on The Mall, a popular backdrop for formal ceremonies and major sporting events throughout the year. From The Mall, the riders will head southwest through London, cross the famous River Thames at Putney Bridge and continue out through Richmond Park past Hampton Court Palace. Before the riders make it back to The Mall for a dramatic finish, they will head to Surrey, travel north through Leatherhead, Esher and Kingston.
(www.london2012.com/cycling-road) And LOCOG have just announced that they are increasing the capacity for spectators at one of the best viewpoint – Box Hill – from 3,500 to up to 15,000 http://www.london2012.com/news/2012/01/more-spectators-will-enjoy-best-views-of-olympic-cycling-road-race.php
2. Olympic Marathons and Race Walks – August 4, 5, 11 &12, 2012

The Olympic Marathons and the Race Walks will all start and finish at The Mall, an iconic location in central London most recently famous as part of the wedding route for the marriage of Prince William and Catherine Middleton, Duke and Duchess of Cambridge. Each race will have around 80 athletes taking part, making it a heart-pumping spectacle worth watching. visitors can take in the sites of Buckingham Palace, the official residence of the Queen, and the Commonwealth Memorial Gates.
(www.royalparks.org.uk/London2012.cfm and www.london2012.com/athletics)
3. Olympic Sailing – July 29 – August 11, 2012

The deep sapphire blue waters of Weymouth Bay and Portland Harbour will play host to 10 sailing events over the course of 14 days during the London 2012 Olympic and Paralympic Games. These free events will offer fans excitement and drama as they watch teams race in the beautiful but testing waters on the southern coast of England.
(www.london2012.com/sailing)
4. London 2012 Festival – to 9 September, 2012

There are millions of opportunities to take part in the London 2012 Festival, many of them completely free. Whether you love dance music, comedy, theatre, fashion, art or film, you can find something to get involved in. (www.london2012.com/festival)
5. Olympic Live Sites
With large screens carrying live broadcasts of the Olympic events, visitors in over 20 locations around the UK can have the best seat in the house to watch their favourite event. Screens will feature a broad range of UK-wide and local content in partnership with community, arts and media organizations.
(www.london2012.com/get-involved/live-sites/index.php)
If you're still looking for somewhere to stay during the Olympics, there are many property owners who have put their place up for rent around London, for example on Wimdu.co.uk, during the period of the Olympics. Many places are totally booked up now and it's a struggle to find somewhere central – that isn't incredibly expensive. However, staying somewhere centrally is recommended as you are in close distance to all the famous attractions and of course, the Olympics stadium in Stratford.