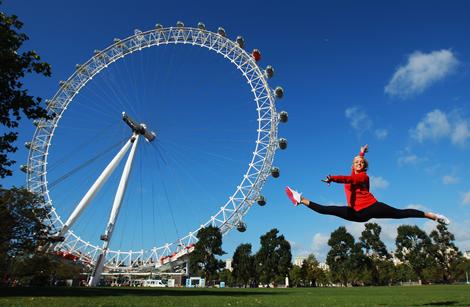 If you're planning on being in London during the London 2012 festivities – here's a few ways you can save a few bob while you're in town.
Visit a Live Site
There will be 22 official Live Sites around Britain during the Games, featuring all the latest Olympic news and action. In London, 'London Live 2012' will be the biggest free celebration during the Olympics, at three of the city's most iconic locations: Hyde Park, Victoria Park and Trafalgar Square. Other live sites include Manchester, Cardiff, Edinburgh, Liverpool, Leeds, Derry, Swansea and more. Find out if there is a Live Site in the city you're visiting: www.london2012.com/live-sites
Be a part of the London 2012 Festival
The most exciting festival the UK has ever seen will offer more than 10 million free tickets to see over 1000 performances and events. Leading artists from all over the world will come together for this unique event to celebrate London 2012. Whether you love dance, music, theatre, fashion, food, art or film, you'll find something you can get involved in. www.festival.london2012.com
Buy before you fly
Check out VisitBritain's online shop where you can buy BritRail passes to save money on rail travel around Britain and other money saving passes like The London Pass, which can save you up to £500 on entrance fees and gives you priority access to busy attractions! www.visitbritainshop.us
Rent a car to get out of London
London is going to be crazy crowded and may actually be unpleasant while you're in town. So, we recommend renting a car for a day or two and going on some day trips outside of London to get away from it all. We recommend renting the car from Heathrow so you don't have to worry about driving in central London. It might also be a good idea to think about your renewal of your car insurance when you rent your car and consider getting the extra coverage (but check with your car insurance, you may not need to).
Don't forget about the Paralympics
Get into the spirit at one of the world's most inspirational sporting events. There are still tickets available and many London hotels with great rates available. The period in between the Olympics and the Paralympics will also be a great time to see the city dressed for the celebrations and experience the London 2012 Festival with less of a crowd.
Eat on the cheap
Ask your hotel if your rate includes breakfast (many do), look out for delicious fixed-price pub lunches and take advantage of London's amazing parks, by packing a picnic for some people watching! Hint: The food halls at Harrods and Fortnam & Mason are great choices for something gourmet, while Britain staple, Marks & Spencer offers equally delicious food that is a bit more wallet friendly.