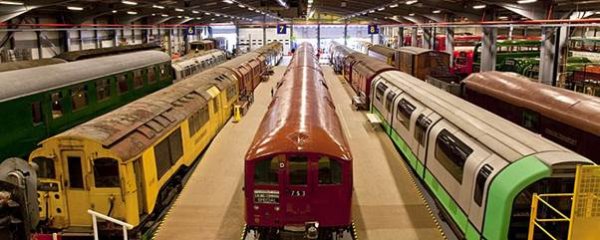 The London Transport Museum is one of our favorites in London, but the museum in Covent Garden is but a sliver of their entire collection. They store the whole collection in the Acton Depot, and occasionally it's opened to the public. LTM has notified us that this year's open weekend will take place on April 21st and 22nd. Fancy a potter about their massive collection and ogling some out of service trains? Then this weekend is for you!
Here are the details:
For one weekend this April, London Transport Museum's Depot in Acton, west London, will throw open its doors, giving visitors a rare opportunity to explore a treasure-trove of over 320,000 artefacts from London's transport history. Celebrating London's unique transport design heritage and its internationally recognised branding, Capital Design will showcase a fascinating and fun design-themed programme of talks, tours, interactive displays, and family activities.

From guided tours of the Museum's stunning poster collection and quirky object handling, to a talk from writer, broadcaster and cartography expert Mark Ovenden on 150 years of London Underground Design; transport enthusiasts, families, design fans, and people interested in London's history can enjoy a bustling weekend discovering the great design elements that make the Capital's transport network iconic.

Highlights include a talkfrom historian Oliver Greenon the legacy of Frank Pick – the man responsible for commissioning some of the most recognisable icons of London Underground's identity, a postcard design workshop inspired by the famous London Underground logo, nostalgic heritage bus rides through the Depot's scenic surrounding area and interactive displays and activities for all ages, such as a signalling demonstration area, where visitors can watch the operation of the vintage frames. Visitors can also browse for transport inspired gifts at the Museum's pop-up shop and enjoy street-food and drinks from vintage vehicles.
This sounds totally awesome and I wish I was in London that weekend to be able to go! They usually only open it once or twice a year (3 opening scheduled this year), so this is a rare opportunity, and any London Transport nerd should take advantage of it!
Tickets cost £12 for adults and £10 for concessions and are valid for one day only. Open from 11:00-17:00. Last admission 16:00. Children and young people aged 17 and under go free (under 16s must be accompanied by an adult).
Full details on their website here – it will be crowded, so plan ahead!
Additional open weekends in 2018 will be July 7-8 and September 22-23rd.