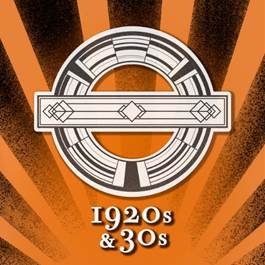 This event looks like a lot of fun! The London Transport Museum is hosting a special late night where you can have a very 1920's or 1930's evening with costumes, musical guest, and talks. Sounds like a lot of fun and if I was in London in March, I would totally check this out.
Here are the details:
Immerse yourself in the glittering world of the 1920s and 1930s at London Transport Museum's Friday Late, after hours on the evening of 9 March. Inspired by the Museum's Poster Girls – a century of art and design exhibition, with music and bars, guests can experience vintage girl power and iconic art movements through curated lectures, tours and workshops. Partygoers can also enjoy unusual games inspired by the era such as Good Cop Bad Cop, Wits and Wagers and Cash 'n' Guns and a two for £12 offer on Southside cocktails, the tipple of choice for Al Capone and the mobsters of Chicago.
Highlights include:
Performances by
The Susie Qs, a close-harmony trio singing swing classics and performing the dance moves to match
Swing Patrol & the Dixie Dinahs with their fun and friendly introduction to Charleston dancing. Guests can also take part in Charleston lessons
Talks
Hear about the scandalous female characters who personified 'girl power' in the 1920s and 1930s from Lucinda Gosling of the Mary Evans Picture Library, who has written widely on various aspects of 20th-century social history
The stories of some of the remarkable women who have graced the corridors of the iconic Savoy Hotel are revealed by the Savoy's archivist, Susan Scott
Learn about London's first skyscraper and Art Deco architectural masterpiece, 55 Broadway, and how the public art on the façade caused public outrage
Screening
Pianist Andrew Oliver from The Lucky Dog Picturehouse accompanies a programme of vintage British newsreels, travel documentaries and comedies from the 1920s.
Exhibition: Poster Girls – a century of art and design – Visit the Poster Girls exhibition which features over 150 stunning posters and original artworks and showcases female poster designers, many from the 1920s and 1930s, and reveals the hidden stories behind their work.
The Bright Young Things Friday Late opens at 6:45 pm on 9 March and runs until 10:00 pm (with last admission at 9:15 pm). Tickets cost £15 and concessions cost £12. To book tickets in advance go to
www.ltmuseum.co.uk