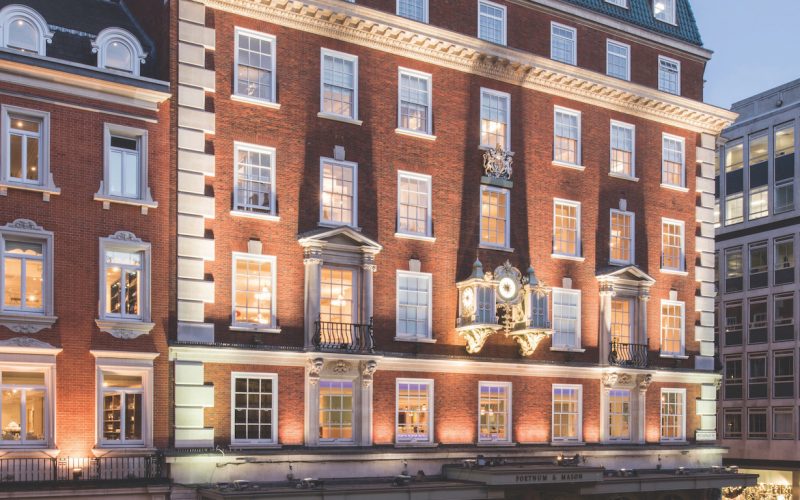 When I think of iconic British Brands, particularly London based brands a few come to mind, but my first will always be Fortnum & Mason. They specialize in gourmet foods and are responsible for creating some of Britain's most iconic foods, such as the Scotch Egg. A trip to their flagship store in London must-see for the foodie in your life.
Fortnum & Mason is named after its two founders, William Fortnum and Hugh Mason. The famous brand has always had a royal connection. Starting at it's beginning with William Fortnum. Prior to starting his own gourmet grocer, he was the footman to Queen Anne. In 1707 he partnered with grocer Hugh Mason. Together the two set up a grocer in St. James. They were successful in their efforts and have continued their royal relationship. In Queen Charlotte's time, Fortnum & Mason was the official grocer to the palace. Queen Victoria regularly sent beef tea, a Victorian version of beef broth, to Florence Nightingale's Hospital St. Thomas'. Most recently Queen Elizabeth II opened the Diamond Jubilee Salon in the flagship store accompanied by the Duchess of Cambridge and The Duchess of Cornwall.
It isn't the royal connection that keeps me going to Fortnum & Mason; it is their dedication to quality and tradition. One of the things I love most about Great Britain is that there is a real respect for the order of things and tradition. I would say that Fortnum's embodies this for me. Sure there are lots of iconic British brands that exclude this, but over time, with the march of progress, I have seen a lot of them change to market to a more global audience.  I would be remiss if I didn't recognize that Fortnums has undergone some large changes in the early 2000s, but I would argue still hold onto that traditional Britishness over any other British brand.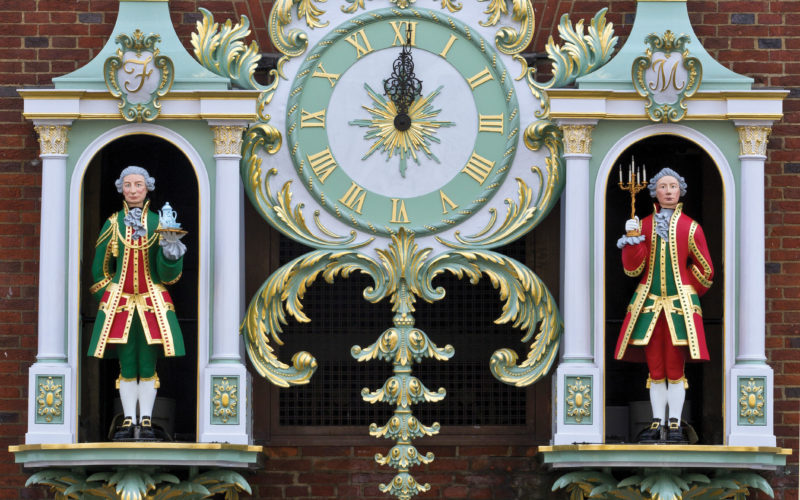 They are known as a very stylish place to take afternoon tea. This is the quintessential place to take tea. Lots of the high-end hotels do a lovely high tea too, but there is something about going for high tea at Fortnums. High tea starts with a tiered tray of beautifully prepared finger sandwiches on the bottom, all made in a traditional way. I adore how the sandwiches are cut into delicate slices, with the crusts removed. It brings to mind Victorian ladies eating these dainty sandwiches over polite conversation. The types of sandwiches are very traditional tea sandwiches, such as cucumber and ham with mustard. All of the ingredients are from Fortnums' own brand too. The next tier and course is by far my most favorite part of the tea service, scones with clotted cream and jam. The scones are freshly baked, and the jam is Fortnum's own brand. The last tier is lovely little petit fours and desserts. I won't lie, I am usually so full from delicious finger sandwiches and scones, and a pot of tea, I rarely make it all the way to the top tier, but one must make an effort because each of these delicious treats are baked especially for tea that day.
For a long time for me, Fortnums' was where I bought tea and biscuits exclusively. I would dutifully make sure to stop at their location in Terminal 5 at Heathrow Airport and pile my basked high with loose leaf Earl Grey and Lemon Shortbread Biscuits before I boarded my plane home to Chicago. I loved how even in their T5 store that the male employees are still dressed in tuxedos with tails, such a level of formality that is rare to find these days. I never had to search for a sales assistant for help; the staff has always been incredibly attentive. I love the thought of exporting a taste of Britain across the globe in that little shop. From Champagne and caviar to teas and jam, they are in essence selling a luxurious taste of Britain. There is something really neat about that to me. Being from Chicago, we have a few iconic foods, a Chicago hot dog, deep-dish pizza, popcorn, none of these things scream refinement, no matter how delicious they are. I could not imagine myself at O'hare Airport, buying any of those foods to bring to England, perhaps it is a matter of perception.
For years I would walk through the ground floor at Fortnums in London but always do my shopping at the airport for the duty-free perks. This past trip, I had a whole day to in London that was unscheduled for business, a rarity. I decided to spend part of my day at Fortnum's. There was something so comforting about walking into the building, something familiar, and traditional. When you step through the doors, you step foot onto a plush crimson carpet. All of the cabinets are in a deep redwood. Although the store was redone in the early 2000s, you get the sense that it has always been that way. Tea, Coffee, Biscuits, and jars of jams, chutneys, and British staples are on the main floor. I feel that you can feel the influence of Britain's global history on the shelves. From coffees in tropical regions to teas from the furthers parts of Asia to traditional jars of honey, you can see the history of British global expansion.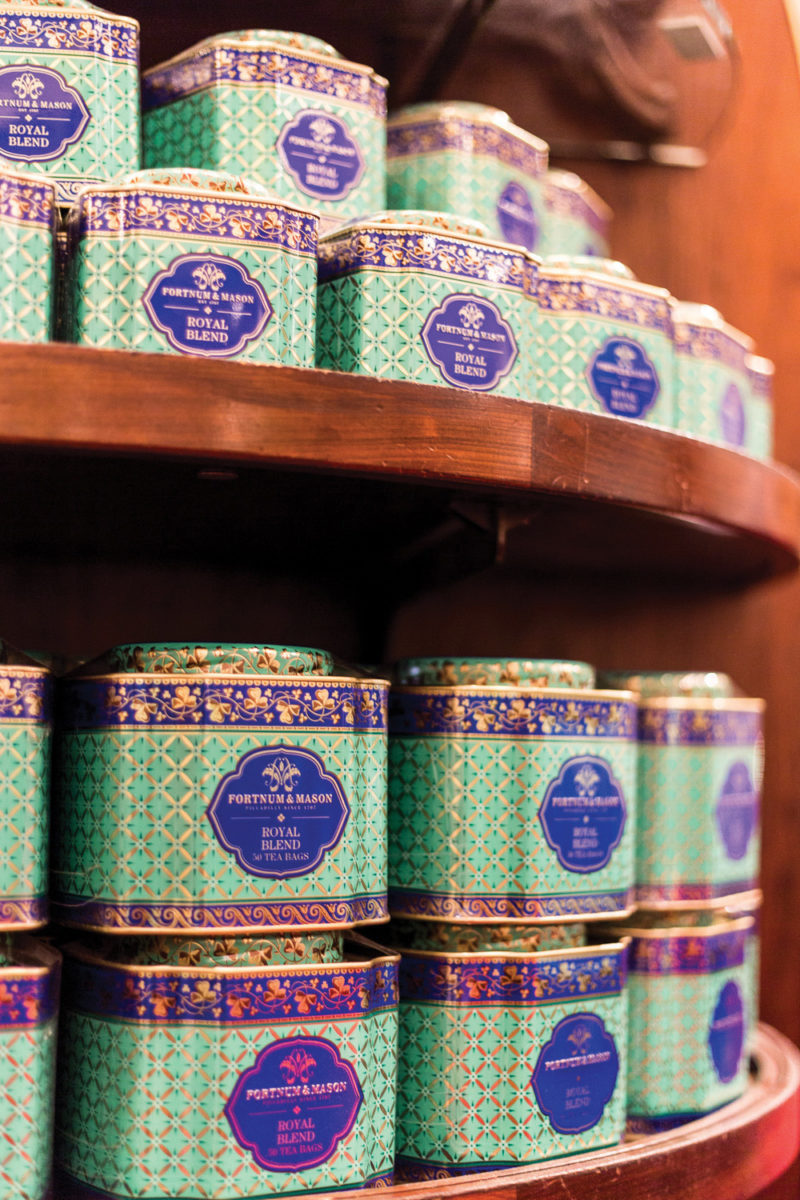 Years ago I was watching a Nigella Lawson special where she talked about traveling and that her favorite souvenir to bring home was something to eat, an exotic spice mix or condiment. I thought it was a brilliant idea and so that is when I started shopping for tea and biscuits at Fortnums. Overall of my travels back and forth to Britain, I have found some foods that I really love, every time I taste them, I am transported in my memory to a great time in Britain. One of my favorite taste memories, as I call them, is the first time I had a cheddar and onion marmalade sandwich. Jon and I were at a National Trust property on a packed day of sightseeing for work when we decided to eat at the cafe in the stable before heading off to our next destination. I ordered a cheddar and onion marmalade sandwich and a pot of tea. The house we were at was very busy that day, so we had to sit at an outside table. It was cold and a little showery. But, wanting to be very British about it, we bundled up and made sure we were under the umbrella sticking out of our table. I could see the steam rising from my tea as I sipped it for warmth as much as refreshment. I took a bite of my sandwich, a little dubious of my choice and was so pleasantly surprised at how much I really loved it. I could've eaten two. The taste of onion marmalade always brings me back to that memory.
When I returned home after that first sandwich, I looked for onion marmalade everywhere, but no one made it in America like it in Britain. I even looked into canning my own, since I do can my own jams already but decided against it. A few trips back as I wandered around Fortnums I came across their onion marmalade. I had bought a few British store brands on previous trips, but I know Fortnums for their quality, so I decided to bring a jar home. At home, I serve onion marmalade on a cheese board with a good quality British cheddar, as trying to recreate the sandwich is next to impossible because most American bread is rubbish. When I opened that first jar from Fortnums, heard the seal pop and got whiff of the marmalade, I could have almost cried. I know it is silly, but it tasted exactly like it does when I eat it in Britain. This feeling struck me that the wives who circled the globes with their husbands, responsible for the cooking must have found great comfort in canned and jarred items, a taste of Britain abroad. The irony was not lost on me.
I have had several experiences like this over my past travels, and they have always influenced my purchases. For instance, the first time I ever had Orange Marmalade was in Britain. I really enjoyed it, but Jonathan (the co-founder of Anglotopia and my husband) loved it. We tried several brands at home, once again disappointed that it did not taste quite like the British version. Now I pick up a jar of Orange Marmalade. I am always in awe of how many types for orange Marmalade they have alone, so many types, thick-cut, thin cut, and ones with delicious infusions such as champagne.
Another item I must purchase is lemon curd. While I know I can make it at home; there is still something very special about Fortnum & Mason's lemon curd. I love it on toast with a strong cup of tea, when I am feeling a bit under the weather. It perks me up. This past year, I made mince pies at home, I had a leftover shortcrust, so I decided to use up the last of the lemon curd and make miniature tarts with the last of the dough and curd. They were luxurious and disappeared quickly from the dessert tray.
This past September as I had a wander through the store, with its floor dedicated to kitchen equipment and dishes, china and place settings, to the fresh meats, veg, and cheeses in the lower level, I came across the Christmas shop. It was the first time I had been there when it was open. As I walked through in late September, part of me, cringing that it wasn't time for holiday decor yet, the other part of me was in awe at the beauty. They had everything one would need to deck their halls in a traditional British style. As I picked out items, the realization on how to get beautiful baubles and Christmas crackers home occurred to me. I know that Fortnum's ships worldwide so it would not have been a problem. I decided to opt for something less complicated to get home.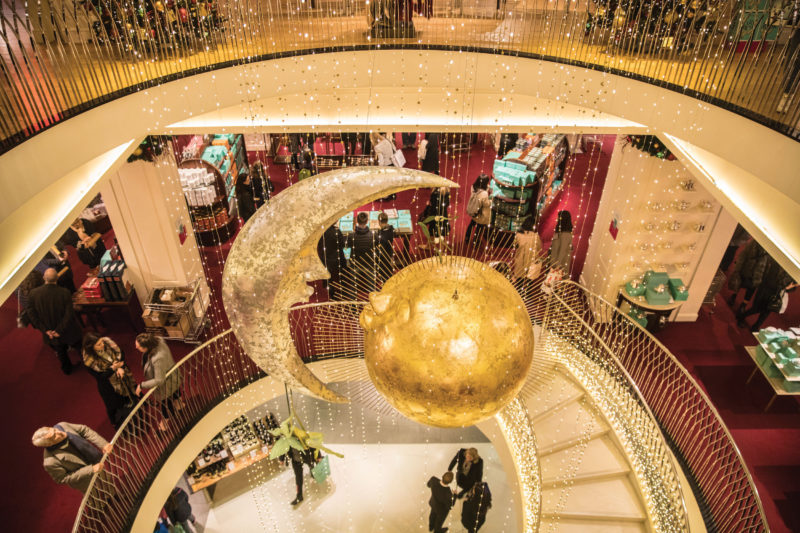 Last Christmas, Jonathan and I hosted Christmas dinner. We decided to do a traditional British Christmas dinner complete with all of the trimmings. Our family loved it, and we loved sharing a bit of Britain with them. I relied heavily on a Nigella Lawson Christmas cookbook and several British friends who received frantic text messages in the days leading up to Christmas, that went something like, "the crust won't come together, what have I missed," or " I can't find sultanas, what would you recommend to substitute?" The meal turned out beautifully, so much so that it has been requested again this year. As I was in Fortnum's, I thought about my British Christmas dinner and decided to go ingredient hunting. I picked up a few prepackaged items that I knew I would need. I bought a figgy pudding for dessert. I won't find that anywhere in the states and as simple as a Christmas pudding looks to make, it intimidates me.
With my figgy pudding tucked safely under my arm and my basket of marmalades and other goodies, I made my way to the counter to pay, when it occurred to me that I should look and see if they had mulling spices to do mulled wine. It gave me an excuse to have one last wander around the store. I looked everywhere and could not find it. Finally, I decided to give up and go to pay for my already overflowing basket as it was peak tourist time and I wasn't able to find a free member of staff. I walked up to the till and asked the man who began to ring up my items if he knew if they had mulling spices. He responded that they did carry them, but they were not out for sale yet. I thanked him, slightly defeated that I wouldn't have that perfect British blend of mulled spices in my wine this year. He asked where I was from, and I told him Chicago. He held up a finger and then walked away. Wondering where he had gone, I stood at the till as the line behind me grew. A minute later, he came back with two gold satin bags in his hand; they were the mulling spices for the wine. He had gone and gotten them out of the back of the store for me. I was so touched by his kind gesture, as he quietly rang them up and slipped them into the bottom of my bag.
This experience, like every other one I have ever had at Fortnum & Mason's has stood for quality. They are brand ambassadors for the taste of Britain. From the early 1700s until now their focus has not changed, quality foods and excellent customer service. While many of the great food halls have changed over the years, there is something solid and unchanging about Fortnums that will keep me coming back for years to come. The only thing I regret on my last trip to the London store was that I forgot the brandy butter to go on top of my figgy pudding. I guess I will just have to hop online and order some, or perhaps hop on a plane for that last special item for Christmas dinner.