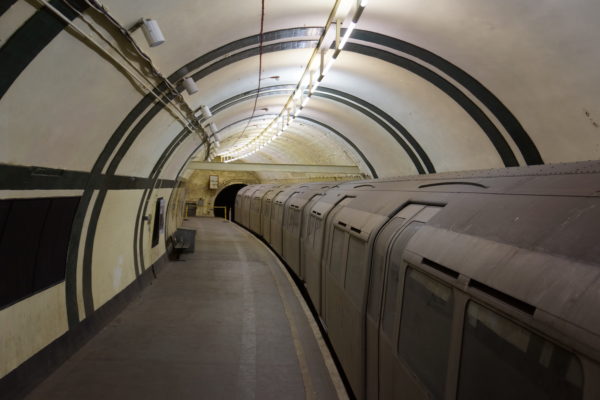 We've been on several Hidden London Tours and they're a great way to experience London in a unique way. We've done tours of two abandoned Tube Stations and I considered them highlights amongst all my travel to London. The thing is, they're hard to get tickets for because they're so popular. You can read about our tour of Aldwych here.
So, Hidden London sent out an email yesterday announcing their early 2018 slate of tours along with notification that they'll be opening to bookings next week. If you sign up for their email list, you'll be allowed to book a day early. Tours next year include disused Tube tunnels and a film in a bomb shelter.
Here are the details:
Treat yourself or a loved-one to an atmospheric disused station tour, Subterranean film screening or a photography tour this Christmas.

We've added new underground film screening dates to our Subterranean Shelter event at Clapham South which will transport visitors back to the Second World War when Londoners were on the frontline fighting nightly bombings and devastation with great bravery and determination. We also have new dates for the ever-popular Euston tours, Euston photography tours, Clapham South tours and 55 Broadway tours.

Tickets will go on sale to the public at 10am (British Time!), Wednesday 22 November but London Transport Museum newsletter subscribers will be sent a priority booking link on Tuesday 21 November at 10am (British Time!) – allowing you an exclusive 24-hour booking window.

In order to speed up the booking process, we advise setting up a London Transport Museum account before trying to purchase tickets. If you already have a London Transport Museum account, please make sure you know your account login details and password before purchasing tickets. If you need to reset your password, please do this in advance of tickets going on sale.
Here are the details on each tour:
Clapham South: Subterranean Screenings
Cosy up underneath a blanket 180 steps underground and watch a bespoke film reel curated by London Transport Museum. Whilst sitting in one of eight deep-level shelters that exists across London, learn about the realities of being a Londoner during the Second World War. With first hand oral histories from people that sheltered here during the V-weapon raids, Ministry of Information propaganda films and newsreel clips of the day, this unique event will transport you to a time encapsulated in history in this shelter hidden deep underground.
Clapham South: Subterranean Shelter Tour
Descend 180 steps underground to explore one of eight deep-level shelters that exist across London. Opened to the public for sheltering in July 1944, Clapham South deep-level shelter has over a mile of subterranean passageways that reveal the extraordinary stories of those who sheltered here, from Londoners seeking refuge during the Second World War, to Caribbean migrants arriving on the Empire Windrush, and even thrifty visitors to the Festival of Britain.
Euston: The Lost Tunnels
Discover a labyrinth of dark and deserted passageways which were once used by the travelling public and see a gallery of preserved vintage poster fragments that have been hidden for over 50 years. This secret space is located below a busy Tube station that serves almost 42 million passengers each year and Euston national rail station.
Euston: The Photography Tour
Especially designed for keen photographers who want time and access to these unique underground spaces to capture the perfect shot of Euston's lost tunnels. Explore a labyrinth of dark and deserted passageways which were once used by the travelling public, take photographs of the heritage features of the traditional Leslie Green station and see inside a large operational fan room. This is an abbreviated version of Euston: The Lost Tunnels with more time given to photography. You will need to have a good working knowledge of photography and provide your own photographic equipment.
55 Broadway: London's First Skyscraper
55 Broadway was the headquarters of London Transport and later London Underground until 2016. This Grade I listed structure – London's first skyscraper – was considered radical and offensive when unveiled in 1929. Now a fabulous example of Art Deco London, visitors will be able to see beautifully detailed offices, grand meeting rooms, and stunning rooftop views.