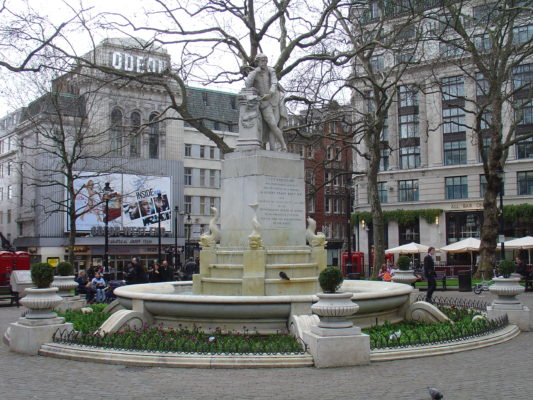 Originally an area of London owned by Westminster Abbey, it came into the possession of King Henry VIII much in the same way a lot of church property did during his monarchy.  He later transferred some of it to Robert Sidney, the 2nd Earl of Leicester, for whom the square is named.  He built a home there called Leicester House, and soon the square was full of affluent residences, but by the 19th Century, the area around the square began to transform into more of a retail and entertainment district.  Now full of shops and theaters, Leicester Square has plenty of great places to visit.  We've outlined our top ten below, but you can let us know your own favorites in the comments.
Swiss Glockenspiel
Once part of the Swiss Centre in London to help educate visitors on Swiss history and culture, all that remains of the building demolished in 2008 is the glockenspiel.  Today, the lock still keeps time and has about 2,132 chimes and performances per year.  Students from the Royal Academy of Music were tasked with creating the melodies that the glockenspiel plays.  What's more, it features 11 Swiss figurines set against an alpine backdrop along with 27 bells and images of the 26 Swiss cantons.
The Casinos
Gambling can be an enjoyable activity so long as you don't let it get away from you, and Leicester Square has several casinos that can provide hours of fun.  Whether you want to play the games or take in one of the shows, every place from the Hippodrome Casino to the Empire Casino offers several different entertainment options.  The casinos also have some high-class restaurants full of delicious food to help keep you on site so you can go right back to playing after you eat.  Some of them also offer packages to help with your fun.
M&M's World
These colorful little chocolate candies have been popular for decades and London is one of the locations for M&M's World shops throughout the globe.  More than just a candy store, M&M's World is four floors dedicated to the sweet with plenty of things to buy from toys to clothing and especially candy.  One of the biggest draws is the selection of over 100 colors available and mixes as well as other products that are unique to the M&M's World locations.
LEGO Store
Another theme store in Leicester Square, the LEGO Store here is hands-down the largest one in the world and is full not only of sets to buy but a great assortment of art made from the little plastic bricks.  Some of the large sets on display include a London Tube Car constructed with assistance from Transport for London, a two-story Elizabeth Tower with Big Ben made out of over 400,000 bricks, and a London Tube Map with motion and working lights.  LEGO-certified Master Builders will also come in on a weekly basis to help children and adult guests learn how to do more with their bricks and come up with their own unique creations.
Leicester Square Gardens
One of the more peaceful spots in the hustle and bustle of the square, Leicester Square Gardens was once used for herding cattle and washing clothes before it was preserved as a public greenspace.  Now the gardens feature statues such as that of William Shakespeare at the center and performance areas for year-round concerts.  The grounds received an update ahead of the 2012 Olympic games and can make for a great place to meet up before or after a movie or just a great stroll through London's greenery.
Prince of Wales Theatre
Built in 1884 and refurbished in 2008, the Prince of Wales Theatre is one of the best performance venues in London's West End theater scene.  Named after King Edward VII before he ascended the throne, the theater is home to many great plays and musicals over its long history from A Doll's House to ABBA's Mamma Mia!.  It is currently home to performances of Trey Parker and Matt Stone's The Book of Mormon.  The theater has been a Grade II listed structure since 1999.
Chinatown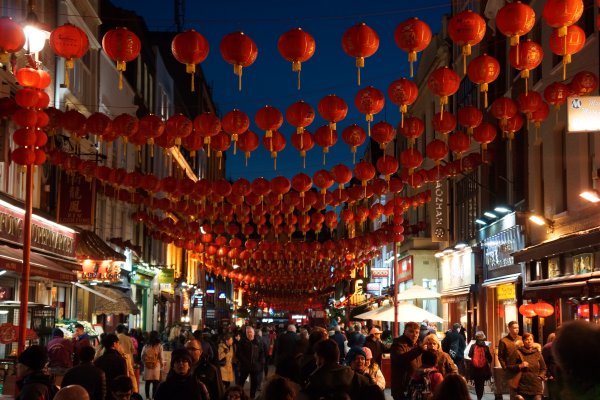 Several areas of London have carried the designation of Chinatown throughout its history, and the current Chinatown established itself off Shaftesbury Avenue in the 1970s.  The area is decorated with Chinese artwork, sculpture, and symbols, including the new fourth gate on Wardour Street that is the largest in the country.  Over 80 restaurants populate the area along with many shops dedicated to Chinese culture and the London Chinatown Community Center.  There are also a number of cultural festivals held there throughout the year from the International Lion and Dragon Dance Festival to the Lantern Festival.
Duke of York's Theatre
While the Prince of Wales Theatre might gear itself more towards musicals, the Duke of York's Theatre has a repertoire covering plays and musicals from King Lear to Annie.  The building itself opened in 1892 and was named in honor of the future King George V and has been a Grade II listed building since 1960.  There's every chance to see great performances from Britain's best actors such as Ian McKellan, Mark Rylance, Tamsin Gregg, Sally Hawkins, Kit Harrington, and more.
Odeon Cinema
Leicester Square has become a hub for cinema in the past few decades, with a number of movie theaters surrounding the square.  Odeon Cinema is one of the best examples and was built in 1937 and is presently the flagship theatre in the Odeon chain.  It is not uncommon for any number of movie premieres to be hosted here and at other cinemas around the square, so chances are high that if you attend one of these red-carpet events, you might see, and have the chance to meet, some of your favorite actors and actresses.  While the Odeon is undergoing some major renovations in 2018, it's still worth taking in should you get the chance or to visit one of the other cinemas in the area.
National Portrait Gallery
The National Portrait Gallery is more than a group of portraits of people who are famous and old.  In addition to pictures of well-known Britons throughout history, you'll find portraits of celebrities and sports stars alongside exhibitions of caricatures.  The portraits are arranged in chronological order so you can go straight to your favorite period.  Exhibits at the National Portrait Gallery include the birth of photography and the influence of Michael Jackson on art.  Taking the guided tour will key you into how much each individual within the gallery has affected not only the United Kingdom but the world.