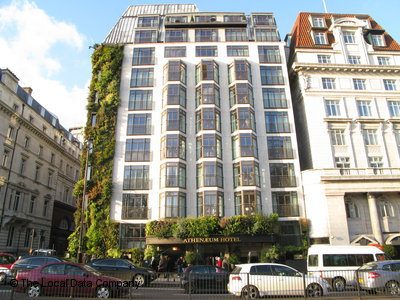 If there's one tradition that's quintessentially British, then it's afternoon tea – think cucumber sandwiches (sans crust naturally), scones covered in jam and clotted cream and delicate pastries and cakes to round it all off, not forgetting the tea of course!
There are plenty of places in London that offer a traditional afternoon tea and many will allow you to upgrade your tea for champagne, at an extra cost.
Here's a selection of some of the best establishments to visit if you want a delightful afternoon tea experience while staying in a luxury London hotel.
Athenaeum Hotel, Mayfair
This has to be the first place on the list because it won the Top London Afternoon Tea Award 2012 from the Tea Guild – you can't get a much stronger endorsement than that!
You'll still be served all the traditional components of an afternoon tea here, but some come with a twist – like the freshly-baked orange blossom scones. If you want to try something a bit different, go for the Regents Park Honey Tea with a glass of Honey Fizz, which, not surprisingly, has a honey theme.
Cover your scones and toasted crumpets with Regents Park honey before tucking into lavender and honey macaroons and honey cheesecake.
Price: £28.50 for the standard option, or £39 if you go for the honey-themed version.
Montague on the Gardens, Bloomsbury
The Montague on the Gardens is another establishment that comes recommended by the Tea Guild, so you can rest assured you'll be greeted by delicious delicacies and tasty tea!
Head chef at the hotel Martin Halls makes use of British seasonal ingredients, so you'll discover the sandwiches and pastries on offer vary depending on the time of year that you visit.
Another reason to visit here – aside from the food – is the setting, as afternoon tea is typically served in the hotel's conservatory that overlooks a private garden, taking you out of the hustle and bustle of London for an hour or two.
Price: £27.50 per person, although add £11 if you want to have champagne.
Crusting Pipe, Covent Garden Market
For a slightly cheaper option, head to the Crusting Pipe, which is situated on one of the lower courtyards in Covent Garden Market. One of the best things about having afternoon tea here is the entertainment, as the covered courtyard plays host to opera singers and classical musicians during the weekend.
You can choose a traditional afternoon tea, or if you aren't so keen on sweet treats, opt for the Crusting Pipe's cheese-themed version.
The restaurant offers a host of artisan British cheeses accompanied by biscuits and chutney, as well as a glass of port. You'll still get a selection of sandwiches and scones too.
Price: £15.95 for the traditional option, or £22.95 if you go for the special cheese afternoon tea.
Harrods Georgian Restaurant, Knightsbridge
Harrods is a symbol of London luxury and so it'd be hard to beat having afternoon tea in the establishment. Its Georgian Restaurant serves up a wonderful selection of sandwiches, pastries, cakes and scones, all accompanied by tea from Harrods' own tea gardens.
The lavishly-decorated dining room only adds to the opulence of the occasion, and it's worth being aware that the dress code here is smart-casual.
Price: £29 per person for the standard afternoon tea, or £36 per person if you add a flute of champagne.