If you have the good fortune of planning a trip to London with young children, the following list may be of help to you.  London is brimming with history, culture and educational opportunities for children of all ages.  But in addition to learning, these suggestions are also fun and offer various time schedules that will help you plan your days effectively.  Ultimately, you want your children to have distinct memories of what the country's capital has to offer, without being bombarded by too many long queues or adult oriented sites that children may be too young to relate to.
The London Zoo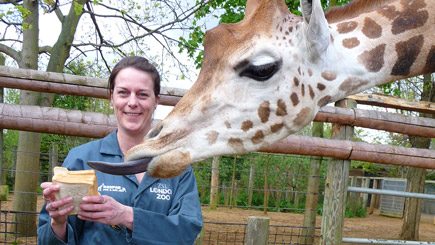 North Americans can be wary of zoos in general but the London zoo is delightful in every way.  It is well maintained, easy to navigate and has so much to discover.  Birds, gorillas, rainforest life, penguins, tiger cubs and exotic creatures the average person has not seen before such as the okapi are just a few of the amazing animals you will view.  The café is also bright and offers something for everybody. Specific buildings are dedicated to amazing insects and all sorts of butterflies, which roam free.  If you're lucky, one may land on your finger.  And don't forget to ride the carousel! Expect to pay:  Adults:  around £22, Children £15, Under 3:  Free.  Tickets are available online at:  tickets.zsl.org. Fast track tickets are also available for £3 more per person and avoid the queues at the gate. Hours:  10:00 am -5:00 pm daily Nearest Tube Stop:  Regent's Park Time Spent:  3 hours Please note that the zoo is about a 20 min walk from the Regent's Park Tube Stop.  No, you are not lost!  If you have toddlers, bring a stroller for this day out. Simply: Exit the station and turn right Cross Marylebone Road and turn left immediately into Park Square East Continue until you reach the entrance to Regent's Park on the corner of the outer circle Walk through the Park along the Broad Walk (heading northward) until you reach the outer circle again.  Turn left onto the outer circle. The entrance is 200 metres on the left.
The London Eye
Is the Queen at home?  Ask your little ones to spot the flag flying over Buckingham palace from London's most exciting Ferris wheel to see if she is. This panoramic tour is the world's highest observation wheel and offers amazing views of the city such as Big Ben over the Houses of Parliament, St. Pauls' Cathedral (Remember the old woman who fed the birds on the steps of St. Paul's in the movie Mary Poppins?), and Westminister Abbey.  Photos are taken during your ride and are available for purchase afterwards.  There is seating inside the pods and the wheel lights up at night.  If you happen to be there around New Year's Eve, a fantastic fireworks display begins at midnight on the grounds. Expect to pay: Adults 16+: £29.50, Children 4-15: £29.50, Children under 4: FREE.  Family of four:  £118.  Advance tickets are available with a 10% discount at: www.londoneye.com.  Combination tickets for other attractions are also available through the website. Hours:  General:  Monday-Sunday 10:00am-9:00 pm.  December 31:  10:00am-3:00 pm.  January 1-5:  10:00am- 8:30 pm. Nearest Tube Stop: Waterloo.  Also within close walking distance of Embankment, Charing Cross and Westminister, if you fancy a stroll. Time Spent:  45 -60 minutes.
London Sea Life Aquarium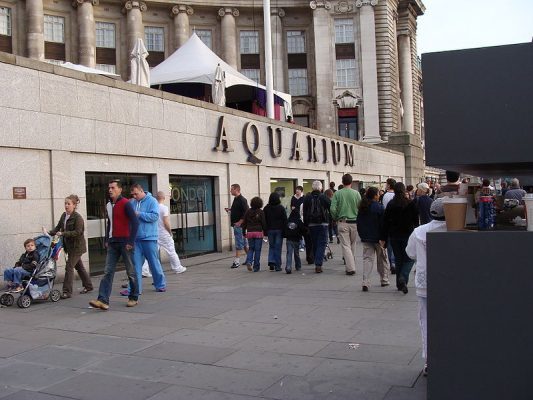 One of Europe's largest collections of global marine life is here.  Sharks, Stingrays, Turtles, Penguins and sea creatures of all kinds abound with beautiful displays and windows for viewing.  From the clownfish (think Finding Nemo) to the Endangered Species list, this is a great family outing.  It is also right beside the London Eye so both activities can be done before lunch if you start out early. Expect to pay:  Adults 16+: £21.60, Children 3-15:  £15.90, Under 3:  FREE.  Family of four:  £63.75.  Advance tickets are available online with a 15% discount at: www.visitsealife.com. Hours:  General: Monday-Sunday 10:00am-7:00 pm.  Please check website for holiday hours. Nearest Tube Stop: Waterloo.  Also within close walking distance of Embankment, Charing Cross and Westminister. Time Spent:  60-90 minutes.
The British Museum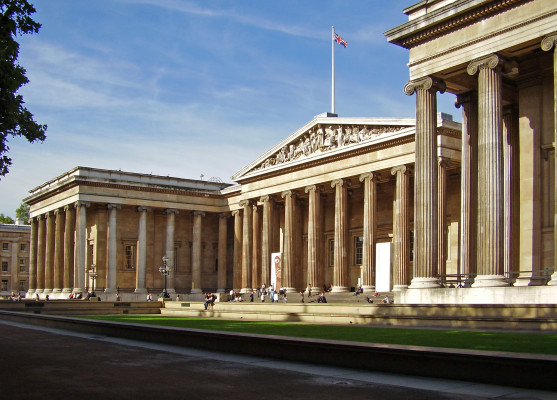 I know what you're thinking:  a museum with children?!  But the British Museum has so much to offer for young minds and is very doable with a plan.  Think of this as The British Museum's greatest hits, so to speak.  When you arrive, look at the directory and pamphlets and decide together on 5 or 6 things that genuinely interest your children depending on their age; things they will remember and say "I've seen that!"  Some examples might include the replica of the crystal skull, genuine mummies in the Egypt wing, the Rosetta Stone which was used to decipher hieroglyphics or Parthenon Sculptures.  My children were especially fascinated by the early tools, coins and timepieces.   There is also a gift shop with some inexpensive souvenirs. Expect to pay:  Admission is FREE.  Donations are greatly appreciated. Hours:  General:  Daily 10:00am-5:30.  Please check website for holiday hours: www.britishmuseum.org. Nearest Tube Stop:  Tottenham Court Road Time Spent:  60-90 minutes.
London Transport Museum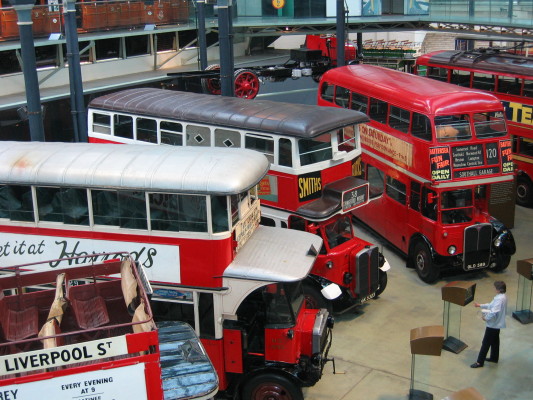 The growth of modern London over the past 200 years has resulted in over 450,000 items in this family-friendly museum.  It is situated in Covent Garden with market stall and eateries surrounding.  Full of buses, cars and trolleys, children of all ages will find this outing fun and very hands on.  Special exhibits highlight how transport factored in to both World Wars and games and booklets for children are available to make the visit both interesting and fun. Expect to pay:  Adults:£15, Children under 17:  FREE.  Students (with ID) and Seniors:  £11.50.  Fast Track tickets are available online at: www.ltmuseum.co.uk, but lines are usually very short. Hours:  Mon-Thurs, Saturday & Sunday:  10:00am-6:00pm.  Friday:  11:00am-6pm. Nearest Tube Stop:  Covent Garden Time Spent:  60 minutes.
Hope and Greenwood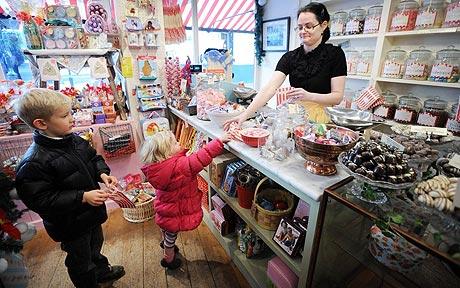 No, this is not an official historical site.  Nor are there queues or special limitations for children.  It is quite simply a retro-inspired candy shop where sweets are sold by weight or in small parcels. It is nostalgic and beautiful to look at; one of those things that makes butterflies in your stomach.  Every time I have walked into this shop with one of my children, I have been reminded of  the idiom, "Like a kid in a candy store".  For those with a UK connection, this is the place to get all the sweets of yesteryear that coins were saved for.  For the rest of the visitors, it is a spot to buy something special for yourself or to bring home like flying saucers, treacle toffees, rhubarb and custards or sugared pears. Expect to pay:  Small vintage boxes of sweets range from £1.99-4.99.  Loose sweets are sold by weight. Hours & location: Monday-Saturday 10:00am-6:00pm.  Covent Garden:  1 Russell Street, London WC2B 5JD Nearest Tube Stop:  Covent Garden Time Spent:  That depends.  How sweet is your tooth?
Hop-on Hop-off Bus Tour of London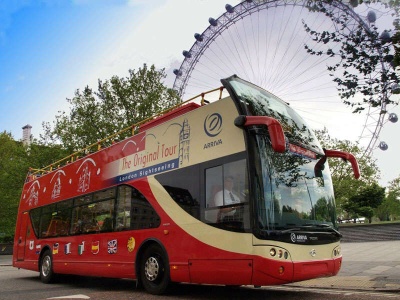 Oh, the excitement of the double decker bus!  And weather permitting, you can ride in the open air up top.  The Original Tour: London Sightseeing offers over 80 stops and 3 different sightseeing routes.  But the beauty of this is that at any time you see something that interests you, you are free to hop off and wander around, grab a bite to eat or sight see, and then hop back on another bus.  These tickets are valid for 24 hours so this is a pressure free way to see the city.  Dialogue is available in many languages with headsets.  Kids' Club Activity packs are available to make the historic sites more interesting.  In addition, the Thames River Cruise in included in the pricing. Expect to pay:  Adults:  £29.00, Children:  £14.00.  Family of four:  £72.00.  Advance tickets are available with a discount at:  www.theoriginaltour.com Hours:  As early as 9:30 am from certain departure points – 10:00pm.  Please see website for timetables. Nearest Tube Stop:  Charing Cross  (ask for walking directions to the river bank) Time Spent:  As little or as long as you like.
Thames River Cruise *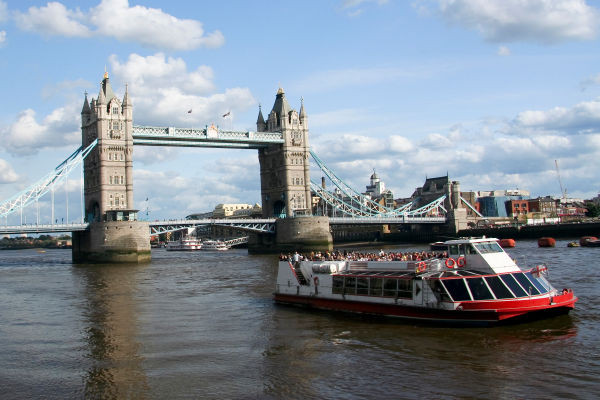 Most children find boat rides exciting and this one is relaxing as well.  Again, you can hop off and hop back on again as you please within the 24 hours period, while passing certain landmarks.  Time schedules are available as well to let you know when to return.  Refreshment services are available on board and headsets similar to the bus tour feature many languages.  Outdoor decks are fun when the weather is nice. Expect to pay:  Free with Hop-on Hop off bus ticket. Hours:  Departs every half hour from Westminister Pier beginning at 9:45 am and Tower Pier from 10:05 am.  For last return of the day, please ask Staff. Nearest Tube Stop:  Charing Cross (ask for walking directions to the river bank) Time Spent:  Tours are 30-40 minutes each way
Hamley's Toy Store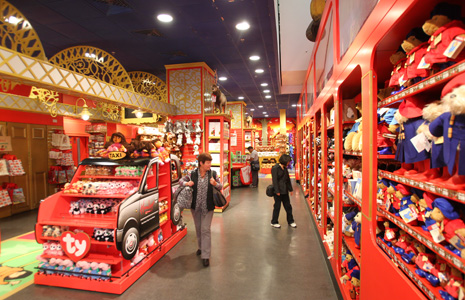 Hamley's toy store prides itself on being the oldest and largest toy shop in the world.  Founded by William Hamley in 1881, it boasts 7 floors with over 50,000 toys.  There are all sorts of exciting demos going on by associates and though it is pricey, there is something for everybody.  With 5 million visitors per year, it is considered one of the city's main tourist attractions.  This is a good outing on a day off of sightseeing.  Of course there is other good shopping on Regent Street, but for children, it doesn't get any better than this. Expect to pay:  We set a limit before we went in.  For example, Hamley's carried specialty Lego sets we hadn't seen at home so my son chose one.  There are also little candy centres where the children can fill a baggie with a treat if you'd rather browse and not spend too much. Hours:  Monday-Thursday 10:00am-10:00pm Nearest Tube Stop: Oxford Circus Time Spent:  It took us an hour to look through everything
St. Martins in the Field's Church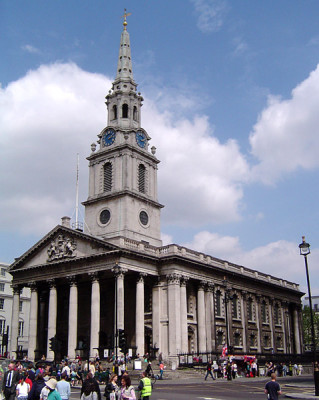 Are you ready to create a masterpiece?  Don't worry, no prior skill is involved.  Brass rubbing was a popular Victorian pastime that is available in the basement of St. Martin-in-the-fields church.  This experience will give you something precious to take home.  It is fun for all ages.  With a choice of over 100 brass plate replicas from churches and cathedrals to choose from, an associate provides you with a sheet of black paper and a choice of metallic wax crayons to rub over your plate and create a relief.  Each one is unique and beautiful and there are quiet spaces to sit and work as well as a small café.  Profits support the works of the church. Expect to Spend:  Prices start at £4.50.  Poster tubes are available to get your artwork home safely. Hours:  Monday-Wednesday10:00am- 6:00pm, Thursday-Saturday 10:00am-8:00pm, Sundays 11:30am-5:00 pm. Nearest Tube Stop:  Charing Cross. Alternatively, any bus bound for Trafalgar Square will bring you to the door. Time Spent:  30 minutes.
Honourable Mention:  Greenwich
The Thames River Cruise gives the option of a ride to Greenwich, which provides a Maritime museum and Royal Observatory that played a major role in Britain's history of astronomy and navigation.  It is said Greenwich is where time began, primarily because instruments were developed for seafarers there. This is best suited to older children who are interested in the sea, but also offers a low-key walking afternoon with quaint shops and an outdoor market of antiques, sweets and souvenirs. Expect to pay:  The Maritime Museum is FREE donations are greatly appreciated.  Certain exhibits charge fares. The Royal Observatory:  Adults: £8.50, Children 5-15: £4.00, Family of 4:  £22.00. Hours:  Monday – Sunday 10:am- 5:00 pm Nearest Tube Stop:  Charing Cross(ask for walking directions to the river bank to catch the boat) Time Spent:  3-4 hours total. Including boat ride.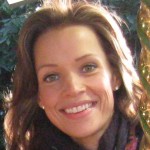 About the Author: Lorelei Bachman is Canadian freelance writer/composer who is also a mother, an avid traveler and lover of all things British.  She travels to Europe often, and loves sharing her food and travel experiences with friends and family.