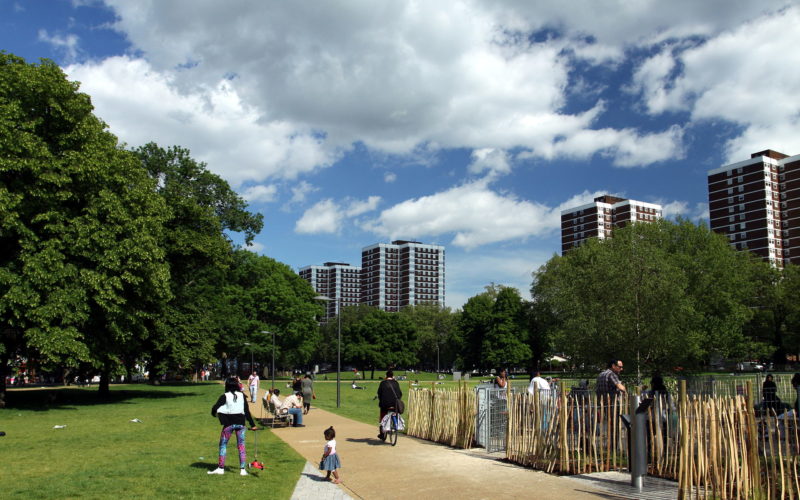 Located in the Borough of Hammersmith and Fulham, the area Shepherd's Bush is thought to be have been named as a resting place for shepherds on their way to market.  It was mostly common land and remained rural up to the 19th Century, when the city's suburban expansion eventually caught up to Shepherd's Bush and it was swallowed up as many areas were.  Today, it is a bustling part of London with many great places to visit from one of London's top shopping centers to an important part of Britain's TV history.  We've got our ten favorite places in Shepherd's Bush listed below and you can let us know your top spots in the comments.
###Shepherd's Bush Green
What remains of the common land that once formed Shepherd's Bush can be found in Shepherd's Bush Green, an 8-acre green space.  The green has a little bit of everything such as fields, playgrounds, and public art.  It's a wonderful place for a respite and is a launching point for the rest of your journey into Shepherd's Bush.
###BrewDog Shepherd's Bush
BrewDog out of Scotland is a brewery long known for pushing the envelope to bring real ales to the masses.  The brewery's series of pubs throughout the UK are like embassies for this mission, and much like the pubs in Camden and Shoreditch, it puts the focus on the beer.  However, one of the main differences is the size of the pub, which is both larger and has more taps than the others with some forty taps.
###Sherlock: The Game is Now Official Escape Room
Are you smart enough to stop Moriarty's latest scheme?  That's something you can find out at this escape room that is officially licensed by the BBC's Sherlock.  Each room takes approximately 100 minutes and is full of sets and references to the show.  Once you're done, you can have a drink in the game's pub, The Mind Palace.
###O2 Shepherd's Bush Empire
One of the top performance venues in the area, the Shepherd's Bush Empire was at one time the BBC Television Theater and saw such programs as Jim'll Fix It, Jukebox Jury, Wogan, and a number of music programs.  It was sold in 1991 and in 1993 opened as a music venue and today sees any number of concerts, comedy performances, and special one-man shows.
###Loftus Road Stadium and the Queens Park Rangers
Officially known as Kiyan Prince Foundation Stadium, Loftus Road is home to the White City's own Queens Park Rangers.  Playing in the second tier EFL Championship, the Rangers have an illustrious history that stretches back to their foundation in 1886.  It's certainly worth catching a match if you're in London and want an inexpensive chance to see real English football.
###Shepherd's Bush Market
Whatever you are shopping for, chances are you're going to be able to find it in Shepherd's Bush Market.  The market first opened in 1914 and since then has become a veritable smorgasbord of goods from food to clothing to jewelry and more.  The market is open every day except Sunday, so there is plenty of time to find whatever is on your shopping list.
###Bush Theater
The Bush Theater was founded in the 1970s as a venue for new writers where they can try out fresh material and gain experience.  Many writers who have had works put on at the Bush have gone onto become well-known playwrights.  You can guarantee that whatever you see there is going to be unique and may be written by a future Tony winner.
###Bush Hall
Built in 1904, Bush Hall originally opened as a dance hall and went through a variety of uses before becoming an independent music venue in 2001.  The ornate interior has the ability to turn any concert into an event whether it's rock, blues, rap, jazz, or dance music.  Be sure to check the calendar to see what's coming and find the show that appeals to you most.
###Westfield London
Westfield is arguably a top shopping destination in Shepherd's Bush and London as a whole.  It's an anchor to much of White City and provides a gateway to the rest of the area.  Shops inside include AllSaints, LEGO, Doc Martens, GAP, and a dozen more.  There's also a wide variety of places to eat from Five Guys to more upscale restaurants.
###Television Center
For decades, BBC Television Center was the home to many important television programs from the news to Doctor Who and Blue Peter.  This monument to broadcasting closed in 2013, and most of the television production moved to Broadcasting House, while Television Center began the process of transforming into a multi-use building housing shops, offices, homes, and keeping some studios for the BBC.  While tours of the building aren't exactly available, you can still visit the restaurants, tour an apartment, and imagine what it was like once upon a time.