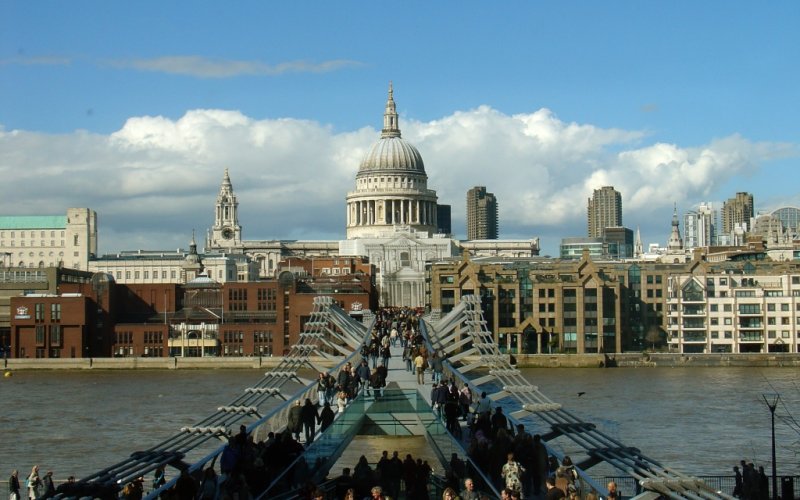 The River Thames is the life's blood of London.  It's along the river that the first settlements appeared in prehistory and here where the Romans established their capital for Roman Britain, leading to the city as we know it today.  It should be no surprise that many of the city's landmarks can be found not too far from its shores.  These include beautiful gardens, fun attractions, and important historical monuments.  We have outlined our top ten places to visit along the Thames below.  If you think there's something we left off that others should see, let us know in the comments. You can see the previous article on this subject here.
Garrick's Temple to Shakespeare
A small place that you might overlook otherwise, Garrick's Temple to Shakespeare is a garden folly on the north bank of the river in Hampton.  A folly is an ornamental structure that serves no real purpose, and actor David Garrick had it built in 1756 to honor playwright William Shakespeare, and Garrick used it to store his collection of memorabilia and to entertain his friends.  The temple is a Grade I listed structure and claims to be the world's only shrine to the Bard.
Millennium Bridge
Finished in 2000, this suspension bridge initially wobbled more than its builders intended, meaning it needed a little more work before it became a major pedestrian crossing point in 2002.  Since then, its futuristic design has made it a top film location for everything from Harry Potter and the Half-Blood Prince to Guardians of the Galaxy.  You may even feel its resonance yourself as you walk from the City of London into Southwark.
Cutty Sark
While many ships are docked along the Thames, none are so grand as the Cutty Sark.  It's one of the last tall ships left intact in the United Kingdom, and during its lifetime, the ship was a fast clipper that brought tea from China back to Britain.  Now it exists as a museum that lets people see what it was really like to sail on a 19th Century vessel.  You can even go under the ship to view its magnificent hull for yourself.
Up at the O2
Certainly, a great way to see the river and the city, Up at the O2 takes visitors on a secure climb up the arena dome.  The climb takes approximately ninety minutes, and once you're at the top, you have some of the most perfect 360-degree views of London.  Once you're done with the climb, you can take in the arena's restaurants, cafes, or bars and possibly a show or other event.
National Archives
Much like America's own National Archives, the National Archives of the United Kingdom is a repository for the country's most important documents, some of which date back over 1,000 years.  Whatever you want to know about the United Kingdom, chances are you can find documents here that will help with your research as well as a friendly staff willing to assist you.  From war to UFO sightings, you can find documents on just about anything.
Thorpe Park Resort
Thorpe Park is a great theme park right off the furthest western end of the Thames.  Opened in 1979, it features roller coasters such as the Swarm, Stealth, and Nemesis Inferno, but also a number of licensed rides and attractions.  These include Saw: The Ride (based on the horror franchise), Angry Birds Land, and The Walking Dead: The Ride (which is a bit like a haunted house).  It has some of the fastest and scariest rides in all of Britain and offers some of the most fun you can have by the river.
Marble Hill House
King George II's mistress, Henrietta Howard, had this great Palladian mansion built from 1724 to 1729 under the direction of architect Roger Morris and Henry Herbert, 9th Earl of Pembroke.  Today the estate is managed by English Heritage and offers tours of the house and Henrietta's gardens, as well as putting on events on a regular basis from yoga to concerts to dog shows.
Royal Botanic Gardens, Kew and Kew Palace
Kew Gardens is one of the largest and most diverse botanical gardens in the world, with over 30,000 different species of plant spread out over 300 acres.  In the middle of all this is Kew Palace, a royal palace that has been home to Robert Dudley, Queen Charlotte, and the children of King George II.  The Dutch House is all that remains of the original palace, but it is still worth seeing for its historical value and paired with the Royal Botanic Gardens, you could spend an entire day here.
Southwark Cathedral
Southwark Cathedral is the mother church of the Anglican diocese of Southwark and was constructed beginning in 1106, and has had portions of it rebuilt up to 1897.  Its lovely Gothic architecture was the first of its kind in London when the church was first rebuilt in the 13th Century.  Aside from being an active place of worship, the cathedral also hosts concerts and art exhibitions throughout the year.  Make sure to observe the cathedral's calendar, however, as services will limit the ability to tour the church.
Hampton Court Palace
Certainly the best Royal Palace along the River Thames, Hampton Court Palace is our top place to visit.  It was originally built around 1515 for Cardinal Thomas Wolseley, but after he fell out of favor, King Henry VIII took it for himself as recompense for Wolseley's disgrace.  It ended up being his favorite royal residence, and while still the property of the Crown, it also operates as a museum.  It has wonderful decorative chimneys, Tudor-style roasting hearth in the kitchens, a timber-beamed great hall, and more.  A 17th Century aborted renovation left it with some Baroque features as well, making for an interesting hodge-podge of styles.
Top Ten London: Top 10 Things to See and Do Along The River Thames