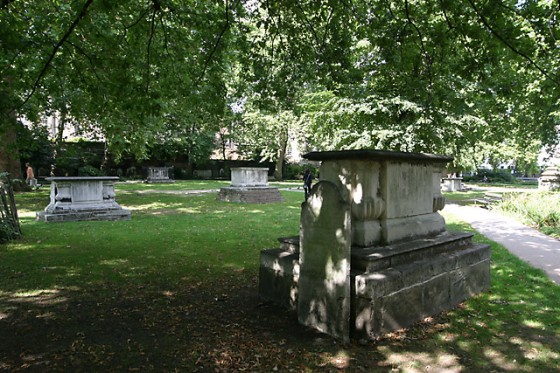 While the City of London has its secret gardens, the West End tends to have garden squares, many of which are private with access only available to the residents of houses on the square (they have a key, but most pay heavily for the privilege – upkeep can cost each household £1,000 or more every year).
However, there are other hidden gardens which are open to the public.
One of my favourites is the little strip of garden that leads up to St Paul's Church, Covent Garden. You have a delightful view of the plain but satisfying façade of the church, with the tall backs of buildings on both sides, and the path is flanked by benches where you can sit and relax – though sometimes in summer there are so many people visiting the church that it's a bit like sitting beside a pedestrian M25.
St George's Gardens, Bloomsbury is another hidden garden in an old churchyard, with an entrance off Handel Street. Old tombstones are tucked away against the walls, and huge old trees shelter inquisitive squirrels who will try to scrounge your picnic (there's a Waitrose nearby if you didn't bring provisions). It's always cool here, even when London is baking in a heatwave.  And here's a nice piece of historic trivia; St George's Gardens contains the tomb of Anna Gibson, née Cromwell, sixth daughter of the second Lord Protector – not Oliver but his son Richard Cromwell.
I also like Victoria Square, close to Victoria station but invisible from the main road. It's a long, thin garden in a long, thin square surrounded by fine stuccoed terraces, with a statue of the young Queen Victoria and two Catalpa trees. The statue shows Victoria at exactly the age she would have been when the square was first laid out, which is a nice touch. Go during the week though, as at the weekends it reverts to being a private garden for the residents of the square – who once included Bond author Ian Fleming.
Right in the heart of Mayfair is Mount Street Gardens, with tall plane trees and banks of luxuriant shrubs tucked against the glowing red brick cliffs of apartment buildings behind. It's not really a secret – come too late at lunchtime and you might not find a bench – but it still feels satisfyingly hidden away from the bustle of the streets, and it's visited by a large number of birds, from the aggressive little robins and sweet-singing blackbirds to soft cooing pigeons and speedy blue tits.
St Anne's Soho brings the garden into the twenty-first century with its Wall of Light security fence – fibre optic lights project different colours on to the stainless steel mesh to create dynamic effects after dark. It's a thing of beauty as well as utility. The garden is a real community feature – children from the local school grow vegetables here, and it's crowded on summer lunchtimes with people who work in nearby offices eating their sandwiches.
And finally, a royal garden – not a royal park, but the churchyard of the Queen's Chapel of Savoy off the Strand. It's nothing special as plantings go – there are some tall old trees and there's a well kept lawn – but its hidden location, on the steep hill sloping down to the Thames, always makes me feel I've discovered a secret that no one else knows.
All these secret gardens are easily accessed by public transport from one of the cheapest Westminster hotels opposite Lambeth North tube station.
Written by Andrea Kirkby