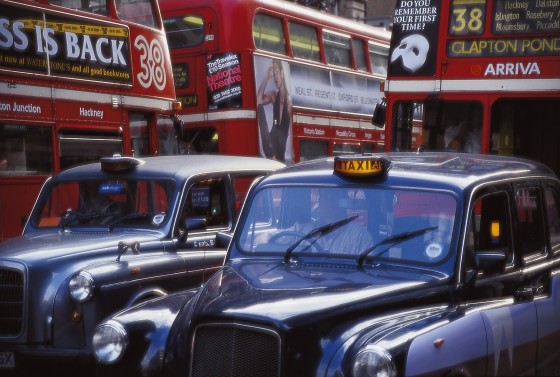 London has arguably one of the best public transport networks in the world. With comprehensive coverage from trains, buses and even boats you are never more than a short walk from a station or stop to get yourself on the move.
However, if you're just visiting the city or are new to town then even the process of hopping on a bus can seem like a confusing and challenging task. Here are a few tips to help you go from slow to pro in no time.
Tickets and fares
By far the most convenient way to pay for transport in London is to get yourself an Oyster card. Just one of these plastic cards will serve you for all your travel needs for however long you're in London and can be topped up with credit or travel cards as necessary. The cards should be swiped on distinctive yellow pads on buses and trains for ever journey made.
An Oyster will cost a small deposit, which is irritatingly tricky to get back, but it is well worth the cost for the convenience which it provides. If you are in London for one day only then a paper travel card will probably be preferable purely to save on the deposit cost, but all other times the Oyster wins out.
For fares London is divided into six zones, starting with zone 1 in the centre and working out like a drunken sketch of a dartboard. Travelling between zones by underground train will cost you more than travelling within a zone. Travelcards can be bought to allow free travel within specified zones, most tourists will need no more than zones 1 and 2.
A single bus journey will cost the same regardless of the zone or the journey length; paying the driver by cash costs more than using an Oyster card.
The Underground
Probably the simplest of London's public transport options, the Underground, or Tube, will get you long distances quickly but has significant gaps in its coverage, particularly south of the river Thames.
There are certain etiquettes which should be observed while using the Tube which are not immediately obvious to new visitors. These are designed to make the experience more pleasant for all so please try to do the following:
Stand on the right on escalators, allowing room for people in a hurry to walk past you on the left.
Get your ticket out of your pocket before you get to the ticket gates to avoid stopping and holding everybody up.
When getting on a train wait for passengers to get off first; there will be plenty of time, so no need to panic and stand to the side, not right in everybody's way.
When inside a busy tube move down the carriage. Just because you have space doesn't necessarily mean the people behind you do.
The tube often gets extremely busy at rush hour (generally 7.30-10am and 5-6.30pm) so where possible avoid it at these times. In central London (zone 1) stations are often so close that it's easier to walk between them than go underground, check a map before travelling.
Buses
Buses can be more intimidating than the tube, as they are irregular and if you don't know what your destination looks like it can be difficult to tell when to get off.
Happily many of the newer buses have a digital display and announcer who tells you where you are, so remember to listen out for your stop.
The city's famous double-decker buses are a great way to sightsee on the cheap. Just get a seat upstairs and you can get unique views of the likes of The Houses of Parliament, St Paul's Cathedral or St Pancras International Station.
Some buses stop late at night (generally after midnight), but several become night buses, running around the clock. Oyster cards also work on buses, just swipe them in as you get on.
Other transport
The confusingly named river buses (actually boats) operate up and down the Thames and are a cheap and leisurely way to see London from a different angle. Although run by Transport for London they will cost you an extra fare on top of your travelcard.
London has a bicycle share scheme, with special docks dotted around town. You have to sign up online to participate but it's a great way to get around quickly, just remember to bring a helmet.
If all else fails and you need to catch a taxi then make it one of the famous black cabs. These are officially licensed by the city and considerably safer than a dodgy minicab.
The best way to get around London is a really a mixture of all these forms of transport and a little bit of walking thrown in. So grab yourself an Oyster card and a map and who knows where it could take you?
Tom Parnell is a former journalist who writes freelance for the web and has lived in London for the past 10 years. He is currently helping the nice people at Monster promote jobs in London.