If you're like me, you're a voracious reader. You may even be working on more than one book at a time. While larger book shops are certainly fun to browse, sometimes a specialty bookshop will have what you're looking for—no matter how obscure the title. As London is filled with specialty shops from strange nick-knacks to bespoke umbrellas, you better believe it has a number of specialty bookshops. So what do you fancy reading while in London? Feel free to add some of your favourites to the comments below and something you purchased there.
1. Gosh! (Graphic Novels – Soho)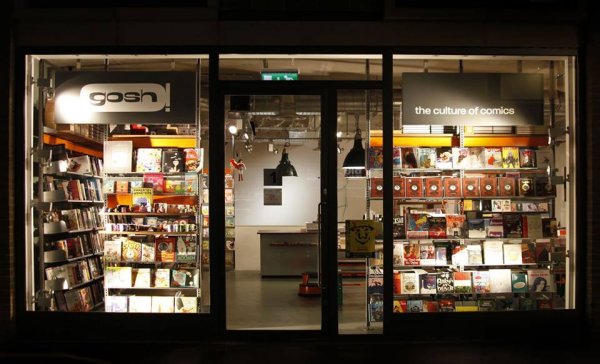 While you can certainly take a trip to Forbidden Planets for your comics and toys, Gosh! located on Bertwick Street is your haven for all manner of graphic novels. The shop's inventory includes not only your traditional superhero tales, but also contemporary graphic fiction, manga, independent small press books, and even vintage children books. Despite its smaller size, you would swear this shop is secretly a TARDIS for all the varying books you can find within for the graphic genre. As with most great shops, it regularly hosts special events and has creators come into the shop for signings. If you're walking down Bertwick and see the Batsignal hanging on the side of a building, do yourself a favour and go inside.
2. Crime In Store (Crime and Mystery – Covent Garden)
Since Murder One closed down its brick-and-mortar operation and went online exclusively, Crime In Store is one of the last good crime bookshops in London. The shop focuses on true crime, crime fiction, and mystery books with "a wide selection of UK and US paperbacks – from Miss Marple to Matt Scudder". If you're lucky, you may even find a copy of a book signed by the author as you peruse the shelves. If you can't make it into the shop, Crime In Store issues a catalogue six times per year and will accept credit cards for payment. One of the fun things about their website is that they have a mystery for you to solve with the solution available when you print out their page.
3. Motor Books (Motoring – Covent Garden)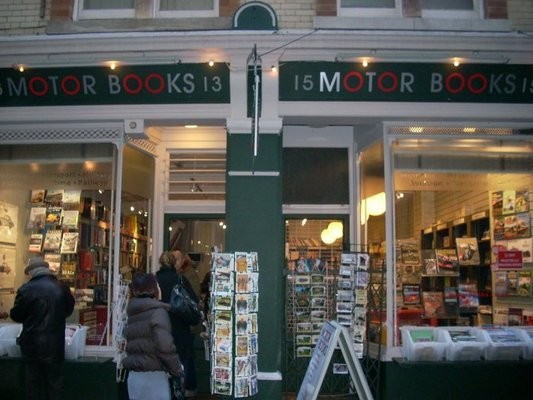 Another specialty bookshop in Covent Garden, Motor Books as you may guess is completely dedicated to motoring. However, this isn't a shop that's just about cars, it also covers motorcycles, aviation, trains, and military vehicles. The prices might not be as good as what you can find online, but if you're going to a specialty book shop, chances are you enjoy being able to physically browse and treat finding rare books the same as finding lost treasure. Motor Books also regularly hosts guests and authors, including the First Lady of Fifth Gear, Vicki Butler-Henderson. Certainly worth your time for books on all things that help you get where you're going.
4. Magma (Art – Clerkenwell)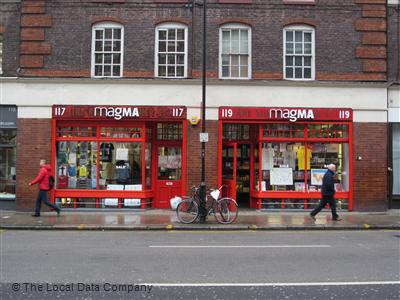 Definitely a bookshop for lovers of art and design, it handles every visual topic you could think of, with books on fashion, design, architecture, photography, and more. A smaller store is made up for with high shelves filled with books, DVDs, and pieces of art for you to take home and bring some color and class to your home. Perhaps the only real drawback is that the books are going to be a bit pricier than you'll find in larger chains, but what you get in return I worth it with a knowledgeable staff and great selection. Additionally, the shop carries a wide variety of art and design magazines. Magma is as colourful as you would expect and everyone should have a look and some of the best art outside of a museum or gallery.
5. Books for Cooks (Cooking – Notting Hill)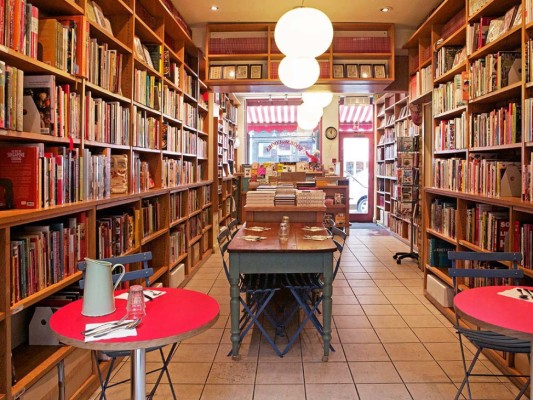 This shop has a great smell when you walk in the door, and the smell is just as much from books as the dishes they help to create (the kitchen in the back of the shop certainly helps too). The shop's founder, Heidi Lascelles, was a nurse when she established the store in 1983 without much experience in selling books or cooking, but managed to grow out of its original location and had to move across the street. Now with different owners, it maintains a quality of excellence with a cookbook for any type of dish you want to make. Additionally, the shop also offers cooking classes thanks to its test kitchen. This shop is guaranteed to feed your literary needs as well as your stomach.