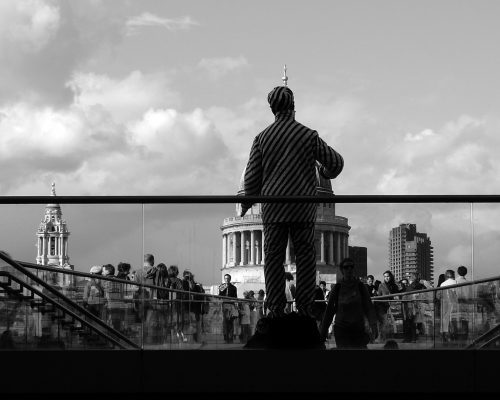 I consider myself a London travel veteran these days. Having traveled there 10 times in the last decade or so, I've learned a lot about London, learned to love it, learned to hate it, learned to enjoy it despite its problems.
The problem is that I usually only get to go once a year and there's a lot of pressure to fit in everything I want to do in the time allotted. Almost always I'm never able to get done everything I wanted to do – even if I spend the whole trip running around.
That said, I've spent a colossal amount of time in London that's been completely wasted. I've also made some poor decisions that have led to some trips not being so great. So, in an effort to spread our London knowledge, I thought I'd share some of my biggest regrets and mistakes learned from previous London trips.
As we count down the days to our next trip (in London from June 1st – June 7th), here's a few things we hope to not repeat.
Hotel Room Internet Saga
Circa 2004, hotel room wifi was not as common as it is now and if you did get it, it did not work very well. Back in 2004 I was still a student and Anglotopia wasn't even a twinkle in my eye. I was just your average internet junkie. It was our first trip with a laptop and I was very happy about this so I could keep a trip diary but also keep up with the internet.
Our room in a shitty hotel (which will not be named as it's probably changed since then) included free Ethernet in the room. I was quite excited about this fact. I plugged it in and assumed it would just work.
It didn't.
What followed was hours spent trying to get the damn free internet to work.
I never did.
And rather than spend one more night on the streets of London before we left, instead I spent it in a crappy hotel room trying to get the internet to work.
Lesson learned, the internet will not die without me and I can live with it the other 360 days of the year I'm not in London.
Skipping watching the boat race
The Oxford vs Cambridge boat race is one of the biggest sporting events on the London Calendar and thousands turn up on the banks of the Thames to watch the race. The year I first heard about it, I was actually in London during the race.
Despite the fact it's free to go down to the Thames to watch the race, I decided better to watch it in the hotel on the tiny little TV.
Since, I've become a big fan of the Boat Race and watch it every year. Ever since, I've wished I'd gotten off my butt and gone a few blocks down the street to the Thames to watch the race in person as I haven't had the same opportunity again.
Taking the Tube EVERYWHERE
I get it – the Tube is amazing. Most Americans come from cities with little to no public transport and if there is public transport – it's certainly no fun to ride. Riding the Tube for the first time is so much fun – it's intoxication. It goes everywhere, it has its own rhythms, its own smell, its own culture and life.
You'll love it so much that if you're not careful, you'll end up taking it everywhere and your entire geography of London will be built around it.
This is a big shame because there's so much more to London than just where the Tube goes. Most of central London is actually pretty close together – so close you can walk to most of the major sites. If you just take the Tube everywhere, you miss the chance to explore London's streets. You miss the chance to get lost. You miss the chance to discover something not in the guidebooks.
So, while it's smart to rely on the Tube – don't rely on it to take you everywhere.
Not Budgeting Enough Money for the Trip
I made this mistake not once, but twice. Back when I was in college, we used to use our grant money that we had leftover to fund our first trips to London. While this was not the best use of the money (we worked full-time so we thought of it as bonus money) this led to sloppy budgeting.
We literally ran out of money in London twice. With several days left to go in the trips.
It was pretty scary – we were in one of the most expensive cities in the world and we literally had no money, our credit cards were maxed out and we were counting our change to buy Burger King.
Thankfully, desperate phone calls back home resolved the situation (Thanks Mom & Dad). When we got home, we were even more broke.
But after making the same mistake twice, we resolved for that to never happen again. It's so important to budget enough money to enjoy yourself in London. While it's easy to do London through the gutter with no money, it's certainly not fun (unless you're a masochist). So, we always make sure we save enough money for our trips. What is enough?
We budget £100 a day in spending money. This does not include hotel, transport, etc. This is pocket money for food, souvenirs and whatever else comes up.
Not Taking More Day Trips out of London
Our geography of Britain is very London centric. I'll be the first to admit that. We've only really been to Dorset, which is a shame (well Dorset's great though!). I really wish we'd taken more day trips in the past and it's certainly something we've built into our itineraries nowadays.
Day trips don't have to cost a fortune, it can be a matter of buying a train ticket and exploring a town at the end of the line. I've been to England 10 times now and I haven't been to Oxford, Bath, Cambridge, Stratford, York, Bristol, Brighton, Canterbury, Birmingham, Manchester… I could go on.
As a card-carrying Anglophile, this is criminal and something we're rectifying on future trips.
The problem is that once you get into London, you get comfortable being there, it's hard to pull yourself away and take the risk in exploring somewhere else.
Sticking to Chain Restaurants Because they're Familiar
I have strange eating habits, I'll be the first to admit that. So, when I'm in London I generally just stick to what's familiar and usually just default to getting a burger and chips.
There's sich a variety of food in London, this is just as criminal as never leaving London. I wish I was a little more adventurous and tried a different variety of foods. I wish I tried hole in the wall restaurants rather than sticking to chain restaurants where everything is familiar.
Not Making Many Friends
This is a hard point to make because we've made lots of friends in Britain through our travels, I just wish we had more. That said, the friendships we have made will last a lifetime and I suppose it should be about quality over quantity.
Never Going For More than a Week
On 10 trips, the longest I've been in London has been just 1 week and as few as 4 days. This is almost always never enough time, which is why we haven't taken many day trips outside of London. There's never enough time to do what we want to do.
Our next trip to Britain is 17 days – while it's not possible for most people to take a trip that long – it seems like a good amount of time and I hope we can see and do everything we want to do. We probably won't.
Go for as long as you possibly can. If you can miss a full week of work – cram in both weekends and make it a 10 day trip. This way you can visit neighboring cities as well. You won't regret spending MORE time there.
Thinking it will be like the Movies
Our picture of London is very much built-in our heads by movies and TV shows. It's so much more than that. The fictional place you build in your head does not reflect reality much – just try going to Notting Hill these days, nothing like the movie and overrun with tourists and Americans who moved there because of the movie (driving up property prices).
I actually hated London the first time I went because it was nothing like I expected to be.
So, the biggest lesson we can pass on here is that you need to understand London will not be what you think it is. It will be something completely different from what you imagine.
But it will be awesome, better and REAL.
Missing London 2012
When London was chosen to host the London 2012 games in 2005, I resolved to be there for them. Back in 2005, when I was still in college, my line of thinking was that by 2012 I'd be well established professionally and I could make it happen.
Well 7 years went by a hell of a lot faster than I thought they would and we had a few life hiccups along the way (one in which prevented us from visiting Britain for nearly 3 years). Generally Anglotopia and Londontopia can make these things happen (and they still might). But after we weren't chosen for any tickets last year, we decided there's not really much point in going.
I wish we hadn't been so defeatist. There's going to be so much going on in London during the time. It will be an atmosphere filled with excitement and anticipation. London will put on its best show. London will be the most alive it could possibly be.
And we won't be there.
I will forever regret that. There won't be another London Olympic, at least not in our lifetimes and we won't be there to see her at her best.
What's your biggest London trip regret? Let us know in the comments!