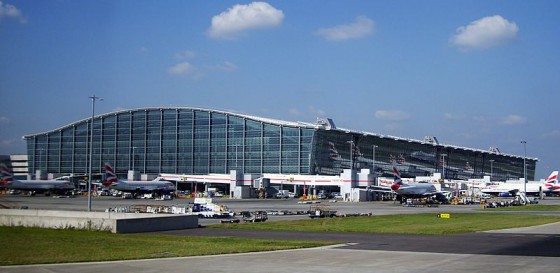 Editor's Note: Have a long layover in London – here are some ideas for what you can do with your down time at London Heathrow near the airport.
Essentially you can do virtually anything if you know the options and you have the time. The big problem are:
choosing what to do?
knowing where to go to do it?
knowing how to get there?
knowing the cost of what you want to do?
The aim of Transit Time, this new company / service / organization or whatever you'd like to call it, is to provide you with the answers or suggestions to at least three of the above four points.  We can make suggestions as to what to do but we'd like you to give us an idea first. We are aiming to provide a service that covers our expenses and maybe our time depending on what the visitor wants to do. We have enjoyed the hospitality of people from all over the world and would like to extend the same to visitor from the US, in particular, as we have connections to Vermont and New England generally. However, we are happy to extend our knowledge and expertise to people from any English speaking country.
Choosing what to do
This depends on whether you are:
a solo traveler,
travelling with your partner,
travelling with your family and how many of you there are,
the ages of yourself and your partner /  family,
how much you are prepared to spend
whether you have any disabilities
the time of year and the time of day
and finally the length of time you have available to do whatever it is you want to do.
We imagine that the majority of people who want to get out and about are couples. Those with families may not want the additional worries of travelling about a foreign city and surrounds with all the necessary paraphernalia required for babies and young children. In many cases it would possibly be cheaper to join an airline lounge, as a family, and have the security and comfort you need for the long period of time spent at the airport.
The following ideas are adaptable for individuals and families as well.
So what can you do?
Well let's take a hypothetical case of a couple in their 30's to 5o's, who enjoy eating out; like a bit of culture; enjoy shopping; are physically fit and have a reasonable amount of money to pay for the activities and will be spending 8 hours on a Monday.
We would meet the couple at the airport and take them by car to Windsor. This is about a half hour drive depending on the traffic and time of day. We would then take the couple to a meeting point and suggest a few activities they could do in Windsor (shopping in the High Street, a tour of Windsor Castle and watch the changing of the guards, a short boat trip on the Thames, lunch at a variety of cafes or restaurants depending on choice of nationality, a bus tour around Windsor and Eton, visiting the most famous school in the world, a short stroll along the river Thames and feed the swans, have a pub lunch in a traditional English pub by the river etc.
We would then meet the couple and return them to the airport with approximately 2 hours to go before their departure.
In another scenario, we could arrange for a couple to play a round of golf, either 9 or 18 holes, at a variety of courses, depending on their levels of ability and the cost. A local municipal course offers a 9 hole round for approximately $15. You can play in any clothes on the green course but cannot play on the red course in jeans. The couple could have lunch at the golf course or go to a small village pub nearby.
If the couple was a little more adventurous and had prepared in advance we could take them swimming at a local pool in Windsor or Slough, or possibly ice skating or ten pin bowling. This could be tied in to having a local curry and taking in a film at the local cinema.
Should the couple feel even more adventurous we could take them to one of two theme parks that are approximately an hour's drive away, where they could spend all their time on the rides.
If the couple was interested and the time matched, there are race days / evenings in Windsor (Monday nights) and at the famous Ascot race course (mostly Saturdays).
If the couple was interested in Indian cuisine, there are some very famous, in the UK, restaurants in Southall. This is an area in the west  of London and is accessible directly by train. Here you could imagine you were in India or Pakistan. The shops, restaurants and people are a vibrant mix of people from all areas, including Sri Lanka.
But what about London?
There are those who would say "well I actually want to go in to London city center and visit the art galleries, museums, the theatres." No problem. Have a look on line and choose the play or musical you want to see.
Some might want to go to  Soho, the famous area housing China Town. Then of course there is Carnaby Street, which became famous as the center of free love and weird clothing in the 60's and 70's. How about Regents Street and Oxford Street for shopping, Maybe a visit to the famous tailors to be measured for a suit or have a fitting for custom made shoes. The options are endless.
Maybe the couple would prefer :
a tour of Buckingham Palace, Westminster and the Houses of Parliament,
Trafalgar Square, to walk across Tower Bridge and visit the Tower of London,
go up the tallest building in the UK, the Shard, with its viewing level and restaurant;
take a boat trip up the river Thames or maybe the cable car across the river to the O2, where they could have a meal, see a show or if feeling particularly brave complete the walk up and over the domed roof!
There is of course the possibility of a Duck Tour (amphibious vehicle) which mixes a tour of the capital with a short journey down the river.
Then of course there is the London Eye, a must for most visitors.
A visit to London Zoo and Regents or Hyde park for a gentle stroll.
A visit to Madame Tussauds, the famous wax figure museum.
And last but not least the common everyday bus tours on typical London double decker (open topped) buses, which when combined with a trip on the underground (the Tube), a famous black cab journey (our London taxis) and a hair raising ride on a rickshaw around theatre land you would certainly have 'done London'.
With most of the central London activities, we could accompany the couple to act as a guide or simply ensure they have sufficient knowledge to get where they wanted to go, armed with the suitable bus, train, boat, theatre and other  tickets, as necessary.
But I want to visit further afield
It is possible, depending on the time available, to visit places such as Oxford, the home of one of the finest universities in the world. There are half hourly trains, which would take you there in about an hour. However, we wouldn't encourage people to go too far, as there could be traffic disruption and by staying reasonably close to the airport (all the activities we have mentioned above), there are lots of methods of returning to the airport, which would not be possible when visiting places such as Oxford or Birmingham.
And lastly
If the person or couple just wanted a bit of piece and quiet, with maybe a bite to eat and a trip to the local bar for a game of pool or snooker; an Indian restaurant or a take away Chinese meal and a bottle of wine, they'd be welcome to come home with my partner and I.
This article was written by Simon Spedding from Transit Time.