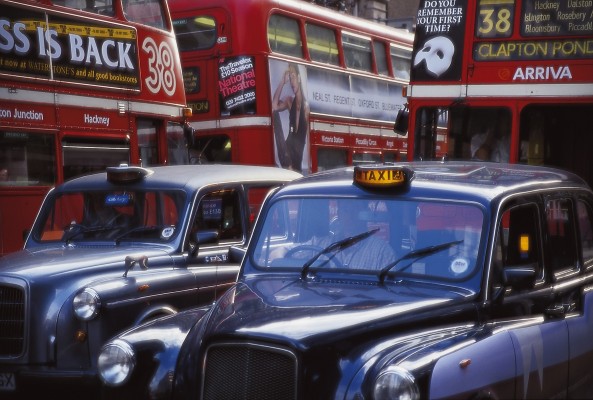 You've arrived in London, it's big isn't it? And not the quaint little town you expected. You know all the places you wanted to see: Tower of London, Buckingham Palace and Madame Tussauds, but how do you get around the capital?
The best way to travel around London is by Tube. The simple diagrammatic map makes finding your way as easy as joining up the dots by following the coloured lines to your destination. Unfortunately years of neglect have taken its toll on the Tube's infrastructure, with constant breakdowns and delays, not to mention the lack of air conditioning on many lines. Take note it's not New York and doesn't run 24 hours-a-day, London might never sleep, but the tube does.
If you have to interrupt your tube journey (or not start it) you might consider using a bus. We have over 6,000 buses in London; in fact we devote whole traffic jams to their exclusive use. In Oxford Street nearly 300 buses travel down this road every hour. And don't expect the drivers to give you information, they are trying to manoeuvre a very large vehicle through one of Europe's most congested cities, they are not your tour manager.
London's buses are now cashless, the curiously named Oystercard allows you to pre-pay for your journey. But like the drivers, card readers on buses are temperamental, and if you are unlucky, you may be charged twice or even three times the correct fare. The drivers seem to like the new system even if it has meant that their income from tips has fallen.
There's an app called Meter Down. Apparently it tells you if you're being overcharged by your rickshaw driver in Mumbai, India. Using GPS and the time of day it calculates how much you should have been charged for your journey. Now that's a good idea for London's pedicabs because by some estimates London now has over 800, but as they are not regulated they can charge what they like; the authorities have no idea how many; or if they are insured; or if the driver is suicidal. Judging from what I witness sometimes if you are into extreme sports this mode of transport might be just up your street – and if it's a one-way street, you could be travelling in the wrong direction.
If you have the courage, or possibly feel that life is not worth living, London offers an economical bike hire scheme, be warned though it's not for the faint hearted. Alternatively your other choice is the iconic London black cab.
A word of caution here. It may look like a cab, it may sound like a cab, but as with many cities rogue taxis proliferate London. A genuine cab has a light marked TAXI on its roof, a FOR HIRE light on the driver's nearside door (that's on the left side) and two licence plates one affixed to the rear of the vehicle and another inside the passenger compartment. The driver is also expected to be displaying his badge (a small oval enamelled green medallion). I cannot emphasise this enough, if in doubt walk away. Genuine cabbies will not stop you in the street asking if you: "need a cab".
So you are standing at the kerb, avoid standing at bus stops and pedestrian crossings (they have zigzag markings in the road), we value your custom but with a £120 fine, not that much.
Don't try to emulate a scene from your favourite black and white film by shouting "TAXI" while simultaneously waving in a frantic fashion; this has the inverse effect on your chances of getting a cab.
If you have enjoyed an evening out tuck in your shirt, don't try to balance food in one hand while raising the other to attract the cabbies attention and finish the last pint that your mate reluctantly bought you. In New York you aren't allowed to consume alcohol on the street and you are not going to use my cab as the local hostelry.
Remember lampposts can only hold you vertically whilst you're leaning on them, let go and you are likely to end up under the wheels of my 2½tonne cab. They don't stop like Formula One cars so don't jump, or fall into the road to hail me; it will always end in tears. The last time a London cabbie missed a decent fare America was gaining its independence.
When you see a cab approaching with his yellow TAXI roof light on just hold out your hand and look at the driver indicating that you're in need of a cab and not just scratching your armpit.
London street hail etiquette demands that you converse with the driver before alighting using a slightly differential tone with an upward inflection in your voice in the manner of a question: "Will you take me to . . . ?" It's as contrived as the Japanese tea ceremony, we are obliged to take you anywhere within 12 miles of Charing Cross by law, but it's just Old World politeness.
We don't need the location of major hotels or theatres, by giving the address is a sure fire way of telling us you're on vacation. It takes four years to become a London cabbie we do know the location of the Ritz – its entrance is a side door in Arlington Street and not Piccadilly.
If you have SatNav software on your mobile phone and really want to annoy the cabbie, just call out the turnings you want the cab driver to take.  The software took less time to develop than your cabbie spent gaining the Knowledge; and you will almost certainly direct him to take the longest route.
Don't expect the cabbies to converse during the journey, it's your space at the back we should respect your privacy. But if you do want a chat you have the opportunity to increase your appreciation of London.
London's cabbies are famous for their wide ranging views. You can learn how the politicians of the day are incapable of running the country and that your driver could make a better job of it, to how to bake a Victoria sponge cake.
Seriously London cabbies are proud of their city, use the time on the journey for gaining an extra insight into London. It costs nothing to ask about the sites you are passing. The driver might give you advice on planning your itinerary, and importantly what tourist honey pots you need to avoid.
Don't become abusive or call the driver a crook by taking "the long way round". We can all make mistakes and most drivers will adjust the fare accordingly. No amount of shouting or threatening behaviour will get you to where you need to go, if fact no punter has reached his destination in my cab after that kind of altercation.
Well, you've reached your destination; the price of the fare is indicated on the meter visible above the driver. But what to tip? Regular users of cabs usually round the payment up to the nearest £1 or £2; approximately 10 per cent is the norm. But if you think the service was exemplary . . .
David Style is a real London Black Taxi driver who runs Cabbieblog.