And we're back! In a city as big as London, it's easy to find more than five fun pubs and bars. When there are over 4,000 drinking establishments in Greater London, a newer place has to do something different and do it well in order to build a customer base. From crazy décor to bespoke drinks, you can find an interesting place to grab a drink in any part of the city. Have a look below at five new pubs and bars to see in London, and let us know in the comments about some of your favourite places.
1. Far Rockaway, Shoreditch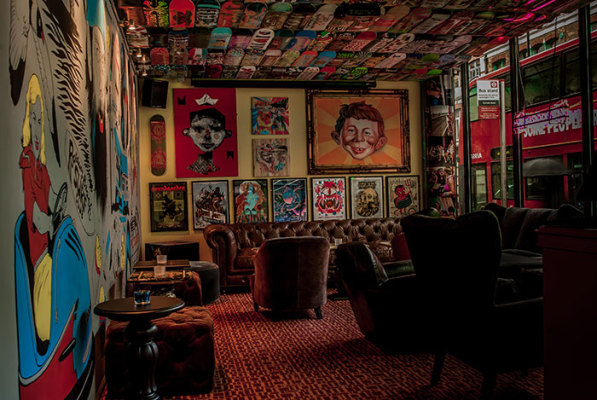 If you're a tourist in London and you're missing America something fierce, Far Rockaway is a slice of Americana, from skateboards on the ceiling to walls covered in comic book pages. Even the food menu represents the diversity of America, serving popcorn shrimp, empanadas, a variety of Staten Island pizzas, and even mac n cheese spring rolls. It was named for the famed Rockaway resort in Queens, NY and can seat 400 patrons. In addition to a bevy of cocktails, their beer selection focuses on great craft beers from the States, serving selections from Brooklyn Brewery, Sierra Nevada, and Goose Island.
2. The Four Thieves, Battersea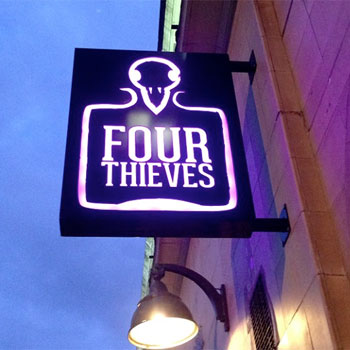 I love a place with odd decorations, and The Four Thieves bills itself as a pub "with culture, history, and yes, lavender in its heart." This references a legend where a king in the 14th Century offered four thieves a reprieve from the executioner's axe if they could tell him how they robbed wealthy plague victims' graves without catching the disease. The truth was that the thieves rubbed lavender oil on themselves, which helped to keep off the fleas that carried the disease. The bad of their crimes combined with the good of their life-saving preventative is on display in the pub's design, combining the dark and the light found in life. The pub distills its own gin and brews its own beer. The décor is a combination of taxidermy animals, masonic symbols, and 60s kitsch.
3. The Little Yellow Door, Notting Hill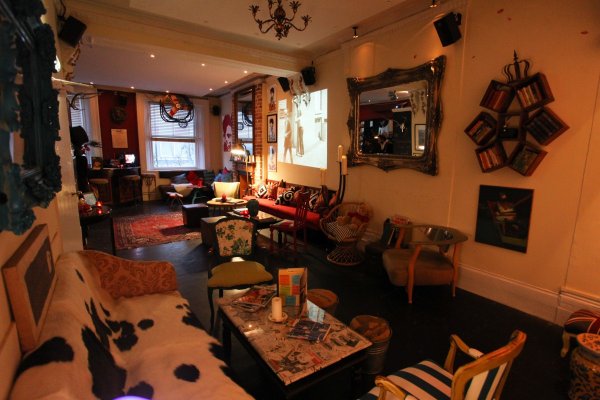 This place will take you back to all those flat parties you had at university, as the environment is mean to give the feeling of a flatshare of five people with different tastes. Messages on the pub's site are written like notes left on the fridge, menus are written on magazines, and regulars are entrusted with their own keys. Thursdays are a pre-game warm-up for the weekend, Fridays play host to dinner parties, and Saturdays are house party time. The theme will make you feel like you crashed someone's neighbourhood party and makes it the perfect bar that doesn't feel like a bar.
4. Sugar Cane, Clapham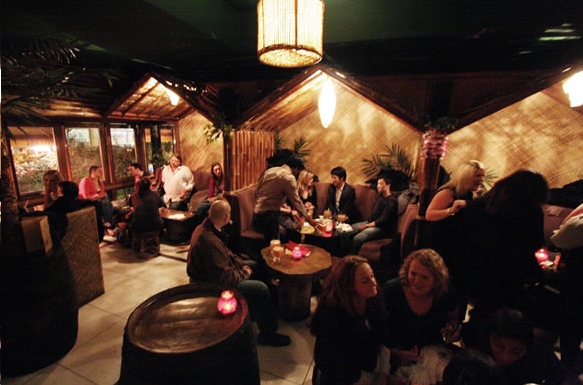 I'm certainly a fan of a good Tiki bar, and if you're maybe not wanting to spend so much at Trader Vic's, Sugar Cane is a great alternative. This place combines that classic Polynesian look of bamboo, palm trees, and Tiki masks with a selection of rum-based cocktails, shooters, and drinks that will definitely need to be shared amongst the table. Additionally, Sugar Cane offers a cocktail making class for those with dreams of being Tom Cruise, with prices ranging from £20 to £50, depending on the package (includes cocktails and starters or meals). There's a great food selection and a Christmas menu, complete with drink packages for your holiday party. Dance nights are regular occurrences and the bar hosts different events throughout the week. On a gray and rainy day, you can find a little slice of paradise in South London.
5. Powder Keg Diplomacy, St. John's Hill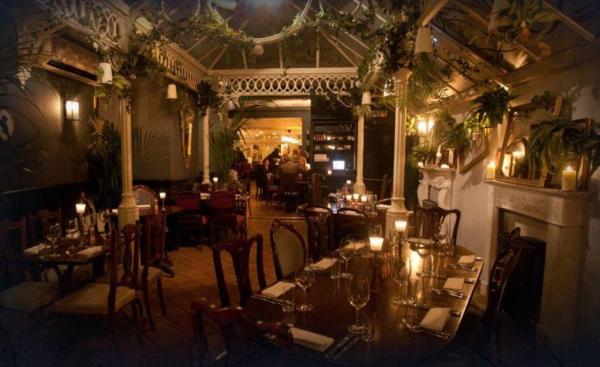 Our fifth eclectic entry is a bar where the sun never set on the British Empire, with decorations that harken back to Victorian times. Everything about this bar and restaurant is meant to evoke the greatness of Britain, with a seasonal British menu and ingredients taken from the land and sea of the United Kingdom. The drink menu is a combination of traditional favourites and modern cocktails, in addition to British wines and classic beers. Some of the recipes reach across the centuries Powder Keg Diplomacy offers breakfast on Saturday and Sunday mornings. If you want good food and good drink while taking a step back into time, this is the bar for you.