Since when did London become so obsessed with pizza? The art of pizza making has been adopted all over the world and everybody seems to want to be in on a slice. Originating from Italy, there's an abundance of recipes and toppings, which now include bizarre additions like roast potatoes, macadamia nuts and even aromatic duck!
Soho is the place to come to enjoy this traditional Italian dish. Competition in the area is fierce, yet there are very few places that provide customers with an authentic, pleasurable, pizza-eating experience. Many pizzerias are outrageously overpriced too, and it's all too easy to fall into the typical tourist trap while staying in the city. Soho Joe is a rare treat in London, and it's a great way to ensure you achieve bargain holidays in London.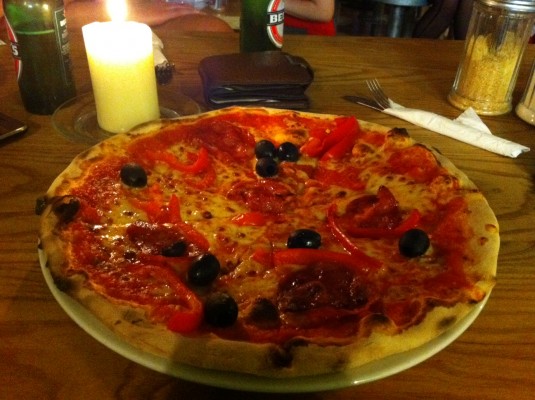 Take a step up out of Dean Street and immerse yourself in somewhere a little less familiar – a laid back bohemian joint, in the heart of Soho, which oozes simplicity and homeliness. It feels more like a bar than a sit-down restaurant, complimented with a relaxed, easy-going tone that fuses with the eagerness of rumbling stomachs. Couple this with a hearty welcome from the owner Brian and his team, and you have yourself a winning combination. It's the type of greeting that often goes unheard of in London, one that makes you instantly feel at ease and gives everyone who visits a sense that this is precisely what they had in mind.
There's no denying it, Soho Joe couldn't be in a better location. Close to many theatres, hip stores and a bulk of lively bars, it's the place to walk, strut or stumble into for a swift hunger fix. This family-run sanctuary is a popular choice for both Londoners and tourists, providing the perfect respite from the manic streets of London. The pizzeria ranked in the number one spot on trip advisor out of 5,508 London restaurants on the 10th August, so those visiting the capital on holiday are in for a real treat!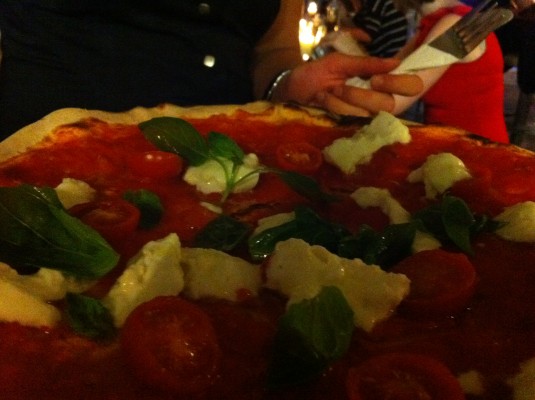 Eager to please, Brian doesn't miss a trick, and he can be spotted doing regular laps to ensure that everything is tickaty-boo. Involving himself in every sphere of the pizzeria, he takes a real interest to his customers, and this charming and charismatic approach radiates throughout Soho Joe. It's actually quite infectious. Choose between a high or low table, or sit at the back and watch the pizzaiolos in action. Upbeat music in the background creates a cosy, buzzing vibe which spills out onto the streets during peak hours.
Soho Joe specialises in fluffy homemade thin-crust pizzas, with a selection 10 or so pizzas all priced at £7. Opt for a classic Margherita, tangy Chorizo or go all out and indulge in the Chef's Special, which includes artichoke, prosciutto, rocket and mozzarella to name a few! There is also an abundance of salads, pastas, freshly prepared baguettes, ciabattas, cakes and pastries, so there's something for everyone. Beers are a decent £3 and there's also a chance to win a bottle of wine every now and again through the Soho Joe Facebook page.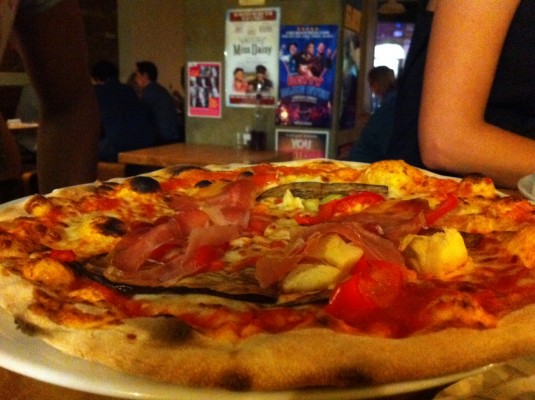 It's quite rare to find a restaurant that makes such an impression these days – Soho Joe is definitely one that's not to be missed.
22 – 25 Dean Street, Soho. W1D 3RY
Nearest tube: Tottenham Court Road (Central & Northern lines)
Facebook: http://www.facebook.com/pages/Soho-Joe/102590969795629
Twitter: @sohojoeuk