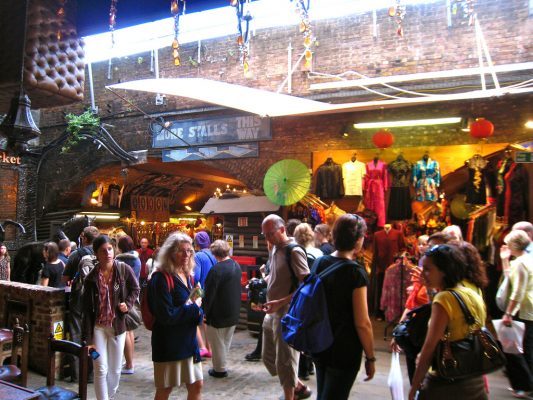 It's a truth universally acknowledged that a trip to London isn't complete without first purchasing a three-eyed tiger mask from a Bangladeshi street vendor. After all, what's a holiday without tacky souvenirs? Can you say you've truly experienced London without walking its streets and seeing what the local markets have to offer?
Don't leave the city without making at least one regrettable purchase. To help you with this important journey, here are ten of the best, most hopping markets in London.
10: Borough Market
One of the largest markets in the city, Borough Market is famous for its irresistible array of foodstuff. Whether you're looking for fresh produce or sugar-packed pastries, this is the place to be when your stomach rumbles.
9: Portobello Road Market
Part mall, part flea market, the Portobello Road Market is a must-see for anyone who likes to shop. You'll find a little bit of everything here, including food, fashion, jewellery, crafts, furniture and more. The sheer variety of its 3000 vendors could keep you occupied your entire trip, so make sure to pace yourself!
8: Columbia Road Flowers
Stop and smell the roses with Columbia Road Flowers. With over a hundred stalls of flowers, seeds, buds, plants and shrubs, it's a teeming garden market that will take your breath away. And then give it back. Oxygenation, remember?
7: Petticoat Lane Market
Like the name implies, Petticoat Lane is all about fashion. Hats, bags, shoes, skirts – you'll find it all from the vendors here, often at bargain prices that put official retailers to shame. How are your haggling skills?
6: Covent Garden Market
A great place to lose an afternoon, Covent Garden Market is home to not only dozens of shops and stalls, but a thriving business district as well. You can find almost anything in the surrounding neighbourhood, including bars, opera houses and accommodation from local suburbs, such as hotels in Bloomsbury.
5: Merton Abbey Mills
Take a step back in time with a visit to Merton Abbey Mills. Located on the riverside of its trademark mills, it's a bustling market with everything from books to jewelry to textiles, and its old-fashioned charm will make a great story when you get home. They even have a working waterwheel for all you natural energy fans out there! How can you resist?
4: Greenwich Market
One of the best places to soak up London culture, Greenwich Market is a modern-day playground of creativity and freedom of expression. This is where you'll find funky fashion and eclectic, one-of-a-kind pieces from local artists. There are also a number of food courts and designer shops for the well-rounded shopper.
3: Brick Lane Market
Many wallets have been lightened in Brick Lane, especially when their owners discover the food stalls. Known to the locals as "Banglatown," it's famous for its Bangladeshi curry and other Eastern-inspired flavors. Have you ever wrapped yourself in an Indian sari or played with toys made in Sylhet? Do you want to?
2: Broadway Market
A favorite of bargain lovers, Broadway Market has made a name for itself with an endless selection of vintage and secondhand goods. Put on your gloves and get ready to go treasure hunting, because you never know what kind of gems you'll find in this place.
1: Camden Market
What's better than a single market? Several markets all squished together in an awesome market sandwich. Camden Market is divided into three distinct areas, including one devoted solely to antiques, making it a one-stop-shop for everything from homemade crafts to unique souvenirs. If you're looking for gifts and keepsakes you won't find anywhere else, Camden Market is your Disneyland.
(Image source: http://www.flickr.com/photos/gro/3789759810/sizes/l/in/photostream/)