This looks like a very fun exhibition – going to have to check it out when I'm in London next year for Christmas.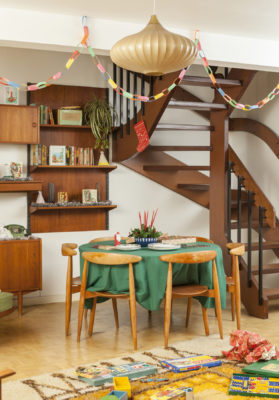 Here are the details:
Each year, authentic festive decorations, lighting, music and greenery transform the Geffrye Museum's period living rooms, giving visitors an evocative insight into how Christmas has been celebrated from 1600 to the present day.

Christmas Past has taken place at the Geffrye for over 25 years and for many visitors, a trip to the show has become an essential part of their own Christmas rituals.

The exhibition brings to life the origins and meanings of many of the rich and vibrant traditions of Christmas past, from feasting, dancing and kissing under the mistletoe to playing parlour games, decorating the tree, hanging up stockings, sending cards, and throwing cocktail parties.
It also highlights how the popularity of Christmas has waxed and waned through the centuries. The hedonistic festivities of the early 17th century were banned by the Puritans in the middle of the century. After the ban lifted in 1660, Christmas continued to be rather a subdued affair up until the early 19th century when it began to enjoy a revival. Early traditions reappeared together with new parlour entertainments such as blind man's buff, snap dragon and charade-like character games. However, it was during the reign of Queen Victoria that Christmas really came back with a bang with the introduction of many traditions we are familiar with today such as decorating a fir tree and putting children at the centre of the festivities.

Christmas Past will be accompanied by a full programme of events including craft fairs, festive evenings, carol singing and decoration workshops. Throughout the show, festive food and drinks will be on offer in the café and the shop will be stocked full of Christmas decorations and cards, unusual gifts, stylish homewares and treats.
Travel: Hoxton overground (directly behind the museum), Old Street, exit 2 then bus 243 or 15 minute walk
Open: Tuesday – Sunday & Bank Holiday Mondays 10am – 5pm
Closed: 24, 25, 26 Dec 2016 and 1 January 2017 – check www.geffrye-museum.org.uk for full details of Christmas opening.
Admission to the museum is FREE.