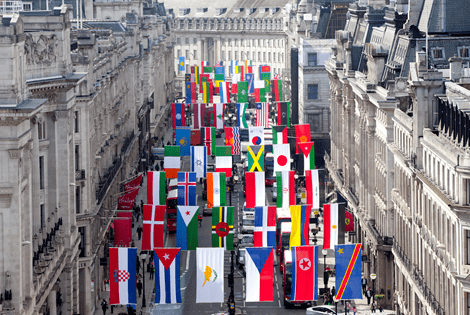 Regent Street prepares for the summer celebrations with a display of international flags from around the world above its pavements. Across the capital's skyline, 206 flags of the nations competing in the Olympics, including an array of host nation Union flags, will be displayed from Friday 15th of June until after the closing ceremony.
Stretching from north to south down Regent Street, a display of 158 flags suspended from 28 crossings leads to Piccadilly Circus before continuing south down Regent Street St James's. Each flag measures 1.8M wide by 3.6M long and creates a striking backdrop to one of the world's most iconic shopping thoroughfares. Other streets to exhibit flags from around the world include Jermyn Street and Conduit Street.
In the build-up to the Olympics, anticipation across Regent Street is warming up as the shops and flagships stores and restaurants are preparing for a record number of visitors arriving into London's West End.