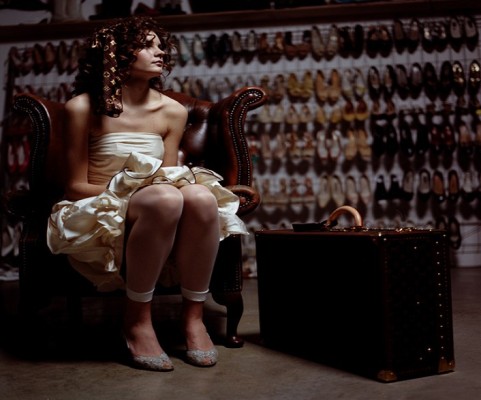 The East End has always had a tradition of cheap schmutter – wholesale textile and clothing shops, Petticoat Lane's stalls, and the flea market of Brick Lane.  Now the area also has an increasing number of vintage clothing businesses that make it an interesting place to trawl for anything from Gucci handbags to floral print tea dresses.
Absolute Vintage has two shops – the boutique on Commercial Street and the main shop in Hanbury Street.  Going into the boutique is like climbing into Imelda Marcos's wardrobe – just shoes, shoes, shoes.  Shoes everywhere – and handbags.  Of course, I fell in love with a £315 big leather satchel I couldn't possibly afford; but you can also get fun vintage jewellery here for a fiver.
One old East Ender came in for a chat with the girls and clearly wasn't a believer in vintage handbags. "You could just use a carrier bag, that would do," he said (men sometimes really don't understand!).
"Some people come in every day and look around to see if we have anything new," one of the shop assistants told me. "Some people come in and spend stupid amounts – they buy armfuls of stuff.  But what matters is that it works for you – that you're going to use it and wear it and enjoy it and get the value out of it." The boutique has some very high end lines indeed, so that's important if you're going to be spending a couple of hundred.
There's more vintage wear at Beyond Retro in Cheshire Street.  This is a massive warehouse, with something for everyone – but it's particularly good for the basics. Jeans, cowboy boots, good cotton shirts. Rocker gear, Mods gear too, and fifties tea dresses and prom dresses (though I don't know where you'd get the beehive haircut to go with them).  Beyond Retro also hosts gigs every few weeks. Shopping and bopping at the same time, so to speak.
Also in Cheshire Street is The Shop, a crazily packed little emporium that looks like the home of a fashion designer with severely obsessive hoarding tendencies, and a number of other vintage and craft businesses.  The Shop sells vintage fabrics and buttons, appealing to crafters who want to create their own clothes -but the silk scarves are what I like best.  Always a temptation.
To get to the East End Thrift Store you'll have to make a detour from Whitechapel east towards Stepney Green.  This isn't quite as 'vintage' as some of the other shops – it's more fashion led, and prices are very reasonable.  You can get a coat for as little as £25, for instance, and lots of stuff is below a tenner.
The biggest choice is only available on Sundays, when Sunday Up Market takes place in the Old Truman Brewery.  It's not only for vintage clothes – there's a lot of other stuff, including food, modern jewellery and fashion designers, and CDs – but there's usually a good selection of vintage, including some good leather jackets and bags.
Vintage East London isn't always cheap.  The guys who run these shops know what they're selling, and some of the designer gear is expensive.  But if you're looking for bargains, they are still there to be found – you'll have to look hard, but after all, that's part of the fun.
And if you're hunting for cheap accommodation with easy access to East London, then I suggest checking out budget Liverpool Street hotels like Tune Liverpool Street which offers a particularly good-value stay.
Written by Andrea  Kirkby