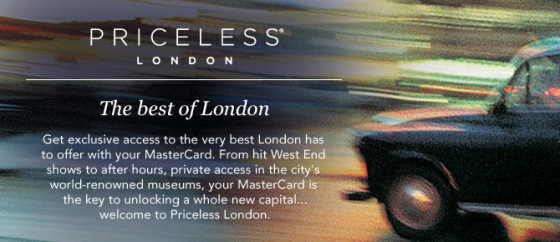 MasterCard's Priceless London has a series of exciting events taking place over the next couple of months and we have hand picked a few, which we think you may be interested in.
The events we have chosen are at London's best museums, each is opening for one evening only exclusively for MasterCard holders. Those who get their hands on these hot tickets will have a truly priceless experience as they will be greeted with complimentary champagne and canapés on arrival and able to experience the museum in a relaxed atmosphere away from the crowds. Also, every event provides a priceless element over and above what the usual exhibitions offer to the public.
Thursday 5th July – Launchpad – The Science Museum 
This event gives MasterCard holders the chance to learn some amazing facts on science from museum scientists and experience a series of thrilling workshops. Guests will be led through an adventure of science and space with talks on physics and chemistry as well as access to unseen exhibits and exclusive workshops, all in the company of just a few fellow guests.
Wednesday 18th July – British Design: 1948-2012 – The V&A
Our final event returns to the famous V&A museum for a night celebrating the best of British design. Featuring the pinnacle of post-war British design excellence from the 1948 'austerity games' to the summer of 2012, the exhibition reveals how British designers have responded to economic, political and cultural forces that have fundamentally shaped how we live today. With an exclusive curator talk and inspiring entertainment, this is an amazing opportunity to view one of the major exhibitions of 2012 away from the crowds.
These Priceless Nights are part of MasterCard's Priceless London programme, which offers all MasterCard holders that register on PricelessLondon.co.uk exclusive experiences and privileged access to the very best of the capital's music, theatres, museums, restaurants, retail, sport and attractions.