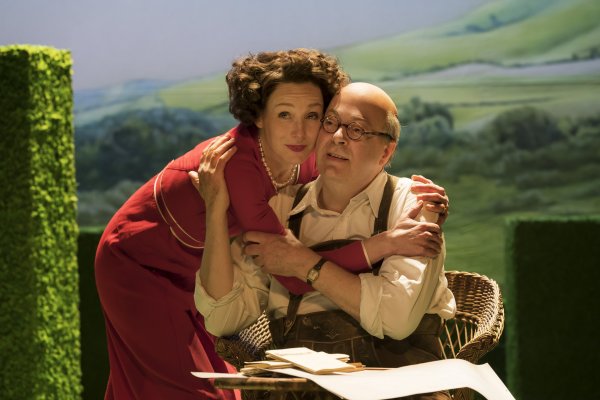 I'm a big fan of the British actor Roger Allam so when a press release came across my inbox earlier this year announcing that he was performing in a play on the West End this spring, my interest was immediately piqued. Especially since I was currently in the middle of binge-watching Endeavour. The play in question was The Moderate Soprano. And as fate would have it, I would be in the UK covering the Royal Wedding and going to the play would be a great way to end the trip. Spoiler: It was.
I promptly bought a ticket for my final night in England and forgot about it and Royal Wedding fever took over the world. As the day approached, I considered not going to the play. By the final day of my trip, I was exhausted. I just wanted to stay in my flat in Windsor and relax before going home. But I can relax at home, I reasoned. So, I mustered the troops to go into London, visited a brilliant exhibition (review coming soon), saw a film, ate a great dinner, said goodbye to my bad headache and decided that yes, I was going to endure the West End crowds to attend this play.
I'm very glad I did.
That's probably more backstory than you wanted.
Now, to the play itself.
The Moderate Soprano is about the founding of the opera festival at Glyndebourne. For those that have no idea what this is, eccentric English gentleman John Christie loved opera. So much that he married a soprano and founded an Opera festival in his back garden that's now a key part of the British summer 'season.' But back in the 1930's, it was the vision of a man who many thought was quite mad. Why on Earth would anyone want to leave London to attend an opera in someone's back garden?
One of the first examples of the phrase "if you build it, they will come."
The play itself is about these early days as John sought help from key figures in early 20th century European opera to help bring his vision to fruition. The interesting bit is that this is right before World War II and there was a ready supply of operatic refugees who, for one reason or another, had to leave Nazi Germany. So, the play takes on a resonance in the modern day with its message of the cultural contribution that refugees can make in a time of war.
The play was put on at the Duke of York's Theatre, a fine little theater I've been to before. The theater itself was only half full, so to make it look fuller, they moved everyone to closer seats – my previous seat at the back substantially improved when they moved me forward 15 rows. I had a clear view of the stage and could see the sweat on the actor's brows. The set decoration of the play was simple and clever. There was not much ostentation here. All the better to enjoy the talents of the cast without distraction.
The cast was marvelous. Roger Allam was as wonderful as I expected him to be, though it was a bit weird to see him with a bald head. The real star of the show is Nancy Carroll as John Christie's wife Audrey Mildmay. She's a tragic character and the actress portrays her perfectly as the play spans across multiple time periods. The rest of the cast is great as well. The best thing I can say about the play is that everyone involved was professional and the play was perfect.
It was written by David Hare, noted British playwright. Ironically I'd recently seen his recent TV production starring Carey Mulligan on Netflix called Collateral (which dealt with similar subject matter – refugees fleeing war). It was a bit weird to watch a play by the same writer so soon after watching a 4-part TV show. But then I'm not particularly familiar with Hare's work in theater.
The play was both fascinating and funny. There's much British snobbery on display and then its amped up with European snobbery about British culture. Fans of classical music and opera will love this play and will certainly love the jokes at its expense. Especially the cracks at Mozart and the British ability to perform opera properly (before Glyndebourne, it was not good). If you're not familiar with the names and sounds of opera and classical music, you might be a bit lost (and find some of it a bit snobby). But overall, as a fan of both, I loved it.
This play is a delight and if you're looking for something to do on a nice London summer evening, go see this play. You don't have long. It ends June 30th.