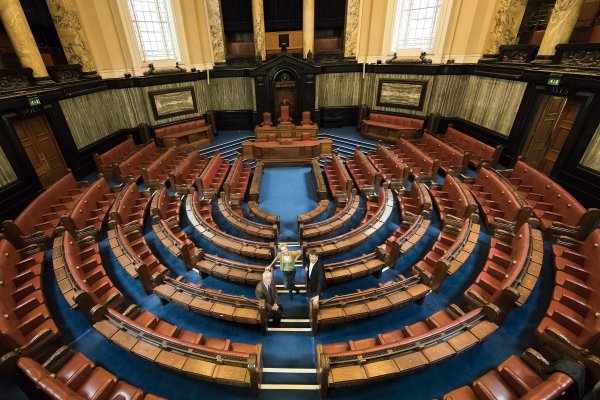 I don't normally post about the latest plays – there's just too much to keep track of. But this came across my inbox, and I thought it sounded really unique. There's going to be a new adaptation of Agatha Christie's Witness for the Prosecution to be staged in London's old County Hall, a large room that looks like a courtroom. So, it will be a play about a court case in a very suitable setting.
This former debating chamber is rarely open to the public, so this will be a real treat. This used to be the home of the Greater London Council before it was abolished by Margaret Thatcher in the 1980's. Since the building has become a tourist attraction as home to the London Aquarium and a hotel. The important council chamber has been preserved, but it's rarely open to the public. I would almost go to the play just to see the room!
Here's more information about the play:
Eleanor Lloyd Productions and Rebecca Stafford Productions today announce a major new production of Agatha Christie'sWitness for the Prosecutionto open on London's South Bank this October in a unique court room setting inside County Hall. Lucy Bailey(Comus, The Graduate, Titus Andronicus) will direct this gripping tale of justice, passion and betrayal, with the audience thrillingly placed in the thick of the action in a spectacular location. This will be the first major London production of a play written by Agatha Christie to open since the 1960s.

Witness for the Prosecutionwill run from 6 October – 11 March with Press Night on 23 October.  The production will be designed byWilliam Dudley, with lighting byChris Daveyand sound design byMic Pool.

All tickets during the preview period (6 October – 23 October) will have £10 off.  For the main run, there will be 100 tickets available for every performance at £25 or under.

Leonard Vole is accused of murdering a widow to inherit her wealth. The stakes are high. Will Leonard survive the shocking witness testimony?  Will he be able to convince the jury of his innocence and escape the hangman's noose?

Witness for the Prosecutionwas one of Agatha Christie's favourites of all her works.  In her autobiography, she said: 'One night at the theatre stands out in my memory especially; the first night of Witness for the Prosecution. I can safely say that that was the only first night I have enjoyed…. It was one of my plays that I like best myself.'

The new production has been developed with the support and involvement of the Christie family. Christie's Great Grandson and Executive Chair of Agatha Christie Ltd, James Prichard said "It is really exciting to see this innovative approach to one of my great grandmother's best plays. The amazing setting of County Hall will help raise the production to great heights, and with Lucy Bailey directing it will be a must see theatre event. This show will help demonstrate that Christie's works are as relevant today as they have ever been, and 21st century London is in for a treat."

Witness for the Prosecutionis part of an exciting new wave of adaptations of Christie's work on stage and screen that are giving audiences a fresh perspective on her canon. It follows the highly acclaimed BBC One adaptation of the short story which aired last Christmas and starredToby Jones, Andrea Riseborough and Kim Cattrall, as well as the BBC'sAnd Then There Were Nonewhich starred Aidan Turner, Charles Dance and Sam Neill.The BBC has commissioned seven new adaptations with the first of these,Ordeal By Innocencegoing into production this summer.InNovember, 20th Century Fox's feature film adaptation of Murder on the Orient Expresswill be released, directed by and starring Kenneth Branagh. The all-star cast also includes Judi Dench, Johnny Depp, Michelle Pfeiffer, Penelope Cruz, Olivia Colman, Willem Dafoe, Daisy Ridley, Tom Bateman, Derek Jacobi, Josh Gad, Leslie Odom Jr, Sergei Polunin and Lucy Boynton.
Here's the post that was released.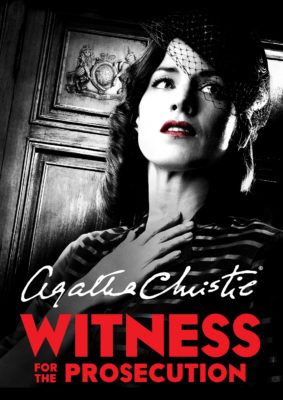 Key Dates:
Until 22 October: Monday to Saturday, 7.30pm and matinees on Thursday and Saturday, 2.30pm
25 October – 11 March: Tuesday to Saturday, 7.30pm and matinees on Thursday and Saturday at 2.30pm and Sunday at 3pm
See website for performances 24 December – 9 January
TICKET PRICES
Band A £52.50
Band B £39.50
Band C £25
Band D £10
Premium £75
VIP £95
Very cool. If we stick to our plans to visit London this December, I definitely want to check this out!