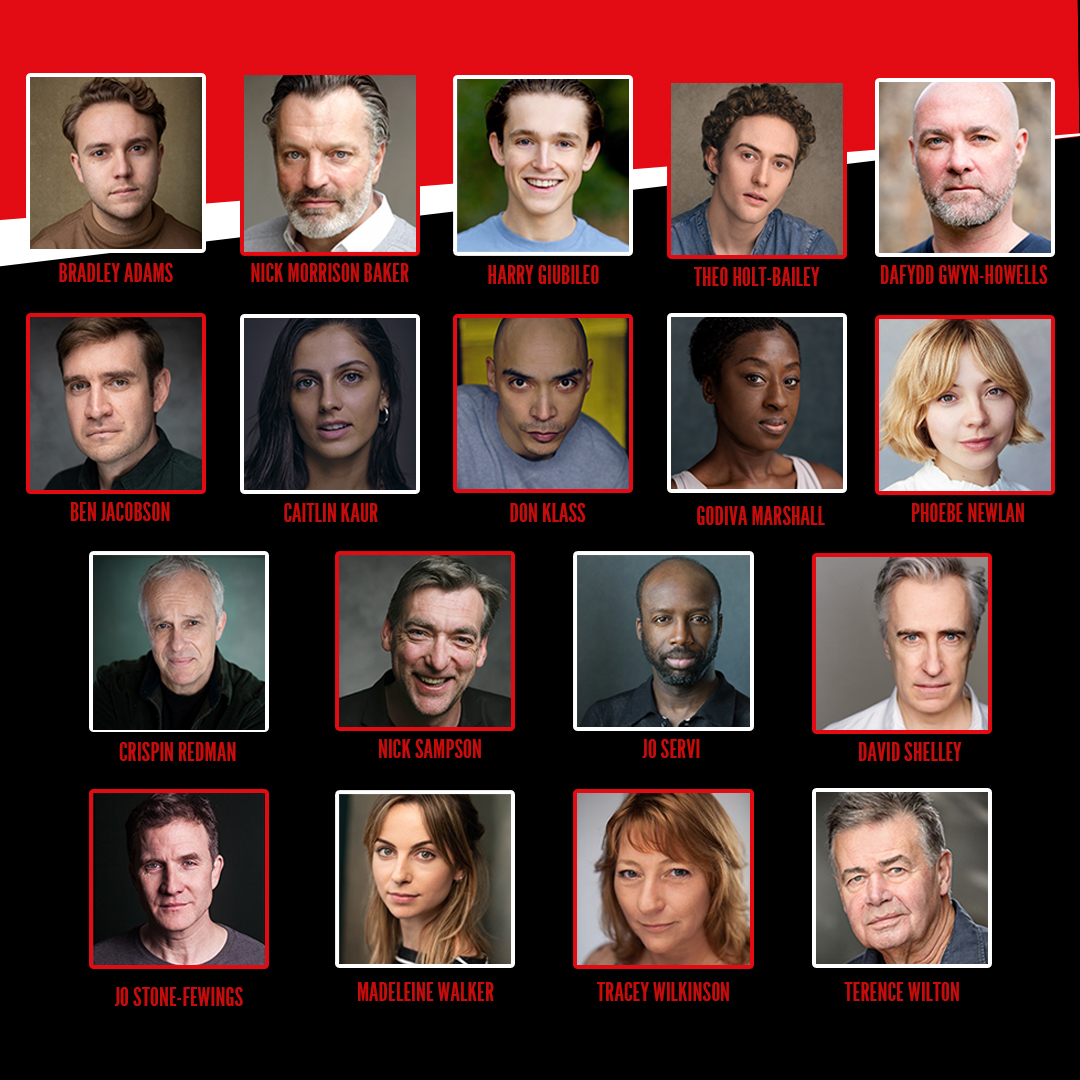 Agatha Christie's Witness for the Prosecution will extend its run at London County Hall until 28 April 2024, making it London's longest-running site-specific theatre production. This will take the acclaimed production into its seventh year as the ninth cast are also announced today. Tickets for the new booking period are on sale now at https://witnesscountyhall.com.
Harry Giubileo (Last Train To Christmas, Sky Cinema; Red Rose, BBC/Netflix) makes his West End debut as the accused, Leonard Vole opposite Madeleine Walker (Harry Potter and the Cursed Child, Palace Theatre; Pentecost, Oxford Playhouse) as Romaine Vole. Jo Stone-Fewings (Home I'm Darling, National Theatre Tour; The Crown, Netflix) and Crispin Redman (Law & Order, ITV; Camille, Lyric Hammersmith Theatre) return to the cast as Sir Wilfrid Robarts QC and Mr Mayhew. Nick Sampson (The Madness of King George III / Anthony and Cleopatra, National Theatre) will join the cast as Mr Myers QC, and Terence Wilton (The Woman in Black, West End; Never So Good, National Theatre) as Mr Justice Wainwright.
The company is completed by Bradley Adams, Nick Morrison Baker (Hamlet, The Cockpit), Theo Holt-Bailey (Fist Fights at Funerals, Golden Goose Theatre), Dafydd Gwyn Howells (Vulcan 7, Theatre Royal Bath and UK tour; Victor/Victoria, Southwark Playhouse), Ben Jacobson (Baskerville, Vienna's English Theatre; Memento Mori, Mercury Theatre), Caitlin Kaur (SKEPTA'S Dystopia 987, Manchester International Festival), Don Klass (Romeo & Juliet, Young Vic; You, Netflix), Godiva Marshall (The Lion King, West End), Phoebe Newlan (The House of Bernada Alba, Almeida Theatre), Jo Servi (Dreamgirls, Sonia Friedman Productions; The Color Purple, Curve Leicester/ Birmingham Hippodrome), David Shelley (Julius Caesar, RSC; Mother Courage, Southwark Playhouse) and Tracey Wilkinson (Carnival Row, Amazon Prime Video). Bradley Adams, Theo Holt-Bailey and Caitlin Kaur will also be making their West End debuts with the production.
Witness for the Prosecution has captured the imagination of thousands gripped by the case of Leonard Vole, accused of murder in cold blood. Director Lucy Bailey (Much Ado About Nothing, Shakespeare's Globe) thrillingly places the audience in the thick of the action as Christie's enthralling tale of justice, passion and betrayal unfolds around them.
Leonard Vole is accused of murdering a widow to inherit her wealth. The stakes are high. Will he be able to convince the jury of his innocence and escape the hangman's noose?
The twists and turns of the case are played out in a spectacular courtroom setting inside the atmospheric London County Hall as prosecution battles defence and witnesses take the stand to give their shocking testimonies. The production received Best Revival nominations at the 2018 Olivier and WhatsOnStage Awards.
The production is designed by William Dudley, with lighting by Chris Davey, sound design by Mic Pool and casting by Ellie Collyer-Bristow CDG.
PERFORMANCE SCHEDULE
Tuesday to Saturday, 7.30pm and matinees on Thursday and Saturday at 2.30pm and Sunday at 3pm.
Christmas schedule: Sunday 24 December 1pm matinee (no 7.30pm performance), no performances Monday 25 and Tuesday 26 December, extra 2.30pm matinee on Friday 29 December.
TICKET PRICES
Tickets from £12
No booking fees if booked via the official website.