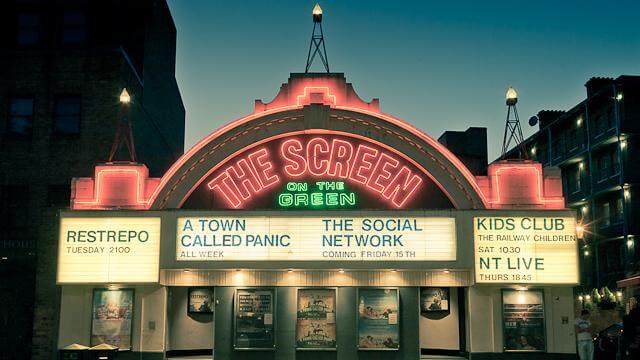 Seems like everywhere you turn today, your favorite movie theaters are part of a larger chain.  In the United States, they might be owned by Cinemark, Regal, Marcus, Alamo, and more.  In the UK, most movie theaters (or cinemas as they're known) are owned by Odeon (AMC), Everyman, Empire, Merlin, and others.  Yet, independent cinemas are quite proficient in the British capital, offering movie-going experiences and films like you won't find anywhere else.  Sure, they might show blockbuster movies as well, but the food, drinks, selection, and atmosphere are unlike what you'll get anywhere else.  We've identified our top ten favorite independent cinemas in London below and you can let us know your favorites in the comments.
Most independent cinemas are single-screen theaters due to size, the age of the building, or both. Peckhamplex is one of the only independent multiplex in the city, offering six different screens that show mostly hit films while also offering at least one independent or foreign film a week. Tickets are relatively cheap and it's got a great 80s/90s feel inside that makes it worth going.
A truly "underground" movie experience, Whirled Cinema is located under the railway arches at Loughborough Junction.  It's a members-only cinema, but they offer weekly, monthly, and annual memberships that run as little as £9.99 to £12.  Membership lets you see as many films as you want for no additional charge, allows you to get in one guest for free, and includes a discount at the café and bar, which you can subsequently enjoy in the theater or the rooftop terrace.
Named after the cinema pioneering Lumiere brothers, Cine Lumiere is an independent theater that specializes in arthouse, independent, and foreign movies.  It's housed in a building with mesmerizing architectural features such as a grand marble staircase and the theater itself will leave you feeling like you're attending a classy night out.  The best part of Cine Lumiere, however, is the price.  Tickets are quite affordable and if you're under 25, they're only £5.
Living up to its name, Rich Mix in Shoreditch likes to show a good mixture of independent films and blockbusters on its three screens. Another aspect of what makes Rich Mix a great theater to visit is that it doesn't just limit itself to films, all manner of live performances including lectures, music, spoken word, live theater, and more are held here on a regular basis. Be sure to check the schedule to see what's coming and enjoy this truly rich mixture of the arts.
Much like its sister location in Portobello, Electric Cinema is one of the luxury independent cinema experiences in London.  Big comfy chairs, tables, and a wonderful menu are only some of the highlights at the White City Electric Cinema.  And the best part is that none of this detracts from the cinema experience.  Even if you're not going for a film, the lounge and bar are perfect places to relax and socialize.
Close-Up Film Center is a cinema that started in 2005 to open up film culture and history to the masses.  They have a nice large screen for showing classic and independent films in either digital or film formats, but that's not all they offer.  It's a small and intimate theater crafted for true cinephiles with only forty seats and no frills other than the café and bar.  Close-Up also has its own book and film library that will let members read and rent its collection on the weekends.
Located in Barnes, Olympic Studios has been a movie and television studio, recording studio, and now an independent cinema that celebrates its unique history. There's a great food and beverage counter that also services the theater screens, which have plush individual seats, tables, and even footrests. For a more exclusive experience, you can join the Members Club or the Film Club which both offer their own perks including discounts, access to the Members Club, and special screenings.
Secret Cinemas is an immersive movie experience, that really tries to throw you into the film. This special theater in London changes its location and theme, typically basing both on whatever movie it's showing. You could find yourself traveling back in time to the 1950s for Back to the Future, stationed aboard the Death Star for Star Wars, or dining in the Hogwarts Great Hall for Harry Potter. There's little telling what the schedule will bring, so keep your eyes on their website for the next show.
Ritzy opened in 1911 and still has its original proscenium, making for a beautiful experience no matter whether you're watching the latest Hollywood film or an artsy foreign language movie. The Grade II listed theater not only hosts films, but also often features Q & A screenings with the filmmakers and is home to a music venue called Upstairs.
Opened only two years after Ritzy in 1913, Screen on the Green is another great old movie house that has been renovated for modern times. The single-screen theater offers a great variety of food and beverages and also like Ritzy, often hosts Q & A screenings with movie directors, writers, and actors. It also has a wonderfully intimate atmosphere no matter whether you're seeing the latest low-budget student film or the next Marvel hit.