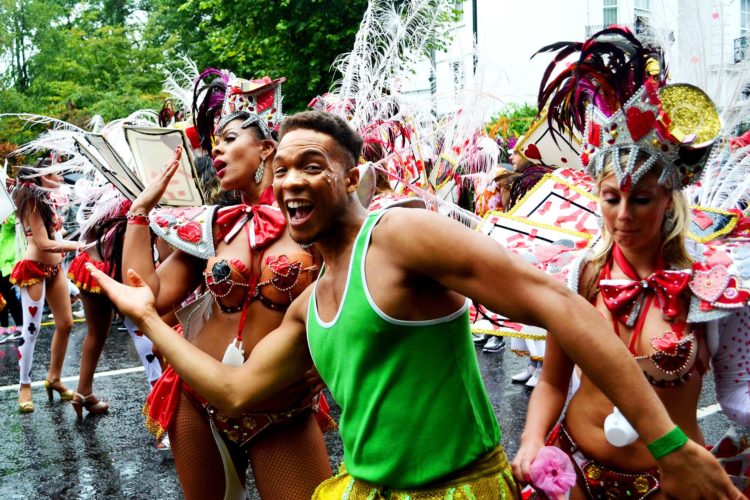 Most Mardi Gras celebrations, or Carnival as its known in Central and South America, take place prior to the season of Lent in February.  Notting Hill's Carnival is a little different, however, happening in August instead.  And while other Carnivals are about getting out your excesses ahead of Lenten period, Notting Hill's event is more a celebration of the Caribbean cultures that have long made up this district's population.  The Notting Hill Carnival draws huge crowds every year and has been a regular party since 1966, with the first Carnival taking place in 1965.  With such a long history, there are many interesting facts you might not know.
Some Numbers
To give you an idea how big the Carnival is, about 1 million visitors take part in the two-day event every year.  40,000 volunteers help with the event and 9,000 police from the Met work it every year providing security and making sure the participants don't get too rowdy.  This makes the event as big as 11 Glastonbury Festivals.
One of the Biggest
Naturally, with numbers like those, it's not hard to believe that it's the biggest street festival in the entirety of Europe.  In fact, it's so large that the only Carnival in the world with more attendees is in Rio de Janeiro, Brazil.  What's more, of those 1 million people, only 20% are tourists, making it the largest festival for Londoners.
Tons of Music
There are about five different aspects to Carnival:  masquerade, sound systems, steelpan drums, calypso, and soca, so you better believe that Caribbean music is a huge part of the event.  There are about 40 static sound systems throughout the festival area along with ten steelpan bands and 70 performance stages.
Not a Musical Band
Mas (or Masquerade) Bands are a major part of the Carnival, especially the parade.  These are the individuals in colorful costumes who will dance throughout the parade, but there's more to it than entertainment.  Mas costumes originally were constructed based on West African myths and were meant to be scarier than sexy.  Multiple mas bands operate during Carnival and have different requirements to join for the festival.  Those interested in joining can peruse the bands on the Carnival's website and contact them to get involved.  Mas bands can range in size from 80 to 300 people.
Those Colorful Costumes
Mas bands are mostly known for their colorful attire, and there's a lot of work that goes into them.  The bands hire costumes and designers from all over but mostly keep to the Caribbean, especially Trinidad, for the styles.  Mas camps are the ones who make the costumes and will spend all year preparing for the Notting Hill Carnival.  There are roughly 15,000 costumes every year that are estimated to take 1 million man-hours to craft by hand.
Food Fight
Might want to be careful if you don't want to be accosted with sweets on Sunday of Carnival.  It's a festival tradition for Carnival-goers to slap each other with chocolate on this day.
A Family Affair
That same Sunday is typically family day and a little more appropriate for bringing the kids.  If you want to check out the parade, however, that takes place on the Monday bank holiday.
An Economic Boost
Notting Hill Carnival is definitely a big supporter of the city's economy.  It's estimated that Carnival contributes £93 million to London, while those 9,000 coppers only cost £6 million.  A good bit of that money comes from the over 300 food stalls that set up at the festival.
A Bit Chilly Out
The reason that the Notting Hill Carnival takes place in August is really a practical one.  While the Caribbean, Central, and South America are a good bit warmer in February, the UK is still pretty cold.  Thus, the decision was made to hold the festival towards the end of summer.
Why is the Rum Gone?
During the two-day festival, it's estimated the Carnival serves five million hot and cold drinks, including 70,000 liters of carrot juice and 25,000 bottles of rum.  Sounds like Jack Sparrow's kind of party.