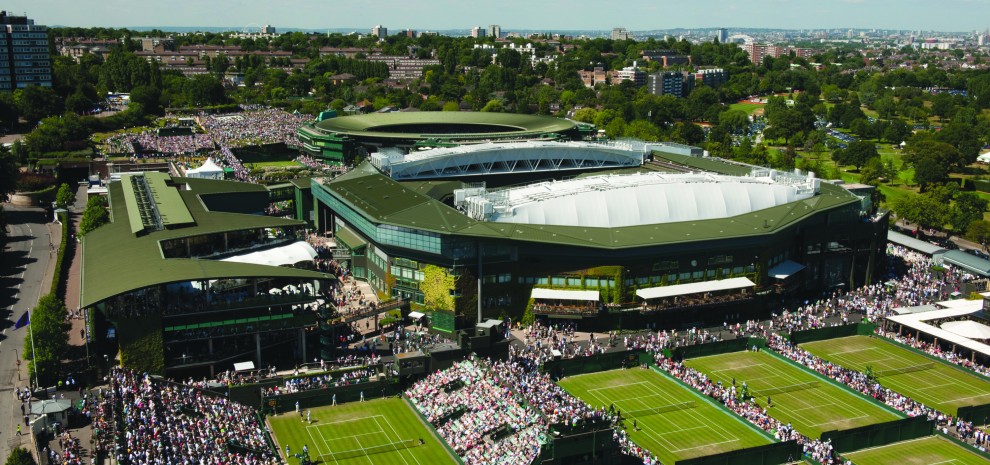 One of the best-known districts's in London, Wimbledon's name is synonymous with the tennis championship that takes place there every year.  In history, Wimbledon has been inhabited since the Iron Age and has quite a relationship with the aristocracy, including King Richard II, before the creation of the London and South Western Railway led to its eventual absorption into Greater London.  Of course, while the area is best known for tennis today, there are plenty of other great things to do in the area, so even if you're not into the whole hitting-a-ball thing, we've identified our ten favorite things to do.
Polka Theater
Not quite what it sounds, Polka Theater is more like polka dots and is one of the city's premiere children's theaters.  From classics such as Gulliver's Travels to newer stories like an adaptation of Jacqueline Wilson's Double Act, there's a performance that should prove entertaining to parents and children alike.
Wimbledon Farmers Market
London's markets are must-visit places in the city, and Wimbledon Farmers Market is no exception.  Held every Saturday at the Wimbledon Park Primary School, everything from unpasteurized cow's milk to seasonal game can be found at the over one-dozen stalls.  Of course, the market's offerings can change with the season, so if you have your heart set on something, make sure it's the right time of year.
Wimbledon College of Arts
Training some of Britain's best artists of tomorrow, the Wimbledon College of Arts offers a number of undergraduate and graduate programs in theater design, print and time-based media, painting, sculpting, and more.  Of course, if you don't want to attend and are just looking for a chance to experience some next-generation art, the college opens itself to visitors regularly where you can see the students' work, examine the creative spaces, and chat with the students and faculty.
Deen City Farm
A big city like London is populated with plenty of community farms, and Deen City Farm is Wimbledon's own taste of the country in the nation's capital.  Like most city farms, Deen exists primarily for educational purposes and is a registered charity.  In addition to a petting zoo, a garden, and a café, Deen City Farm also offers a riding school for equestrians of all levels.
New Wimbledon Theater
For more adult theater fare, New Wimbledon Theater is a Grade II Edwardian structure first opened in 1910.  It is the eighth-largest theater in London with 1,670 seats over three levels.  It's been an incredibly popular theater venue since World War II and features a lot of music-related shows from a tribute to Sun Records or Queen to Rocky Horror, Madagascar the Musical, and Swan Lake.
The Museum of Wimbledon
The best place to really learn about a district in London is at its local history museum, and the Museum of Wimbledon documents the area's history going back 3,000 years.  Some of the items in the museum's collection include newspaper clippings, art, photographs, and artifacts displaying important moments in Wimbledon's history.  Exhibits rotate on a regular basis, and the present one is focused on the history of Wimbledon Station.  Make sure to plan your visit in advance, as it is only open from 2:30 – 5 PM on weekends.
Wat Buddhapadipa Temple
The earliest Buddhist temple in London, Wat Buddhapadipa is a Thai Buddhist temple at the heart of Wimbledon.  The temple covers over four acres and includes beautiful Thai Buddhist art, a flower garden, ornamental lake, and an orchard, all of which make for lovely places for peaceful meditation.  Visiting is encouraged, and the monks will provide tour groups with information not only about the temple, but the life of the Buddha, and the Buddhist belief system.  Meditation courses and other religious services are also provided.
Wimbledon Windmill
The Wimbledon Windmill has been an area fixture since 1817 when it was constructed as a corn mill, though it ceased production in 1864 by order to the Lord of the Manor.  Today it is a museum into the agricultural past of Wimbledon.  There's also an opportunity to climb the windmill tower and get an excellent view of the surrounding area.  Needless to say, it's one of the things that makes the Wimbledon Windmill a top tourist destination.
Wimbledon Common
The windmill is actually one part of another major attraction, the Wimbledon Common.  The Common is a protected public green space covering 346.5 hectares and along with Putney Common, makes for a wonderful place to get out and enjoy nature.  Whether you want to go for a walk, horseback riding, play sports, cycle, or just lay back and enjoy the beauty of nature, there are plenty of things to do and a lot of space in which to do them.
The Championships
Okay, so it's only natural that Wimbledon's number one draw would be at the top of this list.  What most of us think of as simply "Wimbledon" is officially known as "The Championships, Wimbledon," which is the oldest tennis tournament in the world, going back to 1877.  Played annually in mid-July at the All England Lawn Tennis and Croquet Club, it is absolutely a must-visit, provided you can get tickets.  Outside of The Championships, there are opportunities to tour the grounds and see the museum.