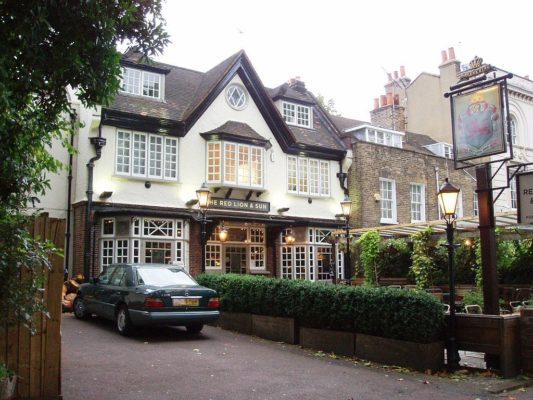 Dog's are man's best friend, they say, and many people love taking their dog with them to the bar or pub.  In London, sometimes the dog is already there, usually a pet of the owners and sometimes belonging to a patron.  They come in all shapes and sizes in all types of pubs, and usually, all want the same thing–a nice pat on the head or maybe a bit of that roast you're having.  Fiona Freund and Graham Fulton have published a book featuring many of these tavern canines called Pub Dogs of London, with profiles of each dog written by their owners.  Enjoy a look at some of the dog-friendly pubs in London and the pets from Freund and Fulton's book that you may see there.
The Bull & Last – Lenny
The Bull & Last in Hampstead Heath is a gastropub where the interior is decorated with wood panels and stuffed animals.  Not all the animals are stuffed, however.  This pub's resident hound is a short-haired dachshund named Lenny.  There's a good chance that if you see him, he might be begging for some of your food, for which the Bull & Last is well-famous.
The Rosemary Branch – Ricci and Alfie
Found in Islington, The Rosemary Branch is home to good shows and one of my favourite dog species in miniature schnauzer Ricci.   The Rosemary Branch is actually more of a theatre venue, but there is a bar there that serves not only beer but Sunday Roast, an event buffet, and a blackboard menu featuring some classic British fare.  It has won the Best Foodie Award from the OWE awards for five of the last six years.  Ricci isn't the only dog you're likely to see there, as The Rosemary Branch is quite dog friendly, and you may run into miniature poodle Alfie as well, whose owner claims he can count to five.
The Red Lion & Sun – Hooch
Hooch was only a puppy when he was featured in Freund and Fulton's book, so this little Boston Terrier is bound to be a bit bigger if you find him at Highgate.  The Red Lion & Sun advertises that they "welcome friendly dogs, well behaved children, and their owners."  The exterior of the pub is absolutely gorgeous and it's likely out on their patio that you're most likely to encounter these pub canines, and you might see Hooch if his owner brings him out.
The Portobello Gold – Miss Jones
This hotel, bar, and restaurant in Notting Hill has posh visitors and pets as befitting one of London's most expensive neighbourhoods.  Wine and cocktails are some of the top drinks on the menu, and you might encounter dogs such as Miss Rose, who spurns a normal doggie bed for a velvet cushion.  Your pet may not necessarily appreciate all the live music at night, so it's best to go with them during the day.
The Lansdowne – Dobby
Primrose Hill is the frequent pub of a lurcher named Dobby who is more likely to drink water from a puddle than she is to sip your beer.  The big windows let in quite a bit of light and an excellent chalkboard menu that changes on a daily basis.  For those looking for an event hire, the Lansdowne has a great dining room, though your pet is less likely to be allowed inside that part of the pub.
The Spaniard's Inn – Abi
The Spaniard's Inn in Hamstead is one of the neighborhood's dog-friendly pubs and home to Abi the Staffordshire Bull Terrier, who even has her own Twitter account as @AbitheStaffie.  One of the Spaniard's Inn's other notable features is that it is one of London's oldest pubs and was featured in Charles Dickens's novel, The Pickwick Papers.  There's an outdoor bar and BBQs are a regular feature when the weather is good.  For your four-legged friend, the pub offers water and dog treats so they can have a good time as well.  You might even catch Abi there.