Not sure if this is a good thing or a bad thing. For the last few years, the National Football League, or NFL, has been holding a regular season game in London at Wembley Stadium. It's an event that has grown each year and become VERY popular. The games are a gathering place for superfans who make the trip to England to see the game and American Expats in London who want a dose of Americanness.
To celebrate, the folks who run Regent's Street are holding a big tailgating party tomorrow. They'll be shutting the street to traffic and turning out for a big party – with major retailers taking part. They've even strung American and flags throughout the street – certainly a rare sight in London!
The Tailgating Party will take place on Regent Street on Saturday 28 September will run from 12 noon until 6pm when shoppers will experience the buzz and traditional entertainment of American Football including cheerleaders, team areas, drumlines, NFL sporting challenges, live music, DJ's and American inspired food. Players from the Minnesota Vikings and Pittsburgh Steelers will be taking time out from their preparations for the following day's showdown at Wembley Stadium to have fun with their fans on Regent Street.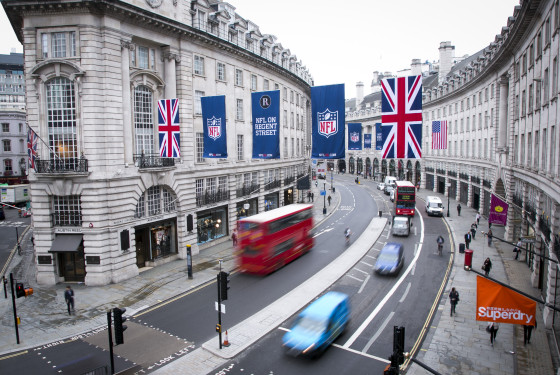 There will be performances by the well-known Minnesota Viking Cheerleaders as well as the Viking's 'Skol' drumline on Regent Street's mini NFL pitch. NFL fans can also take part in speed, accuracy and kicking challenges. Children can enjoy face painting and photo opportunities with NFL helmets and the NFL shield as well as inflatable challenges and obstacle courses. Activity will stretch from Nike Town at Oxford Circus to Piccadilly Circus.
In addition to all the partying, the local retailers and stores will be offering special offers and discounts for the day – so it may be worth exploring the party for some good shopping deals (Christmas is coming!).
You'll be able to watch the game live on Sunday, wherever your normally watch the NFL.