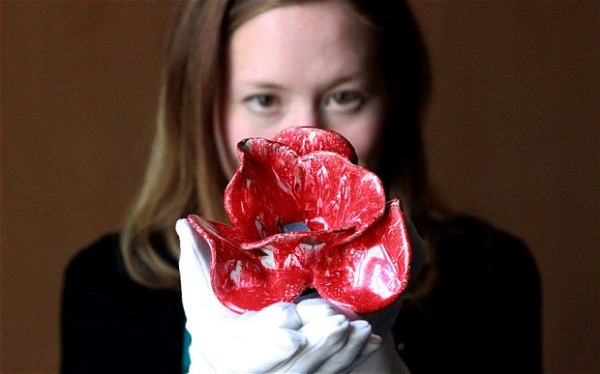 August marks the centenary of the beginning of World War I, which is the great war often forgotten about in the shadow of World War II. It was still a cataclysmic event that touched every aspect of British life (and arguably caused WWII as well).
To honor the over 800,000 lives lost, Historic Royal Palaces will be filling the moat around The Tower of London with over 800,000 ceramic poppies, creating a sea of red to honor their memory. From August 5 to November 11, the dry moat will be turned into a sea of red, with one poppy for each of the 888,246 British and Colonial soldiers killed during the war filling 16 acres of grass moat – 50 poppies per square meter!
From Historic Royal Palaces:
In collaboration with ceramic artist Paul Cummins and stage designer Tom Piper, the Tower's new installation of over 800,000 ceramic poppies will be unveiled on 5 August, one hundred years since the first full day of Britain's involvement in the First World War.

The poppies will fill the Tower's famous dry moat, creating a display to inspire personal reflection and will be a powerful visual commemoration of the centenary of the outbreak of the First World War.

During the First World War, the Tower's moat was used to swear in over 1,600 men who had enlisted by the end of August 1914 at the recruitment station in the City to form the 10th Battalion of the Royal Regiment of Fusiliers – the so called 'stock brokers battalion' who fought for the duration of the war.

The ceramic poppies will be available to buy for £25 each from 5 August 2014 and details on how to purchase poppies will be released shortly. The net proceeds, which we hope will be in excess of £15m if all poppies are sold, will be shared equally amongst a number of carefully selected service charities. The service charities chosen are Confederation of Service Charities (COBSEO), Combat Stress, Coming Home, Help for Heroes, Royal British Legion and SSAFA (formerly the Soldiers, Sailors, Airmen and Families Association).
It will certainly be a beautiful and moving site to all who visit. The display will run from August 5th to November. It's been a long time since the moat had water in it and this will definitely be a stirring site worth seeing.