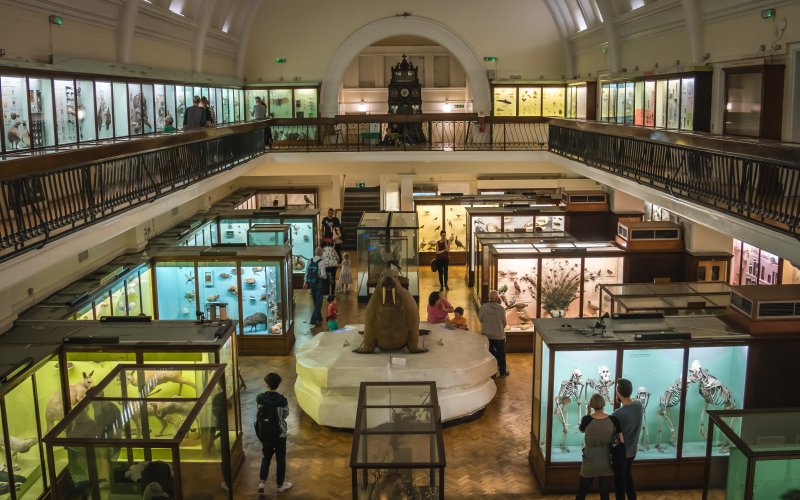 London has its share of great museums, from the National Gallery to the British Museum.  It even has a number of smaller, more specialty museums for toys, cartoons, advertising, and more.  With so many museums throughout London, there are any number of unique and downright unusual exhibits.  From signature clothing items of local celebrities to forgotten bits of London's history, there are plenty of great extraordinary exhibits to see in the city.  We found ten of them that we think you should visit and listed them below.  If there are any unusual pieces that we should know about, you can share them with us in the comments.
Viktor Wynd Museum
Just about everything in the Viktor Wynd Museum would fall into the category of unusual.  The Viktor Wynd Museum of Curiosities makes its reputation on the unusual, with exhibits that include shrunken heads, collections of used tissues, and sketches done on toilet paper rolls.
David Tennant Banknote – The British Museum
TV shows rarely ever use real money.  For the 2006 Doctor Who Christmas Special "The Runaway Bride", David Tennant's Tenth Doctor creates a distraction by causing an ATM to shoot money.  For that scene, all the fake banknotes had David's face on them.  One has since made its way to the British Museum for the show's cultural relevance.
DIY Diving Equipment – Twickenham Museum
Located in the Grade II listed three-storey building in the Borough of Richmond-upon-Thames, the Twickenham Museum is focused on local neighborhood history.  One of its exhibits is dedicated to George Wiltshire, also known as Professor Cockles the Tin-Can Diver.  The good professor was a Twickenham fixture through much of the 20th Century, and in addition to saving people from drowning in the River Thames, he also built his own diving equipment out of scrap metal, some of which is on display in a broom closet exhibit.
Vagina Museum
While vaginas themselves are not unusual, a museum dedicated to one part of the human anatomy is certainly unique.  Florence Schecter opened the museum in Camden in part as a response to the Penis Museum in Iceland but also to educate the public about important gynecological and feminist issues.  Current exhibitions include dispelling vagina myths and education about the menstrual cycle.
Bumper Harris's Walking Stick – London Transport Museum
Escalators are a perfectly normal mode of transportation today, but the public wasn't quite so sure about them when the London Underground installed one at Earl's Court in 1911.  To ease riders' fears, the Underground hired Bumper Harris, who had lost his leg in a train accident, to ride the escalator all day to show how safe and easy it was.  Today his walking cane is part of the London Transport Museum.
Jar of Moles – The Grant Museum of Zoology
University College London is home to the Grant Museum of Zoology, which certainly has enough in its collection to be considered interesting, from any number of animal, bird, and lizard skeletons to preserved specimens in jars.  One such example is a jar full of moles, specifically a breed known as Talpa europea (European mole).  It's likely that the moles were used for a comprehensive study of the species by a researcher before they found their way into the museum's collection.
Lindow Man – The British Museum
Mummies aren't unique to Egypt, and there are actually many ways to preserve a body over hundreds and thousands of years.  The Lindow Man was killed sometime between 2 BC and 119 AD, and his body dumped into a peat bog near Lindow.  His preserved remains are now on display at the British Museum.
Hornian Museum
The Horniman Museum is another place in London that specializes in all things odd, making it hard to nail down any one part of its collection.  Frederick John Horniman founded the museum in 1901 out of his personal collection of musical instruments, natural history, and cultural artefacts.  The museum today has in its possession some 350,000 items from a totem pole to a Canadian walrus.
The Monty Python Foot – National Gallery
Certainly, an iconic piece of television comedy, the Monty Python Foot that squished the show's titles (amongst other things), can be found in an exhibit that's not quite so unusual.  Animator and Python Terry Gilliam borrowed the image from the painting Venis, Cupid, Folly and Time by Agnolo Bronzino.  The painting remains part of the National Gallery's collection.
Captain Sensible's Beret and Sunglasses – Croydon Museum
Raymond Ian Burns, better known by his stage name of Captain Sensible, was the lead singer and one of the founders of the punk rock band The Damned.  He spent part of his life and education in Croydon as well as writing a song with the band about the area in 1982.  As a local celebrity, one of his berets and a pair of sunglasses can be found at the Croydon Museum.