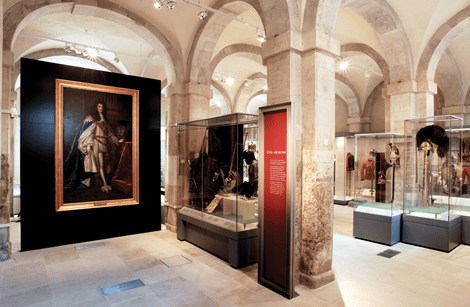 The Household Cavalry Museum adds to the capital's ever-increasing Olympic excitement with an Olympic themed exhibition celebrating the achievements of members of the Household Cavalry Regiment who have competed in the Olympic Games since 1908.
The exhibition is open from 29 March until mid-June, when the museum will close to allow Horse Guard's Parade to play host to the Beach Volleyball competitions of the 2012 Games.
The fascinating display includes the Gold and Bronze Olympic medals won by Lord Astor of Hever in 1908, the Olympic torch carried by Bronze medal-winner Captain Dominic Mahony at the 1996 Athens Games and the oar and personal scrapbook of Silver medal-winning rower Captain Alistair Heathcote in 2008. Each of the Olympians featured in the exhibition boast not only sportsmanship and the physical skills required to participate in the Games, but represent, of course, the Household Cavalry Regiment; their engrossing professional stories and experiences are part of the exhibition's attraction.
The Household Cavalry Museum is situated in the heart of Royal London at Horse Guards, housed in the 1750 stables of the building, which to this day operates as the official entrance to the Royal Residences. Unlike any other military attraction it offers a rare opportunity to take a 'behind-the-scenes' look at the ceremonial and operational role of the Household Cavalry. Through a large glass screen visitors can view troopers attending to their horses in the working stables of The Queen's Life Guard. Other attractions on offer include a dazzling display of uniforms, weapons, horse furniture and rare highly prized artefacts.
The Household Cavalry Museum is a charity. Profits from the museum go directly to support Household Cavalry troopers and their families who have been adversely affected by current operational deployments.
Household Cavalry Olympians at Household Cavalry Museum. 29 March – mid June (closing date TBC). Household Cavalry Museum, Horse Guards, Whitehall, London SW1A 2AX. Open daily 10am-6pm.
Nearest underground: Charing Cross, Westminster, Embankment
Website: www.householdcavalrymuseum.co.uk
Admission: Adult £6, Child/Concessions £4, Family ticket (2 adults & 3 children) £15
Groups of 8 or more: 10% discount
The Museum also holds evening receptions for up to 140 guests, dinners for up to 26 and is available for Early Evening Private Tours ( including a glass of champagne / minimum 10 maximum 50) year round. For more information contact Martin Westwood on 020 7930 3090, email com@householdcavalry.co.uk or visitwww.householdcavalrymuseum.co.uk